HERE'S 15 celebrities honoured with the Irish name of Patrick...
 1. Eric Clapton
Guitarist, songwriter, rock superstar, singer — full name Eric Patrick Clapton
He may not have any Irish roots, but Eric Clapton has been spotted at the odd Irish traditional seisiún — playing the bouzouki.
2. Elvis Costello
Singer, songwriter — full name Declan Patrick Aloysius McManus
Why Dec's stage name is an amalgam of the King of Rock & Roll and a former Irish Taoiseach is anyone's guess — but it's probably a unique combination in rock music.
There's plenty of Irish blood coursing through the McManus veins, as well as music.
His father was Ross McManus, singer with the Joe Loss Orchestra.
Nonetheless, Elvis stresses his name Costello like 'bordello' instead of the Irish way as in 'buffalo'.
Patrick, we assume, is pronounced the normal, Irish way.
3. Morrissey
Singer — full name Steven Patrick Morrissey
The apostle of kitchen sink melancholy is himself named after the Apostle of Ireland.
4. Danny La Rue
Entertainer — born Daniel Patrick Carroll in Cork
The self-styled grand dame of female impersonation was born in Cork in 1927 — at that time not an area where female impersonators were in great demand.
So it was off to Britain for Dan the Man (acting as a woman) at the earliest opportunity, where his brassy act made him a club and light entertainment legend.
He really was terrific in the sauciness stakes – if you ever needed a double entendre, he'd always give you one.
5. John McEnroe
Tennis player, broadcaster — full name John Patrick McEnroe
The US tennis star was born in Germany to an Irish family.
His brother (also a tennis player), with a flourish of originality, was christened Patrick John McEnroe.
6. Michael Crawford
Actor — full name Michael Patrick Smith
Michael's roots on his mother's side (O'Keefe) lie in Derry, where his grandmother — something of a local celebrity — lived until the age of 99.
Michael took his stage name from the side of a biscuit van.
7. Eddie Jordan
Former Formula One team boss, entrepreneur — full name Edmund Patrick Jordan
Jordan is an extremely flexible name: it can be a first name male or female, a family name, a Middle East river, a Middle East country, and half a town in either  Tipp or Antrim — Cloughjordan and Jordanstown.
It's  a relatively common surname in Ireland, derived from Iordáin.
Thus we have both Eddie and Neil (film director, see below), and each graced with the middle name Patrick.
Eddie continues to commentate on Formula One racing, but has still never revealed the secret of the sport — how can something that is so inherently dangerous be so boring?
8. Neil Jordan
Film director — full name Neil Patrick Jordan
"Cinema is the truth 24 times a second," said Jean Luc Godard, and you can be sure Neil Jordan heartily agrees with him.
8. Bertie Ahern
Former Taoiseach — full name Patrick Bartholomew Ahern
Yep, Bertie may have been no saint, but he managed to have two in his name.
And he could have Bart the Taoiseach — which has a nice ring about it.
9. Jimmy Page
Guitarist and songwriter — full name James Patrick Page
Irish through his mother Elizabeth Gaffikin (Co. Down roots), Jimmy Page, the Led Zeppelin guitarist, was co-writer of Stairway to Heaven.
This was first played live in the Ulster Hall in Belfast in March 1971.
As bombshells and gunfire echoed through the streets of Belfast, Jimmy stood on the Belfast stage and played that immortal guitar riff...
For good measure Jimmy Page's son is called James Patrick Page III.
10. Julian Barnes
Man Booker Prize winner — full name Julian Patrick Barnes
Julian was married to his agent, another Pat — Pat Kavanagh — until her death in 2008.
11. Duke of Kent
Full name Prince Edward George Nicholas Paul Patrick Windsor
The Duke of Kent's uncle, King Edward VIII, who abdicated the throne, was also a Patrick — though you'd need a telescope to spot it the end of his name: Edward Albert Christian George Andrew Patrick.
12. Curly Watts
Coronation Street character  — played by Kevin Kennedy, christened Kevin Patrick Williams
Curly Watts was a mainstay of Corrie from 1983 until 2003.
Since his departure, Kevin has augmented his acting career with a spot of singing.
13. Carmen Electra
Model, actress, television personality, singer, dancer — full name Tara Leigh Patrick.
OK, this may be a bit of a cheat, as we're going family names here.
But Carmen is of Irish, German and Dutch ancestry, and it's the Irish influence that predominates in her real name.
14. Patrick Star
The overweight, and somewhat dimwitted pink starfish, is the best friend of SpongeBob SquarePants
15. Patrick Ali Pahlavi
The 68-year-old is a member of the deposed Pahlavi dynasty of Iran and heir presumptive from 1954 to 1980.
And one celebrity who didn't quite make the list but should have...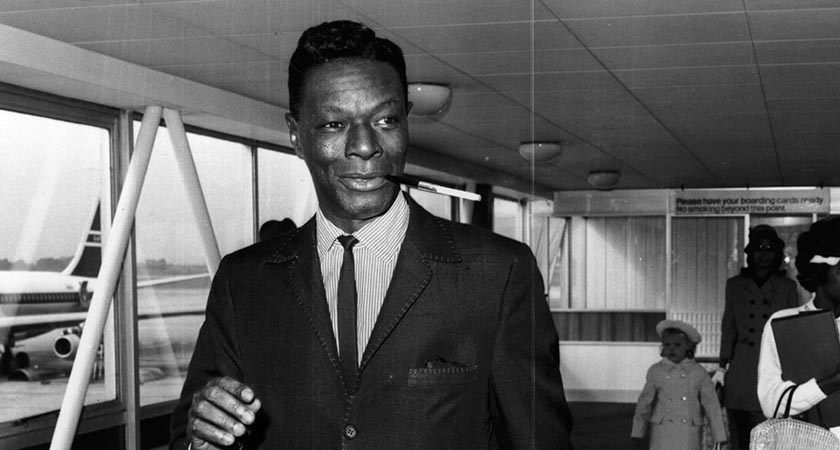 Nat King Cole, pictured circa 1963. Picture : Getty Images
Nat King Cole
The US singer was born on March 17, 1919.
He should have been called Pat King Cole.