WHERE do I start? Last night was a game of mixed emotions. The first 10 minutes saw Celtic display some impressive football and with two early goals and I wouldn't have been the only supporter to feel like I was dreaming.
Who would have thought by the end of the evening, even with a win, we would all feel as though we suffered a loss. As soon as the game got underway Celtic were repeatedly first to the ball and looked like they meant business. Most fans were delighted to see the starting XI with Leigh Griffiths in. Finally he was given a chance to prove what most of us all knew he was already capable of on the big stage.
The fans were right, Griffiths was taking shots from all over the pitch and seemed right on form so it was no surprise when he slotted home with just three minutes on the clock. The fans inside Celtic Park erupted and viewers were given a glimpse of just how amazing a European night is at the club.
The game continued at a fast pace and for the first ten minutes this Celtic side was something to get excited about, still first to almost every ball and alert. The 10th minute saw a Nir Bitton head in for Celtic's second and they looked like they were well on their way to the group stages of the Champions League.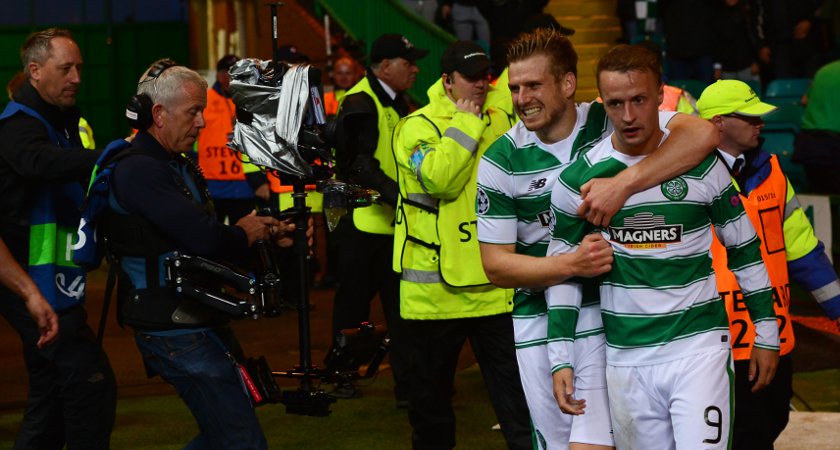 Celtic slowed the tempo right down before the whistle blew for half time, which was disappointing as I feel with more pressure there was certainly one more goal there before the whistle. But, as it were, Celtic went in 2-0 up, which any fan would have happily taken before kick-off.
As soon as the second-half was under way Malmo looked more in the game, they had nothing to lose being two goals down, something Celtic should have been prepared for. Then on the 52nd minute a former Celtic player was on the score sheet. Yes, Jo Inge Berget – the winger who had been on loan at the Bhoys just last season – was on the end of a ball that rippled the Celtic net and stunned the packed Celtic Park into silence.
The Norwegian clearly had a point to prove – his loan spell at Celtic was not something he would wish to brag about. The game completely changed after that goal and the ball went from one end of the pitch to the other.
It didn't take long for Celtic to find their footing in the game again though, and soon they were two in front again. A cross from Mikael Lustig to the back post seemed to be a wasted opportunity but then out of nothing came something, and yet again Griffiths was on the score-sheet with his second in the 62nd minute. He launched himself at a high ball and somehow managed to divert it into the net – an amazing header.
Celtic were now again back on top and seemingly safely positioned there too. Three goals on the board and a two-goal cushion to head to Sweden with didn't seem too nerve-racking. The game was quite a thriller for the neutrals watching, but, unfortunately for us, the drama was not going to end there.
Berget – who, to be fair, had he not scored the first goal you wouldn't even have been aware he was even on the field – again pegged Celtic back. But credit where credit is due, he hammered home again in the 90th minute, leaving the home crowd stunned.
On the bright side, Celtic are taking a win to Sweden next Tuesday, but for many fans last night's game seems like a bit of a loss. From being completely in control of the game and on top early on to finishing up conceding two away goals isn't ideal. It's something Ronny Deila will really have to focus on should Celtic progress to the group stages. Indeed, the very same happened last weekend. Okay, the Inverness CT game ended 4-2 and we took the three points from them, but it's certainly a worry.
What happens if Celtic come up against top-class sides that will punish them ruthlessly for these sloppy mistakes? It's definitely a problem. Positives to take from the game would be Griffiths, who in my opinion will be the main man for Celtic this season, he has proved himself time and time again.
Then there is the issue of James Forrest. Truth be told I haven't been a fan and I have wanted rid of him for a long time. He's been plagued with injury but last weekend I was shocked at just how well he played, the same with last night. The question is should Celtic look into selling him while he is starting to play some decent football before injury strikes again or should they stick with him?
Overall last night's game had me drained from feeling like I was watching Barcelona in green and white hoops in the first half (a slight exaggeration perhaps) to sloppy mistakes finishing the game with a win that ultimately felt like a loss. Celtic will be up against it next week in Sweden and it is set to be a typically tense away night for the Bhoys.