CONOR MCGREGOR and Khabib Nurmagomedov have been suspended by Nevada fight regulators for their part in the brawls that unfolded inside and outside the octagon following their UFC 229 clash in Las Vegas.
According to Nevada Athletic Commission executive Bob Bennett, letters have been sent to both fighters informing them of the suspension, which comes in to place from October 15th onwards and will see the pair suspended for 10 days.
Neither fighter has yet commented on the suspension, which came as a result of the ugly scenes that unfolded immediately after Nurmagomedov's victory.
In the aftermath of the win, the Russian climbed out of the octagon, launching himself in the direction of McGregor's entourage.
A scuffle ensued, with Nurmagomedov quickly escorted out of the arena before things escalated further.
Advertisement
McGregor, meanwhile, became embroiled in a brawl of his own with several members of Nurmagomedov's team, who had taken offence to the war of words between the two fighters.
Now Bennet is claiming the Nevada Athletic Commission has video evidence that McGregor also tried to climb out of the octagon at the T-Mobile Arena.
As a result, both fighters have been suspended, and can appeal the decision to the commission when it meets on October 24th.
Advertisement
The suspension comes after Nurmagomedov threatened to quit the sport altogether if teammate Zubaira Tukugov is suspended for his role in the ruckus with McGregor.
Tukugov was one of the main culprits in the clashes with the Irishman and later took to social media to gloat over the Russian's victory and his attack on McGregor.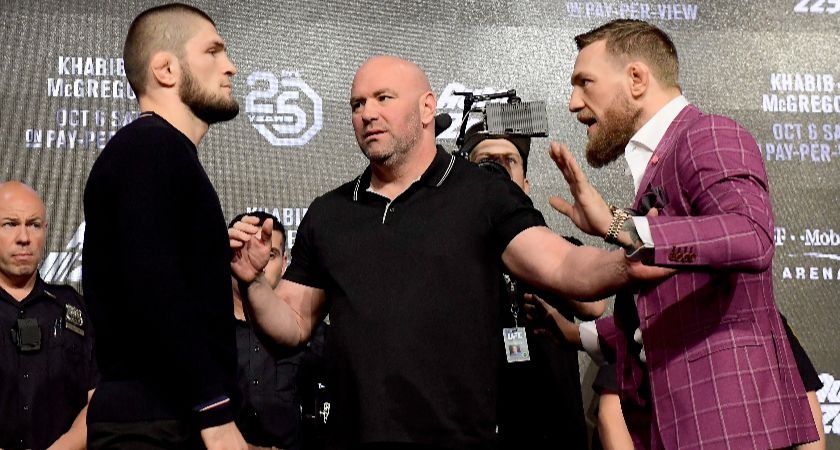 However, Nurmagomedov is threatening to quit over what he sees as a double standard in the sport.
Taking to social media, the Russian wrote: "I would like to address @ufc/ Why didn't you fire anyone when their team attacked the bus and injured a couple of people? They could have killed someone there, why no one says anything about insulting my homeland, religion, nation, family?
Advertisement
"Why do you have to punish my team, when both teams fought. If you say that I started it, then I do not agree, I finished what he had started.
"If you decide to fire him, you should know that you'll lose me too. We never give up on our brothers in Russia and I will go the end for my Brother."