WHEN Nora Brennan celebrated her 96th birthday yesterday she never expected that a very famous Irish face would be among those wishing her well.
The Galway nonagenarian, who has lived in Britain for almost 70 years, got the surprise of her life when a video message from none other than Daniel O'Donnell was played at her birthday celebrations.
A huge fan of the Donegal singer, she was bowled over to get a personal message from the crooner himself, having missed his most recent concert in Birmingham due to a stay in hospital.
"Oh my gosh, honestly, I could not believe it.
"I was so shocked and delighted," she told The Irish Post.
"Isn't it marvellous the things you can do now."
Scroll down the see Daniel's birthday greeting...
Nicknamed Cissy, though friends call her Cis, Nora's brilliant surprise was organised by granddaughter Colette Simpson.
"The first thing she said was, 'How does he know?'" Colette said.
"At which point we all burst out laughing and she said 'One of ye must have called him'."
2016 has been a difficult year for the Solihull-based Galway great grandmother, who has been in and out of hospital.
But fighting fit at 96, she has successfully come through two hip replacements in the last 18 months.
 "I decided to get in touch with Daniel because grandma has had such a difficult year," granddaughter Colette said.
"She has spent a lot of time in hospital due to her hip which kept dislocating.
"We would play Daniel to her in the hospital when she was anxious to calm her down.
"Danny Boy is her absolute favourite.
We even got the hospital radio station to play it for her."
"Daniel was playing in Birmingham last month.
"I'd have loved to take grandma, but she just wasn't up to it," she added.
"I thought a card off Daniel would be the next best thing.
"So I was absolutely bowled over when his PA sent me that video."
Originally from Clonberne in Galway, Cis was born Nora Agnes Canny - one of seven children.
Only two of the Canny siblings are still alive and last month she became the longest living of her brothers and sisters.
She lives in Solihull, having been in Britain since 1947.
Nora married John Brennan from Killkerrin and they had four children, six grandchildren, five great grandchildren - with another one on the way.
"We all absolutely adore her, which is what made last night's surprise all the more special," Colette said.
"I have never seen her look so shocked, seeing Daniel O'Donnell on her telly wishing her a happy birthday.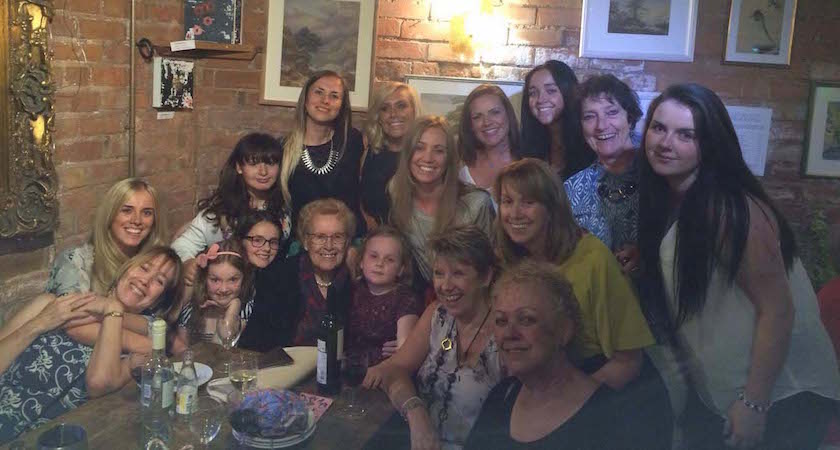 "She only got out of hospital last week after a whole month, so this birthday was a particularly special occasion for her and us."
In the video message to Nora singer Daniel says: "Sending you best wishes for your 96th birthday.
"Hope that you have a wonderful day all together and enjoy every minute. Take care and all the best."
Watch Daniel's birthday message here...
I'm so looking forward to celebrating Grandma Nora's 96th birthday later ? Unfortunately Daniel O'Donnell couldn't quite make it to Solihull today, but that wasn't going to stop him from sending his best birthday wishes to Our Cissy!

Posted by Colette Simpson on Thursday, October 20, 2016
Here's Nora watching the video for the first time...while it's a little blurry the cheers at the end say it all...