A NEW trailer for Martin Scorsese's The Irishman has offered up the closest look yet at the incredible special effects used to de-age its stars Robert De Niro and Al Pacino.
Based on the deathbed confessions of Irish-American mafia hitman Frank Sheeran, as chronicled in Charles Brandt's non-fiction book I Heard You Paint Houses, The Irishman represents the most expensive Netflix production in the history of the streaming service.
Netflix picked up The Irishman after previous producers Paramount balked at the $200 million budget required to make the film.
Much of that budget has gone into the film's innovative de-aging VFX techniques, which have allowed De Niro and Pacino to star as Sheeran and Jimmy Hoffa respectively.
Scorsese shot The Irishman on both film and digital, utilising Industrial Light & Magic to complete the de-aging work on his principal cast for flashback sequences.
Academy Award winner Joe Pesci has also come out of retirement for the film, taking on the role of crime lord Russell Bufalino in another part that required the de-aging technology.
This latest trailer for The Irishman offers a closer look at those effects in action as well as offering a glimpse of the film's plot.
The clip centres on De Niro's Sheeran, deep in discussion with Bufalino (Pesci) as they plot how to assassinate Hoffa (Pacino).
Harvey Keitel is also appearing in the film alongside Ray Romano, Bobby Cannavale, Anna Paquin and Stephen Graham.
The Irishman will debut in cinemas in New York and Los Angeles on November 1  before further screenings in the U.S. and the U.K. on November  8.
The film will arrive on Netflix on November 27.
Based Sheeran's real-life memoir, 'I Heard You Paint Houses' The official synopsis for The Irishman reads:
"The film chronicles one of the greatest unsolved mysteries in American history, the disappearance of legendary union boss Jimmy Hoffa, and offers a monumental journey through the hidden corridors of organised crime."
In Charles Brandt's book, I Heard You Paint Houses, Sheeran offered a detailed account of what happened to Hoffa, taking responsibility for the union boss's murder and offering key details as to those involved.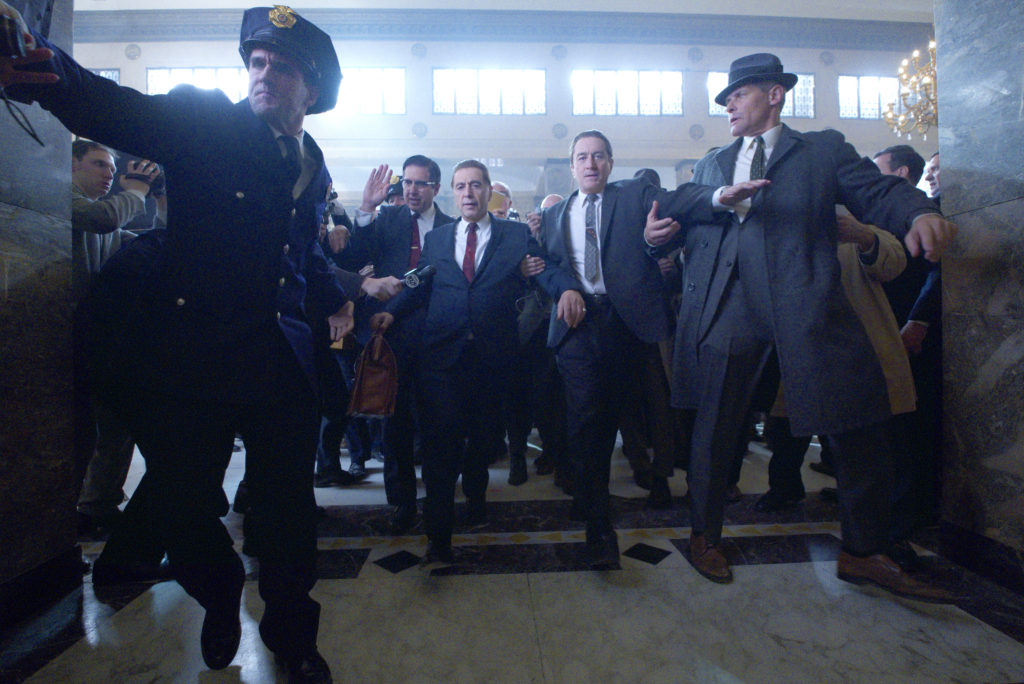 The Irishman looks set to lift the lid on these claims and the assertions of Sheeran that a frustrated Hoffa, barred from working for the unions, was murdered by the mob after threatening to go public with their alleged involved in the assassination of John F Kennedy.
Sheeran claims to have supplied the rifles used in the JFK assassination, with Martin Scorsese's film set to shine a light on these claims.
With Hoffa threatening to go public unless the mob wielded their power to have him reinstated to the Teamsters, the mafia allegedly decided to snuff him out and had his close friend Sheeran do it because Hoffa would not suspect him and it would test his loyalty.