IRISH CIDER giant Bulmers has taken aim at Donald Trump on social media following reports that the President's proposed trip to Ireland had been cancelled.
The President had been expected to visit Dublin and his Doonbeg golf resort as part of the trip.
However, reports suggest the trip has now been cancelled despite White House press secretary Sarah Huckabee Sanders stating the White House was "still finalizing" whether it would go ahead.
In the wake of the news, Bulmers Irish Cider took to Facebook to post an image featuring a half-full pint of cider.
"Trump cancels," the text on the image reads. "One less bad apple to worry about."
Advertisement
The cider giant then doubled down on The Donald with the post's caption: "Making cider great again since 1935".
A mocking reference to the President's "Make America Great Again" campaign slogan, the post garnered a positive reaction on social media.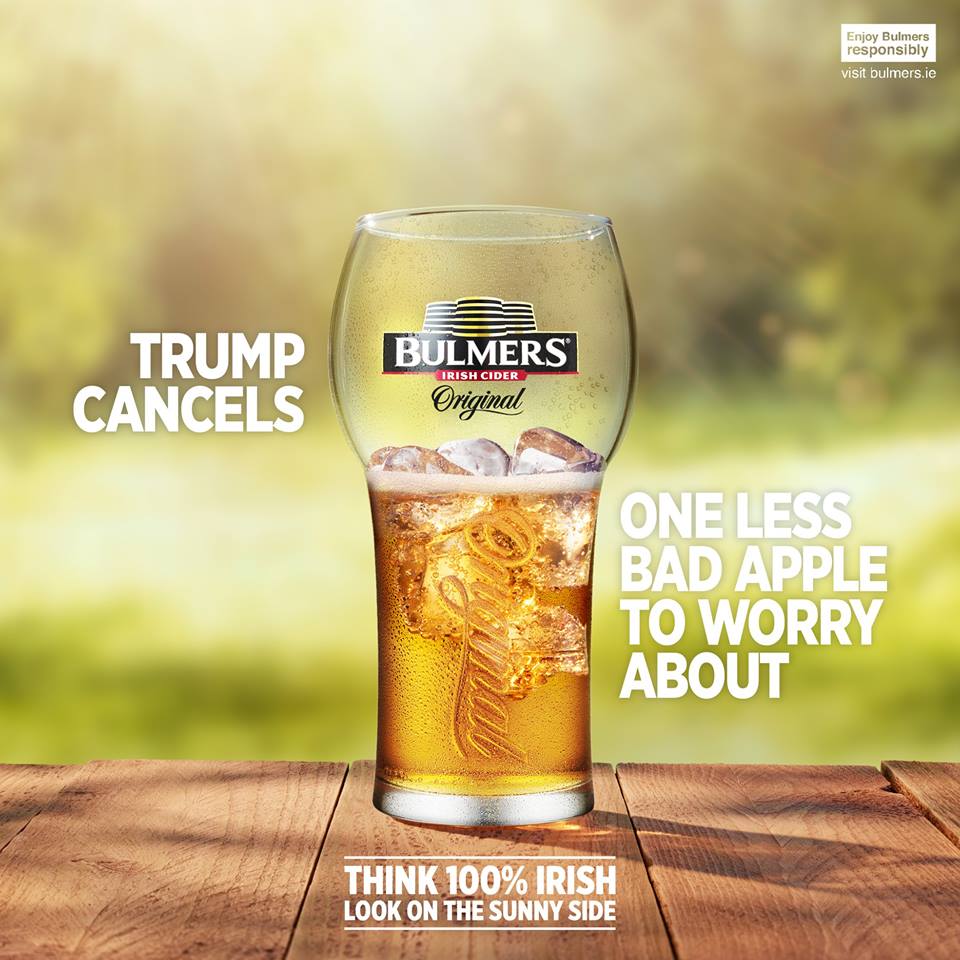 One follower wrote: "I think it's great! And true! And funny! and I think I will give up wine and purchase Bulmers from now on. Lighten up people. If you can't laugh you may as well cry."
"We only want apples, no oranges," another added.
Advertisement
Not everyone was in on the joke though.
"I guess I'm not the sharpest tool in the shed," one fan commented.
"Trump cancels what? Bulmers? Trump cancels one less bad apple to worry about?
Trump's visit to Ireland had been expected to be met with protests, including the return of the inflatable baby Trump that previously made an appearance during his trip to London.
This isn't the first time Trump has been lampooned online, of course, coming just a few weeks after an image of the White House went viral on Twitter for all the wrong reasons.