FIVE members of the new Irish Guards GAA team recently turned out to support the unveiling of Setanta GFC's new kit and crest in Woodley, Berkshire.
Setanta, who are yet to be affiliated to the Association following a failed attempt to become part of London GAA in August, were established in June with the intention of focussing on youth development.
They currently have Under 6 and Under 8 players practicing regularly, but their long-term plan to grow their original crop into senior players has taken a number of logistical set-backs, with Hertfordshire GAA the latest branch to consider affiliating them.
Their application to join London GAA was turned down on the basis of their close proximity to St Anthony's, who have existed in the Reading area since 1963, while a month later Gardaí Éireannach were granted permission to compete in the county's junior competitions as of 2016 [find more details below].
The two clubs united on Saturday, November 21, with the Irish Guards helping the youngsters get to grips with the basic skills of Gaelic football during an hour-long training session at The Oakwood Centre in Woodley.
Advertisement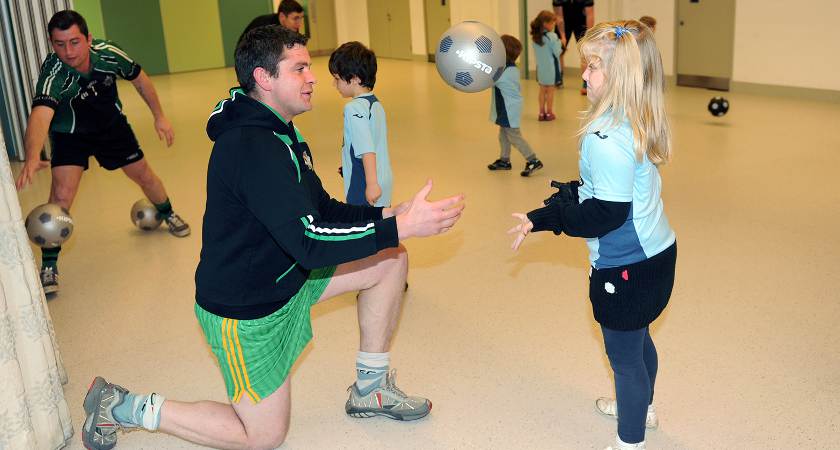 "It was a nice way to spend a Saturday," said Thomas, a 28-year-old Irish Guard from Waterford. "We were happy to get the invitation and it's always nice to help out other clubs."
Thomas and many of his Irish team-mates have played for clubs back in Ireland and they're itching to get back into the groove, with a couple of challenge games on the horizon for Gardaí Éireannach.
"We all would have played back home but it's been a couple of years since we played," he added.
"We're really looking forward to it [competing in London GAA next year]. We're starting back into the training in January after a couple of months off, so once we get back into that we'll look forward to the start of the season.
"We go down every year to Ruislip for the first round of the Connacht Championship but we've gone to a few club games there too.
Advertisement
All pictures: Malcolm McNally
"My brother would have been involved with Fulham Irish when they were first starting out and I have a few friends playing in London already, so I've been to watch a few of their games in the past too.
"It seems to be a pretty good standard, so I'm sure a couple of our lads will be in for a bit of a shock.
"We'll probably have one or two challenge games before we get going. Some of the lads' clubs are going to fly over from Ireland to play us and we'll also have a look around some London clubs.
"A couple of people have asked us for a challenge game already so there's no shortage of takers. But we're just looking forward to getting on with it now."
Derek Gannon, a Dubliner who is one of the founding members of Setanta GFC, was impressed with the attitude of the Irish Guards and hopes the kids can learn from their conduct.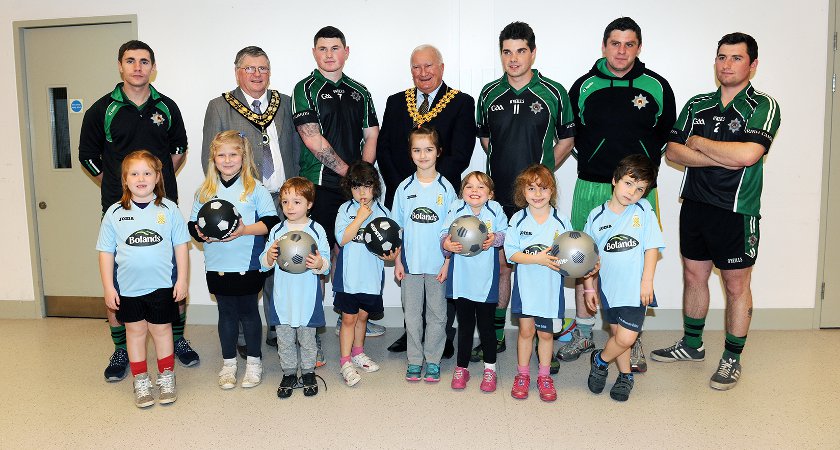 Advertisement
"It was great to see the five lads help out," he told The Irish Post. "We had two from Galway, one from Waterford, one from Dublin and one from Fermanagh, so all four provinces were represented.
"I thought they made a very good account of themselves. They turned up and showed a lot of passion for the game and were keen to show their skills and pass them on to younger kids, which was great.
"It's all about how you conduct yourself when you're wearing a GAA jersey, and I was very impressed with how the guys went about it. They're a credit to their club.
"The feedback from the parents has been really positive. The kids loved it and the parents appreciate the lads coming out. They're welcome any time at our club.
"For us and our sponsors, it was great to unveil our new jersey with the Bolands logo on behalf of Valeo Foods Group, who have been very generous in helping us get off the ground.
"And we were also unveiling our new crest which reads 'From Acorns to Oaks' in Gaelic, which I think is a fitting slogan for what we're trying to do here.
The crest was designed by artist Máire McSorley, who is also Oxford GAA's Honorary President.
Advertisement
Chairman of Reading Irish Centre Paddy Power added: "It was a great afternoon's fun for the children and the adults. The lads from the Irish Guards gave a good training lesson to the kids and enjoyed the craic with all of us."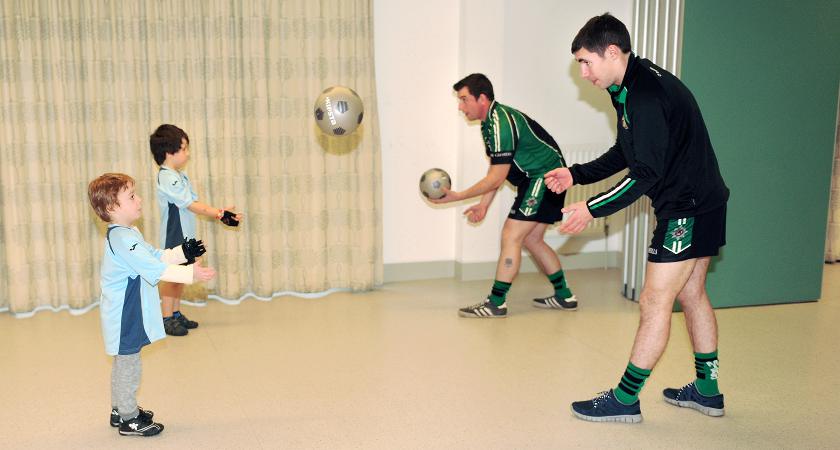 Meanwhile, the Mayor of Woodley, Dave Mills, was keen to praise the work of Setanta in getting young kids to play GAA in an area with only a small Irish community, while he was also keen to point out the financial input of local businesses such as Bosco's Bar and Lounge.
He said: "Getting the kids involved in any sort of sporting activity takes a lot of effort, but it's always worthwhile.
"It's obviously early days because it's only their first six months of getting started, but they've got a well-developed plan for growing and so in a couple of years' times, when these kids have grown a bit older, it should be much bigger. It'll be quite interesting to watch.
"There's about half a dozen or so of the local businesses that have sponsored them and they turn out to events like this to give them that bit of encouragement, which is nice to see.
"The kids seem to love it and there's a couple of little talents there. But it was also nice to see the lads from the Irish Guards come out; giving up their time to make the effort to come and support these young kids."
Advertisement
ABOUT THE IRISH GUARDS

The Irish Guards is a regiment of the British Army, formed on April 1, 1900, by Queen Victoria
Recruits are from the North of Ireland, Republic of Ireland, the Commonwealth and communities across Britain with strong Irish connections
Waterford native Major Kenneth Fox presented a case to have an Irish Guards Gaelic football team in the GAA to the London County Board and club delegates in September
After the vote to affiliate the club was deadlocked at 15 votes apiece on either side of the divide, London GAA chairman Noel O'Sullivan used a casting vote to decide the matter, and stuck with his initial vote of yes
From 1897 to 2001 British security forces were banned from officially competing within the GAA under Rule 21
The rule was intended to dispel fears that Royal Irish Constabulary employees would join GAA clubs to keep tabs on potential political activities in the build-up to the Irish revolutionary period
It was abolished in 2001 to boost nationalist trust of the police as part of the peace process in the North of Ireland and also to improve unionist trust of the GAA
A Police Service of Northern Ireland (PSNI) GAA club was subsequently founded in 2002, while the Metropolitan Police previously competed in London under the name Hendon Gaels
Gardá Éireannach will become the first British Army team to compete when they take to the field in London's junior competitions next year
The club is not restricted to soldiers or past members of the regiment and is open to anyone living in areas surrounding their base in Hounslow Cavalry Barracks, west London