Richie Sadlier
When forced retirement comes early on when a career is on an upward trajectory, it can be devastating.
Richie Sadlier was impressing up front for Millwall and had just won a call-up to the Republic of Ireland squad in the run-up to the 2002 World Cup when fate intervened, sustaining a hip injury that would eventually force him to quit.
After three operations on his right ankle, three on his right hip and one on his right hernia, he admits that his "right-hand side is a little bit botched. If I don't run around I'm fine. But there's little things. I can't stand at a festival or concert.
"If I go for a long walk, it'll hurt, stuff like that. It is a bit of a downer for people if you have to pull out of things because you're physically incapable of doing them."
At 37, he is of an age where he would probably be retiring from playing around now if he had steered clear of injuries.
He admits that the thoughts of what might have been were difficult to overcome. For him, a career in the media 'sort of fell in my lap in a way'. He explains, "It wasn't an aspiration. I wasn't looking at any pundit on TV saying, 'That's the job I want'.
"I did make a decision though to try any opportunities that came my way." However, with a huge number of retired players in search of media work, opportunities to break into the industry can be difficult.
Matt Holland
Former Republic of Ireland international Matt Holland has also forged a career in the media, and says: "It took me a long time to get my head around retirement.
"Not that I was depressed, but I missed football. For me, it was always what I wanted to do, so to actually do it for a living was perfect. You spend all that time away from home and all of a sudden you're at home, under your wife's feet.
"Obviously, financially you're not earning the money that you were earning as a footballer and it's difficult to get your head around that as well. You can't spend as you did before. You're almost in a bubble as a footballer, everything's done for you.
"You're almost like a kid at school really. They look after you to the nth degree. Everything's done for you, your food, even when you're going on an away trip they bring all your passports and hand them out at the airport. So, all of a sudden, that's gone and you're in the big, bad world and you've got it all to do yourself."
Holland enjoys his media work but, for him, it's no substitute for being involved on the pitch. "I missed football when I retired.
"Even now when I go to a game, I wish I had my boots on, I wish I was playing. Punditry is a good second best though. You're still involved, still meeting people, still talking to people that you played with. I really enjoy it."
Shane Supple
Shane Supple readily admits his story is a strange one but he insists he has no regrets about his early retirement.
"I have never really spoken about it in detail, but there were a number of factors which made me come to the decision to retire from professional football at 22," admits the Dubliner.
"The first time I started to think football wasn't what I thought it would be was when I was brought into the Ipswich first-team squad around 17 and I saw the way lads were carrying on and talking about the game and how the club didn't mean anything to them.
"At the time I was on the bench for the Ipswich first team and we were going well in the league, second at the time, but we eventually finished third and lost to West Ham in the play-off semi-final.
"The lads weren't happy because obviously the play-offs would eat into their holidays, some lads wouldn't be kept on if we got promoted and this annoyed me coming from lads who I looked up to and had played at the highest level.
"Another reason was the people involved in the game didn't have any principles and were yes men that would do anything to keep themselves in a job," he continues. "Basically I felt I couldn't trust anyone within the club." Shane had planned to go back to school and get the grades he needed to apply to join the Irish police force – An Garda Síochána – but the deep recession in Ireland scuppered his plans.
"At the time, when I returned home, things were starting to go really bad in the economy and Garda recruitment was frozen and wasn't re-opened for five years so I went to work in a hospital for a couple of years before joining a sports management company, where I am now."
He now works alongside Dublin Gaelic football stars Bernard and James Brogan in Legacy Consultants, providing talent representation, sponsorship consultancy, digital, PR and event management services to clients in the sports and entertainment industries.
Paul McVeigh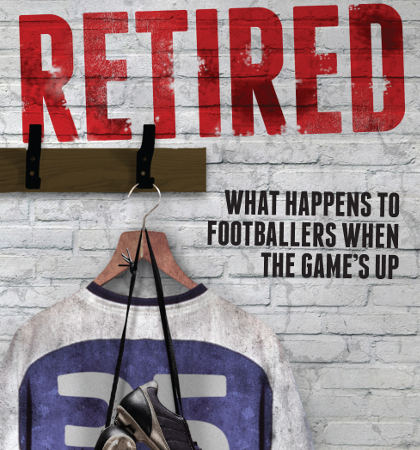 It can certainly be the case that the transition from the cosseted nature of the game can offer new opportunities to footballers whose lives have been regimented for many years.
One player whose education gave him 'something else to do' and helped him 'think in a different way' is former Norwich City and Northern Ireland striker Paul McVeigh, who retired at the age of 32 and believes it was the 'best decision' he ever made.
He said: "I thought it might be time to go out on a high, we'd just won the league, and I was living back in Norwich where it felt like I was going to be settling.
"With all those things taken into the equation I decided to stop playing and go and work with Gavin Drake, who was a sports psychologist I'd worked with at Norwich ten years previously.
"Since coming out of football, the experiences and depth, quality and breadth of my life now is 100 times more than what it was in football," Paul reveals. "Not to say that I didn't love my days in football, because I did. But it was only one area of my life. Coming out of football is like taking the blinkers off. Suddenly you step into a world of opportunity and you become aware of all these things and experiences that you either weren't allowed to do, had no knowledge of or didn't realise you could do. That's why it was probably the best decision I've ever made."
Since retiring he's certainly kept busy, delivering courses in the psychology of performance, becoming a keynote speaker, worked extensively in the media – including a stint reporting on Sky Sports's Soccer Saturday – written a book titled The Stupid Footballer Is Dead and established a sports psychology company called ThinkPRO.
Retired by Alan Gernon is the ultimate 'where are they now?' What actually happens to footballers once they hang up their boots? While an elite few land plum managerial jobs or punditry roles, it transpires that for the majority retirement is more likely to be a descent into bankruptcy, a spiral into addiction, ill health, depression, divorce, prison or worse. For more information and to read a free sample visit here.