THE TAOISEACH Micheál Martin met with US President Joe Biden yesterday as is tradition for the two countries on St Patrick's Day.
While usually the Taoiseach would travel to the US and meet the President in Washington before presenting him with a bowl of shamrocks, the ongoing Covid-19 pandemic means the meeting took place in a virtual capacity.
What did Micheál Martin and Joe Biden discuss?
As always, the two leaders discussed the deep friendship between Ireland and the Untied States, and committed to working together to address areas of shared interest.
In short, Micheál Martin and Joe Biden discussed the Covid-19 pandemic and how to end it, how to tackle climate change, promote peace around the world and ensure the continued friendship between the US, Ireland and the wider EU.
The Taoiseach and the President also discussed the economy and how the US and Irish economies are linked, with workers and businesses emigrating from one country to another, and promised to support deepening trade and investment between the EU and the US.
Mr Martin and Mr Biden also discussed the Good Friday Agreement and both countries' continued support of the "bedrock of peace,stability and prosperity" in Northern Ireland, as well as the vital roles of the Irish and British governments in being co-guarantors for the historic agreement.
The two leaders voiced their support for a path to citizenship for Irish immigrants in the United States and the expansion of student exchange programmes.
A new poetry campaign titled 'Hope Rhymes', a clear nod to Biden's favourite Seamus Heaney poem, has been set up to "deepen appreciation of each other's poetic cultures".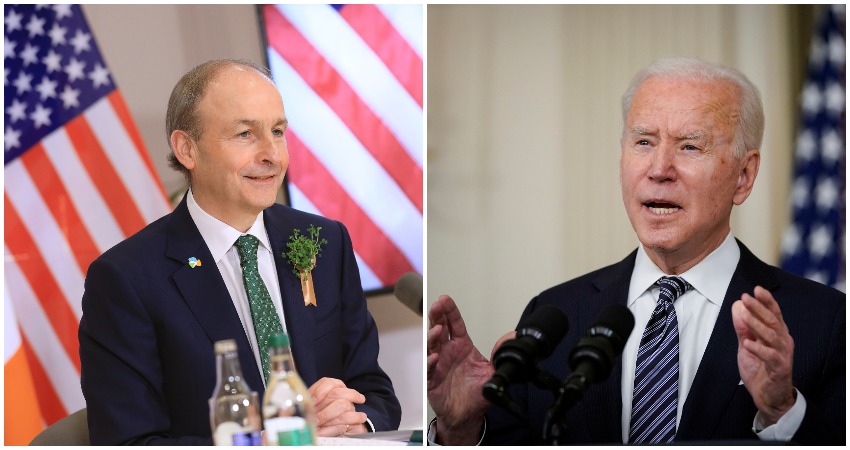 What are the most important take-aways from Micheál Martin and Joe Biden's meeting?
One of the most important things to come from Micheál Martin and Joe Biden's virtual meeting was the US President confirming his "unwavering support" of the Good Friday Agreement.
Pressure has been placed on the relationship between Ireland, the UK and the EU ever since Britain voted to leave the union in 2016, and ongoing rows regarding the Northern Ireland border and the supply of vaccines has caused higher tension in the past few months.
During their virtual St Patrick's Day meeting on Wednesday, Biden said that the US would continue in its "strong" support of both the peace agreement and of Ireland.
Biden said: "We strongly support [the GFA], we think it's critically important [it is] maintained and the political and economical stability of Northern Ireland is very much in the interest of all of our people."
Martin responded saying: "It has meant a lot and it has mattered, including as we negotiated Brexit.