Scene stalwart? Indie grafter? Cult hero? In all truthfulness, the label that best suits Stefan Murphy is 'thirtysomething rock star on a Monday morning' when we meet outside hallowed Dublin venue Whelan's, bright and relatively early.
It's the night after a gig in the middle of a long tour; he is tired, slightly bedraggled but in good form nonetheless.
"Cult hero? It's kind of the opposite; I'd like to earn that status," he says, removing his thick white-framed sunglasses and shrugging off his leather jacket as we take a seat in an alcove inside the venue.
Light pours in through the gaps between faded posters in the window as he speaks. "If I make four more albums and they're good – and they don't sell a million records but keep me afloat and ticking over – maybe then I'll put my name forward to be hailed as a 'cult hero'. Now, I feel like I'm still learning."
The Mighty Stef, as Murphy is known to the music-consuming masses, has learned a lot over the last decade or so. Now, at the age of 38, the biggest lesson that he has realised is that age is irrelevant.
He spent time earlier this year touring with Cavan wunderkinds The Strypes, but being surrounded by musicians less than half his age didn't matter.
"The oldest member of The Strypes is closer in age to my four-year-old daughter than he is to me," he says with a bemused chuckle. "But I'm not ageist and I don't feel old, so it's irrelevant what age I am. I'm just glad to be out there still doing it."
"Still doing it" is something of an understatement for The Mighty Stef; Murphy is what you might call a late bloomer.
Although he discovered a passion for music in his teens and dabbled in numerous bands during his school years, it was always more of a hobby than a serious way to make a living.
Growing up in a "classic working class family" in Crumlin, college was followed by a succession of menial jobs, none of them music-related. "Petrol stations, bars, the usual," he says, nodding.
"The longest job I ever had was when I did shift work in a glue factory out in Tallaght. Believe it or not, that was actually pretty good because all I did all day was listen to music."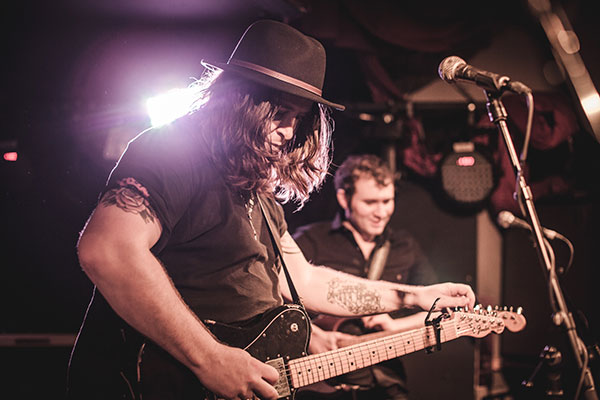 In his early to mid-twenties – and after his band The Subtonics had split – Murphy decided to start taking his musical career more seriously. Initially subsumed into the 'leather jacket' rock scene that bands like Humanzi and The Things were propagating in the early noughties, The Mighty Stef was suitably encouraged by his friends in those bands to begin playing his own material. 
"It felt like something was happening in Dublin at that time," he explains. "Humanzi are a classic example; they were one of the last groups in the door before the record industry started battening down the hatches and stopped offering big-money deals to bands that they weren't 100 per cent sure were gonna sell a load of records.
Every member of Humanzi has played in my band at one stage or another and are all close friends of mine. All of us felt like Dublin was the centre of the universe at that time, and when you're seeing your friends succeed in that way, you think 'If one person can start a band and do OK, then we all could.'"
Buoyed by his newfound inspiration, Murphy's transformation into The Mighty Stef began.
"The only reason I took on the name The Mighty Stef was because I was supporting The Things up in Belfast," he recalls, laughing, "and there was a promoter who had no idea what my second name is – so he just wrote The Mighty Stef on the poster.
For whatever reason, I couldn't think of a good name to go out under and I didn't really think Stefan Murphy was rock 'n' roll enough at the time. So I just used that for my acoustic gigs, and it just somehow stuck."
He decamped to Montréal with the help of one musician friend to record his debut The Sins of Sainte Catherine, released in 2006. Since that first album, things have changed significantly in his sound, which now incorporates a gruffer, darker, scuffled rock 'n' roll bite as well as the backing of a full band.
Albums two and three were recorded in Dublin and Berlin respectively, while his recently-released fourth record, Year of the Horse, was made in Los Angeles.
It all sounds very glamorous, but the reality of being a touring musician – and Murphy and his band tour a considerable amount to stay financially afloat – is what he called "15 per cent glamorous and 85 per cent extremely hard work." 
"It puts a terrible strain on your family," he says, nodding sombrely. "My family are terribly supportive, but it's very tough on your own mental health, and I find that particularly hard. So does everybody else in the group – but I'm the only person who can't turn around and say 'Right lads, I'm leaving.'"
Keeping a band together because of those reasons has proven an equally onerous task, although the line-up had solidified in recent years until long-term drummer Brian Farrell called it quits in January.
"I've had some pretty solid line-ups in the last few years, but not everybody can put up with the level of f**king suffering as I can," he says, laughing. "I don't mean suffering as in Angela's Ashes-type stuff – although it does seem that way when we're on tour sometimes – but there's a hell of a lot of work, and the rewards are minimal, to say the least.
I remember one time we were opening for The Fall in The Button Factory, and because Mark E. Smith was famous for having hundreds of former band members, I counted up all of mine just for the craic. I think I was at 27, whereas he was at 60. But he'd been doing it for 35 years, and I'd only been doing it for seven at that time – so God knows what way it's going to end up."
There have been some bad decisions and worse experiences on tour over the years, including spending Christmas in Sweden with bronchitis, a story he recounts with a grimace – but the band's relative stability with Gary Lonergan on bass and Daniel Fitzpatrick on guitar over the last few years meant that Year of the Horse signifies something of a new era for The Mighty Stef.
They are under new management and have launched a new label, Burning Sands, which was picked up for distribution by Rough Trade. The writing process, meanwhile, was more collaborative than ever before, with the band learning to use their free time productively while touring. 
"I always thought when I was younger that if I was in a touring band like Nirvana and I was backstage, I'd always want to be playing my guitar and writing new songs," he says, smirking. "It became obvious to me early on that that's not what anyone does: when you're backstage, you're just chilling out or drinking or whatever.
Nobody wants to lift a finger that they don't have to. But this particular tour [in Germany] was the first time that we thought 'Let's try to use the empty moments to do something creative'. We really became proud of the fact that we could function this way on tour, so we just kept pushing it. It was great; we got at least six of the 12 songs on the album together on that tour."
Murphy and his cohorts eventually decamped to Hollywood for almost three months to record Year of the Horse, "begging, borrowing and stealing" the funds that allowed them to work with a top-class producer Alain Johannes (Mark Lanegan, Queens of the Stone Age).
Playing bar gigs to fund the trip, they had some bizarre experiences during their stay that included bumping into Jedward on the street (the resultant picture is worth Googling) and celebrating Ed Sheeran's birthday with him.
It feels like this album has hit upon a certain sound that The Mighty Stef have been struggling to nail for the last few albums: a combination of rock that nods to their influences – Nick Cave, the aforementioned Lanegan, Primal Scream – as well as branding it with a distinctly Irish bent. 
Gathering up his belongings as he prepares to head back out into the cold sunshine, talk turns once again to The Strypes tour, and whether it's easy to become bitter or disenchanted by seeing youngsters winning plaudits, meeting heroes and touring places like Japan when he continues the hard slog.
"Not from me," he says resolutely. "I never harbour those type of feelings, just happiness.
Especially since I've become a father; I've become more philosophical about those types of things. When The Strypes were signed my daughter was a baby and I remember thinking 'If they succeed, when she's ten they're going to be her idols'. It's great that there's going to be a young band playing rock 'n' roll music, and they're absolute gentlemen to boot."
He accepts that The Mighty Stef perhaps aren't the easiest band to market; they met with a number of record label representatives who loved Year of the Horse, but who found themselves scratching their heads when it came to selling it. 
"One of those phrases that people tend to use is 'Oh, I don't 'get' this'. What's not to get? It's just music," he says, frowning.
I'd rather people said to me 'I just don't like it' rather than 'I don't get it' – it seems like a bit of a roundabout way for people to plámás people. But then again, I probably wouldn't know how to market us. I'd know how to market a band like The Strypes, or I'd know how to market a singer-songwriter.
I really don't know how to describe what it is that I do. I know it's a cliché, but the music should speak for itself. It just takes people to like what you do."
He is still hungry for success, still waiting for that big break. And if it doesn't come with this album, he says, he'll just keep plugging away, regardless. 
"I know if it came down to it, I could make an album on one of these things," he says, smiling as he picks up my rickety old cassette Dictaphone, "and if it ever does come down to it, that's what I'll do.
I hope this doesn't sound needy, but I hope that people will take this album seriously. If you read between the lines and the lyrics of every song, there's a lot of my own personality and the experiences I've had in this band. I just hope that people will give it a fair go. Listen to it and like it. That's all."
Year of the Horse is out now. The Mighty Stef are on tour in England and Scotland until June 16, including dates in Stockton-on-Tees, Newcastle and Edinburgh; see themightystef.net for further details.