"I HAD an eating disorder all through my teens and into my early 20s. I think the media representation of 'perfect' women can cause a lot of problems with negative body image and I guess all that came together as a perfect storm. It's a huge central theme in the book."
Louise O'Neill has just published her debut novel, Only Ever Yours, and she speaks honestly and openly about a very modern problem. She writes every bit as passionately, mainly because she knows the pressures many young women experience when it comes to what society is telling them about how they should look.
The 29-year-old Cork writer's debut has been hailed as a cross between The Hunger Games and The Handmaid's Tale. Marian Keyes has described it as "utterly magnificent… gritty, accomplished, dark".
It tells the story of two 16-year-old girls who have been best friends the whole way through school and explores the "contemporary obsession" with the female body and what this can do to young girls.
O'Neill reveals that the concept for the book came, partly, from her time living and working in the United States.
"I had been working for Elle magazine in New York and while I was there it had started bothering me how people in the fashion industry treat women as if they were a commodity and not human beings," said the TCD graduate from Clonakilty, west Cork.
"It was amplified in the fashion industry, but it was still something that was common in everyday life outside that industry. I had anorexia and bulimia from the ages of 14-26 and while I was working in New York I started seeing a therapist and a nutritionist.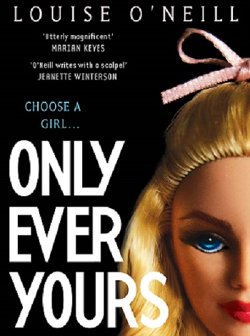 "The reason I did that was because despite being in what many people would regard as 'the best city in the world', I was really struggling. I didn't have any energy and I felt I was wasting all these amazing opportunities that I was being given.
"The therapist was amazing, America is way ahead in that regard. Within a few months I started feeling stronger in myself."
Soon she made the decision to shelve the so-called 'American dream' and return home to figure out the next step. It's a decision she hasn't regretted.
"I moved back to Cork, my relationship had broken down and I didn't know what I was going to do. I didn't have a job and couldn't get one in fashion. I wasn't even sure I wanted to continue working in fashion.
"So writing was a very therapeutic process. I had this huge vacuum of time and space and energy. I sat down and thought 'what do I actually want to do?' And I wanted to write. I took a year out and wrote my first novel."
Within weeks of completing the script, O'Neill had five agents and three publishers battling it out for her services and soon she had signed a two-book deal.
She added: "It's fiction and while the main character is not based on me, I did draw inspiration from my own experiences.
"People have said to me that there is something 'gut-wrenchingly honest' about this book and that is a great compliment. A lot of the pain is visceral on the page; I guess that's a really good way of channelling emotion."
The solitude and the beauty of west Cork helped the writing process, but so too did the "incredible" support of her family.
"My parents were so supportive, just incredible really. I found it really easy to write at home, it's so quiet and my parents are so easy to get on with. I was lucky to be given the time and opportunity. I'm still living at home. It's great, there are no distractions here. I walk every day and I do my yoga. It's a lovely country life.
"Don't get me wrong! When I turned 18 I was 'out of here'! I didn't want any part of living in a small town. It's interesting to have come back home. I'm happy."
So what advice would she give to any young girl out there right now struggling with the kind of issues she faced and overcame so successfully?
"The most important thing is to accept yourself. You are never going to make yourself five inches taller or make your hips smaller. I think it's a matter of saying to yourself: 'I don't mind my body the way it is'.
"So many women spend so much time and energy worrying about things like these. If we worried less about what we look like, we could change the world.
"The problem is that a lot of the time with the media, from TV to magazines to pop videos, it's just not reflecting the world around us. It gives young people the wrong kind of role models and that can be really dangerous.
"It's all about looking perfect and being the right weight. It does bother me. When I was a teenager I guess you could say that I didn't have the sophistication to understand how the media worked, I believed that if it was in the paper it must be true. Now I know that's not necessarily the case."
Perhaps not surprisingly, O'Neill says she doesn't watch television, preferring instead the theatre and her books, though she does admit that she "sometimes feel like I'm missing out by not watching TV".
She added: "I'm always reading and I love books. I just feel that an hour spent watching telly is an hour that I could have spent reading.
"I think it's important to read all the time, especially if you have ambitions to write. A really great book will show you what to do, it will make you a more critical reader and that will make you a better writer."
Only Ever Yours by Louise O'Neill is out now published by Quercus