THE TAOISEACH has issued a full state apology to those affected by Ireland's Mother and Baby Homes.
Taoiseach Micheál Martin has addressed the Dáil, apologising on behalf of the State for the "profound generational wrong visited on Irish mothers and their children who ended up in a mother and baby home or county home.
"I apologise for the shame and stigma which they were subjected to and which, for some, remains a burden to this day.
"In apologising, I want to emphasise that each of you were in an institution because of the wrongs of others. Each of you is blameless, each of you did nothing wrong and has nothing to be ashamed of.
"Each of you deserved so much better."
"The states duty of care was not upheld," he continued. "The state failed you, the mothers and children in these homes."
The newly published report, he said, "gave survivors what they had been denied for so long-- their voice."
The report would not have been possible "without the steady determination of former residents [and] their advocates", as well as historians.
He singled out Catherine Corless, whose "work at the Tuam site led directly to the establishment of the Commission", after 800 children were found buried in an unmarked grave a the site of a former institution.
The Taoiseach condemned "How this country responded to the particular needs of single women and their children at a time when they most needed support and protection."
"This should have been forthcoming from the fathers, family and friends, their community, their churches and their state but so often it was not."
"The most striking thing", he said, "is the shame felt by women who became pregnant outside of marriage and the stigma which was so cruelly attached to their children".
"A dearth of sex education often left young women confused and unaware as to why they had become pregnant," he said, adding that some of these pregnancies were the result of rape and incest.
Children born outside of marriage were outcast and stigmatised, and suffered  "heartbreaking exploitation, neglect and abuse" in the communities where they were placed.
"This was unforgivable," and "a terrible burden on their lives", he said.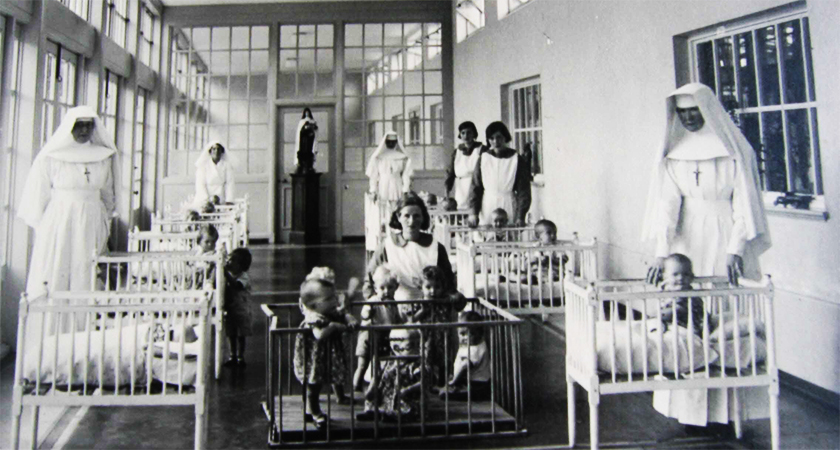 "We had a particularly warped attitude to intimacy and sexuality, and young mothers and their sons and daughters paid a terrible price".
"We must acknowledge it as a part of our nantional history," Mr Martin said, and stated that "we must do what we can" to show deep remorse for those who were "treated so cruelly".
Ireland was a cold and harsh environment for women, and while mothers were not "legally forced" to enter the institutions, most had no choice.
"The report does not answer all the deeply personal questions on the burial arrangements for many of the children who died in these institutions in many cases the burial location remains unknown," he said.
"There are no records for a number of the large institutions where significant numbers of infants are known to have died including Tuam, Bessborough, Castlepollard and Sean Ross. While this is difficult, options for dignified remembrance and memorialisation will be implemented where this is not already the case."
The state will endeavour to assist children born in the institutions to find their birth families, as "access to one's identify is a basic right".
An enhanced medical card, counselling and patient liaison support services will become available to all former residents, both the mothers and their children.
"I want to reassure survivors, their families and the country, that this Government is determined to act on all the recommendations of the Report and to deliver the legislative change necessary to at least start to heal the wounds that endure."