Stock Exchanges and Markets have always been part of a country's economy, proving to be beneficial for growth and revenue.
It's the case of the Stock Exchange in Ireland which was first established following the passing of the Stock Exchange Establishment Act by the Irish Parliament in 1799.
Ever since, it has continually grown to become one of the major stock exchanges in the world, especially since it absorbed other exchanges and was at one point, incorporated into the London Stock Exchange from 1973 to 1995. It was then acquired by Euronext in 2018, a pan-European collection of exchanges that includes Brussels, Amsterdam, Lisbon and Paris in addition to Euronext Dublin. A global acquisition that has enabled to open barriers to the stock exchange market and increased beneficial growth for the economy.
With this everchanging stock market, this article will take a look at all the different markets available in Ireland, the things to consider before investing as well as the ways to invest. and analyze the economic benefit of the stock market, in order to guide investors.
The three markets to look at
Advertisement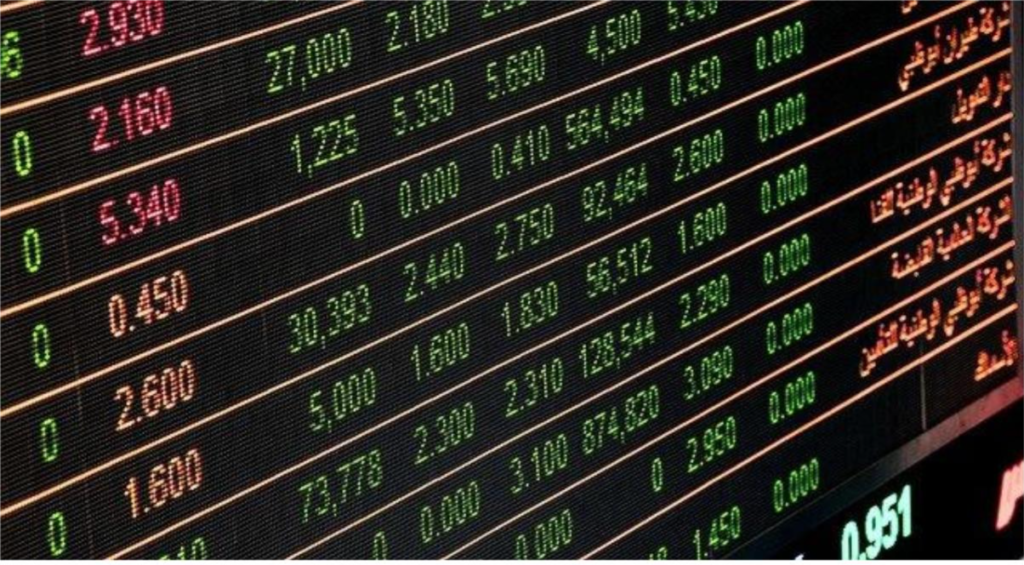 If you are keen to invest, there are currently three markets within Ireland's exchange to look at:
● The Main Securities Market
● The Enterprise Securities Market
● The Atlantic Securities Market.
The Main Securities Market provides a way for larger companies who need to raise capital to achieve this via share issues. The Enterprise Securities Market is more for businesses which are in their early stages of development and need to raise money to finance their growth. To help these kinds of businesses, Euronext Dublin also runs a program called IPOready which prepares their leaders for the next steps in their company's growth. Finally, the Atlantic Securities Market is for foreign companies aiming to attract investors in both America and Europe via Dublin. However, the markets are not the only elements to look at when investing in the stock market.
What to consider when investing in the Irish Stock Market
Advertisement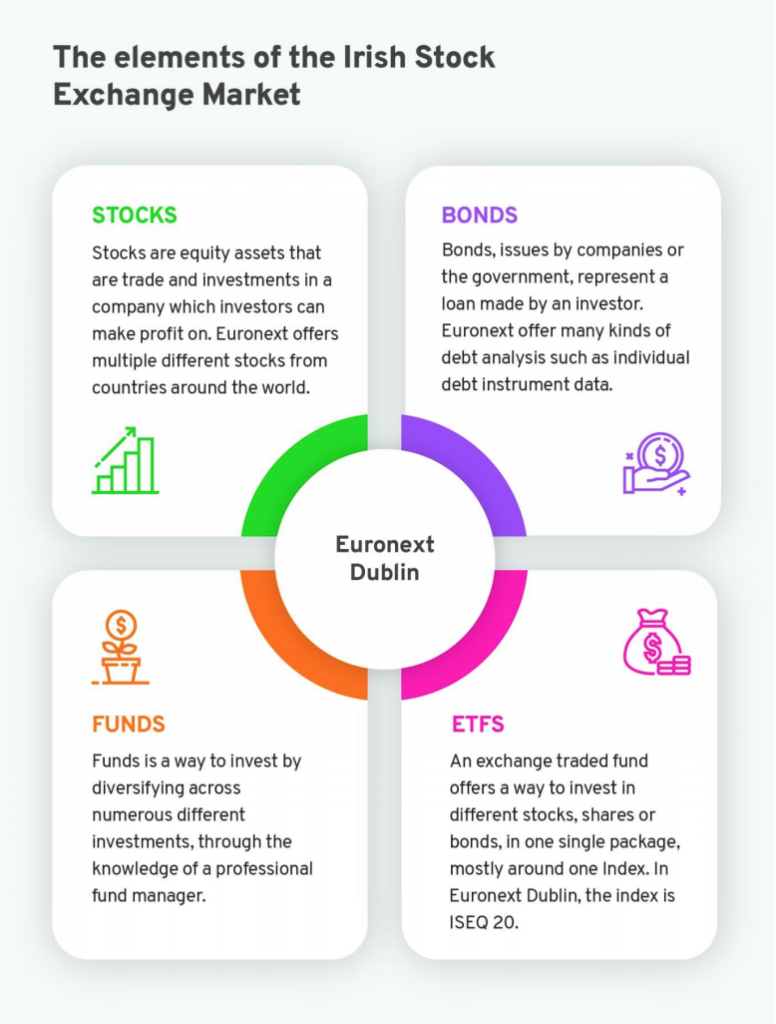 One particular area to look at in which Euronext Dublin is especially strong is in the field of Exchange Traded Funds (ETFs). These are funds consisting of a number of different individual assets that aim to replicate the profiles of specific indices such as the FTSE 100 and the S & P 500. These were first traded on the Irish Stock Exchange, as it was then, in 2005. Since then Euronext Ireland has grown to the Europe's leading exchange for them.
This has been due to a number of factors including the expert infrastructure of legal, tax and accounting services that has built up around ETFs trading.
Depending on which market you are interested in, each investor can identify the many different stock investments available on those markets. A good way to do this is to have a look at all the market data and the announcements the official Irish Stock Exchange website offers. Another good way would be to look at all the different stocks that are performing well and checking the different prices available on trading platforms. By providing tools, information and guides for would-be investors, as well as profiles of the sorts of companies who might make for promising investments, investment platforms such as eToro provide people with all the tools they need to make informed choices about where best to invest. Stocks are available with zero commissions, meaning that no broker fee will be charged when opening or closing the position and does not apply to short and leveraged positions. However, other fees may apply, which puts your capital at risk. Similarly to Euronext Dublin, an array of investment opportunities such as stocks, ETFs and information about price analysis are made available for all investors.
It's been quite a year for the stock market in Ireland
Looking at how the stock market in Ireland has fared over the year up to the end of November, it's no surprise to learn that the global turbulence has had a major effect. Throughout 2019, there had been a steady increase in its value which plateaued slightly in the first couple of months of 2020. But then Covid-19 struck with a vengeance and share prices plummeted from a high of over 7000 points to lower than 4500 in the space of a couple of weeks.
There is also the looming prospect of Brexit to take into account. Until the details of a deal between the UK and the EU are revealed, it is hard to predict what effect this will have. However, in the event of no agreement being struck, we will almost certainly see a fall in the market.
Advertisement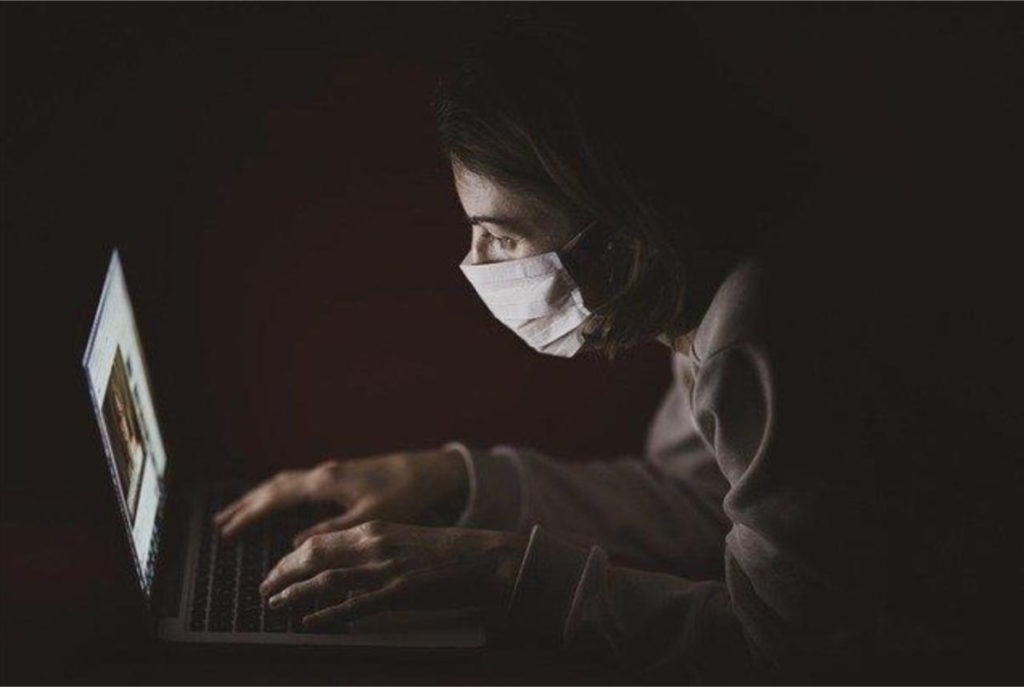 If we are lucky, this could start to correct itself as quickly as it did after the initial seismic shock back in March. This has recently seen it returning to pre-Covid levels helped, no doubt, by the encouraging news about vaccines becoming available in the near future. With the start of vaccination in the UK, growth of the stock market in Ireland is expected to grow and bring new investors, but how would a new investor proceed to invest in the stock market ?
New investors: How to invest in the stock market?
In recent years, investment in Euronext Ireland has been driven to higher levels due to the increase in online investment and stock trading sites like eToro. These have successfully democratized and demystified the world of investment as well as making it a simple and comparatively low-cost activity. This has not just benefited the Irish exchange; it has also opened up global opportunities to invest in many areas as well as stocks including currencies and even Bitcoins. But how would a newbie investor would start to invest in the stock market? Here's a few steps to consider:
- Research and select the stock you want to invest in.
- Create an investing account on an investment platform of your choice.
- Set the budget of your stock investments.
Advertisement
- Select whether you'd like to invest short or long-term.
- Manage your portfolio.
Many descriptions of Irish companies such as Flutter Entertainment and Kerry Group PLC are available on the equity director of Dublin's Stock Exchange, which makes it easier for investors to check directly the different stocks and shares, before investing. But someone might ask themselves, does stock investments and trading provide any economic benefits for one's economy?
The economic benefits
Naturally, the more people choose to invest via Euronext Ireland, the better this proves to be for the Irish economy in general. This happens in a number of ways. Most directly, it is the contribution it makes to the country's Gross Domestic Product which amounts to a little over €200 million a year. In addition, the taxes paid in the form of Stamp Duty amount to around €230 million a year that heads directly to the Irish exchequer.
It's also been estimated that over 2,000 people are directly employed with many others, including lawyers, accountants and tax advisers, also gaining a great deal of their income from work related to the stock exchange. Another, less direct, contribution it makes is by enabling companies of every kind to raise vital capital by share issues. In the past, this has helped many of Ireland's biggest companies to expand and thrive and continues to do so.
So, it's easy to see that the stock exchange does make an important contribution to the economy, as well as providing opportunities for investors and a financial lifeline for businesses. Stock trading also has proven many benefits to the country's economy. Its importance will undoubtedly increase every year, even more so with new technologies providing new ways of reaching investors and consumers, as well as new ways of online investments. Even facing a difficult year, the stock trading market has managed to remain as stable as it can, especially with the increase of stocks and shares in new tech companies, benefiting from the new consumer behaviours generated by the pandemic. And here's hoping that the ups and downs of 2020 will not be reappearing for some time to come.
Advertisement