IT'S FRIDAY THE 13th, so you know what that means: bad luck. Be sure to avoid all black cats, broken mirrors and horseshoes at all costs! ... Wait, aren't horseshoes good luck? Ah never mind!
'Luck' and 'Irish' go together like rama lama lama ka-dinga da-dinga dong - or - for those who haven't watched Grease, like gin and tonic, or Roy Keane and an incessant cynical rambling about the state of 'players today'.
But Irish luck isn't as consistent as it seems.
We have bad days at the office too, and can't always rely on the four-leaf tucked in our cap to get us out of trouble.
On that note, here are five reasons why 'The Luck of the Irish' isn't a thing:
Thierry Henry's handball
Crafty, Renault-driving b*stard.
It was Va Va Gloom for Ireland after Henry's deliberate cheating kept the ball alive for William Gallas to stab home the goal that would take France to the 2010 World Cup Finals, and to stab the collective heart of every Irishman watching. Incensed, the Irish players swarmed the officials, demanding the goal be chalked off, but somehow referee Martin Hansson hadn't seen what your 95-year-old half-blind grandmammy sitting in the back row reading the paper had seen. It was over. France won. Henry went on to lift four trophies with Barcelona that season, and Ireland's quest to reach their first World Cup since 2002 goes on to this day.
Stefan Connolly
Wow! An 'own point' from Stefan Connolly pic.twitter.com/YYZni7jvEC

— We Are Cavan (@Wearecavan) September 13, 2015
Stefan takes bad luck to a new level.
After scoring a bizarre own-point that cost his Gaelic football side a place in the championship final, Stefan, from Co. Donegal, rather embarrassingly made the national news and began trending on Twitter. As if that wasn't enough, before the game was up he pulled his hamstring and was forced off the field. With the country laughing at him, and his teammates scowling at him, his bad luck refused to let up. In the two weeks following the game, a driver smashed into his new car causing €2,000 worth of damage and he lost his phone and two jackets. After returning from injury, he then twisted both his knee and ankle in his first training session.
The constant invasions
The Vikings, the Normans, Cromwell - you name it!
'Constant' might be a bit of a stretch, but there's been plenty of them. Ireland is a fiercely proud nation with a grand heritage, but boy have we had to work hard to preserve that heritage! The Vikings started coming in the 8th century and didn't bugger off until the 12th century. Then, a few years later the Normans decided to rock up. Over the next few hundred years or so, the Scots, the Tudors and the Spanish all decided they wanted to come and try Irish stew, before the Cromwellian invasion shortly after. The Germans even had plans to come and 'visit' during WWII, but presumably thought better of it after looking at our weather forecast.
Mayo GAA
The Curse of '51.
As the legend goes, after winning the All-Ireland final in 1951, the victorious Mayo team were celebrating wildly on their way home. They passed a funeral cortège on its way to the graveyard, but refused to tone down the noise. The presiding priest consequently put a curse on Mayo football to never win a subsequent All-Ireland Final until all members of the 1951 team are dead. Since then, they've reached nine finals and lost them all. Stories of the curse have only intensified down the years after agonisingly unfortunate defeats have littered their recent history. In 1996, a freak point by Meath at the end of the final forced a replay, which again saw Mayo concede in the last minute to lose the tie. They lost by a single point to Dublin in 2013, and in 2016, they scored two own goals in the opening half before drawing in the last minute. In the rematch they lost to Dublin again by a single point. In 2017, they faced Dublin once more and - you guessed it - lost by a single point. With just two of the famous '51 championship winning side left alive, Mayo fans seemingly have plenty more hardship to endure before finally getting their hands on the Sam Maguire Cup again.
Ginger hair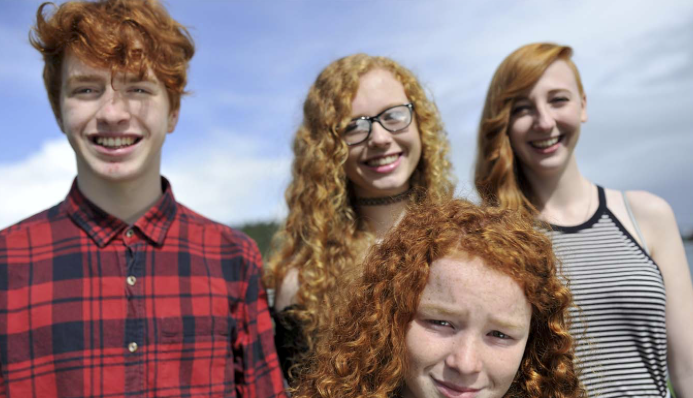 Self explanatory isn't it?
OK! I'm having a little fun with this one. But I'm allowed to - I myself proudly rock a copper cap. And while being a red-head is certainly something to celebrate in the 21st century, that wasn't always the case. Before kids were trying to convince their schoolmates that they did in fact have souls, ginger-haired people, back in the day, were considered to be witches, werewolves or vampires. The pesky Viking and Scottish invasions brought plenty of carrot-tops to Ireland, but life wasn't all that straightforward for them. If they weren't being accused of sucking blood, casting spells or growing sharp teeth, red-heads were usually viewed as people with awful tempers or of illegitimate birth. This meant they were often cast out and rejected by large portions of society (which often lead to some of them developing awful tempers). But forget historical bad luck for a minute, the fact that I can't stand in the sun (or directly under lightbulbs) for more than a few minutes without burning to a crisp is the worst luck of all! And until they make a fashionable sun-hat that I can rock at the beach as well as strolling down Grafton Street my mind won't be changed!