Old friends have reconnected more than five decades on from their first meeting – after both appearing in the same article about the history of an Irish ballad
IN 1965 Richard Graves made a trip to Sneem in Co. Kerry, to retrace his family's history. The author of twenty biographies himself, Richard comes from a family with a rich literary legacy – including his grandfather, Anglo-Irish poet Alfred Perceval Graves (APG), a celebrated Irish poet and major figure in the Gaelic revival and a keen student of Irish mythology.
Richard's books include including biographies of T.E. Lawrence, A.E. Housman, the Powys brothers (John Cowper Powys, Theodore Francis Powys and Llewelyn Powys) and Richard Hughes. In 1999 he was awarded a Hawthornden Fellowship.
The literary DNA is strong in the Graves's bloodline – with 500 works published by 30 members of the family across the generations. "It sometimes seems that every member of our family has written a book of some sort," Richard told The Irish Post
With this background Richard Graves himself was immersed in literature, both Irish and English. During his summer trip to Kerry in in 1965, Richard, then 19 was living in Ballygarvan in Co. Cork, stayed with Batt Burns in Sneem, a seanchaí (storyteller) and Irish studies teacher who grew up in the village.
Before the pandemic struck, by chance, both were quoted in an article about the ballad of Father O'Flynn, written by AP Graves about an unlikely friendship between a Protestant and Catholic priest.
AP Graves, who had been president of the Irish Literary Society, based his ballad on the local Catholic parish priest in Sneem and family friend, Fr Michael Walsh.
Richard (73) said: "I recognised Batt's name straight away when I saw the article."
Plans were made to meet up, but lockdown intervened.
Richard told The Irish Post "I was made very welcome by Batt and his family and we spent an evening, with around 20 of his relatives, singing and reciting poetry.
"The local priest turned up at the party and introduced me to Irish whiskey. Despite the whiskey, it was a very memorable trip and I would return to live in Ireland some years later."
Batt and his late wife, Maura, who were then recently married, hosted Richard and went on to run a B&B in the village.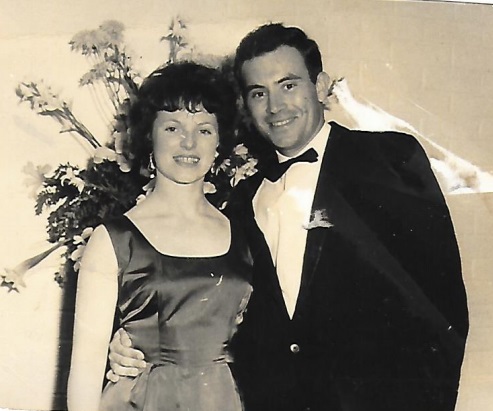 Richard Graves returned to live in Co. Cork in the 1990s, only returning to England because of personal reasons. He told The Irish Post: "Ireland is the only place I've every really felt at home in. It's where my heart is."
Richard is financial director of the digital marketing agency GWS Media in Bristol, which specialises in multilingual sites. His son David founded the company more than twenty years ago. "I help out a few days a week in the finance department, but I've more or less returned to writing full-time — books 221 and 22 are on their way."
Batt and Richard have since been back in touch and reminisced about the 1960s and changes in the area. Batt has now invited Richard, who has lectured widely on literary subjects — notably on the poets of the Great War of 1914-1918 — to speak at the annual Sneem International Storytelling & Folklore Festival in November.
This celebrates the ancient art of yarn-spinning with artists of all ages, and Richard will on Saturday, November 12.
Family history
Richard's great grandfather was the Reverend Charles Graves, the Anglican Bishop of Limerick, Ardfert and Aghadoe.
The family's holiday home in Parknasilla, Sneem, became known as the Bishop's House – still its name today, but the site of a luxury hotel, which welcomed its first guests in 1895.
"My great grandfather had died 66 years prior to my trip to Sneem in 1965," he said. "But people spoke about him as if he had just gone away for a long weekend. They have a long folk memory in the village and I felt very much at home."
Richard, who first read about Parknasilla in his grandfather's autobiography To Return to All That, said: "I had been keen to visit Sneem for some time, especially as my grandfather, APG, died before I was born and I wanted to visit the place where he had enjoyed so many happy family holidays as a child.
"Sneem is such a beautiful place and I look forward to returning there."
 
Robert Graves
Richard Graves' uncle was the poet and novelist Robert Graves, similarly an avid Celticist, and also a respected Classics scholar — penning many translations and innovative analysis of the Greek myths.
Robert Graves' memoir of his early life, which includes an account of his role in World War I, is entitled Good-Bye to All That. It has never been out of print.
His most famous novel I, Claudius was made into a hugely popular television series starring Derek Jacobi, Siân Phillips and Brian Blessed. Robert Graves stated in an interview with Malcolm Muggeridge in 1965, that he wrote I, Claudius mainly because he needed the money to pay off a debt, having been let down in a land deal. The success of the book extricated him from his precarious financial positio