A MARRIED man is facing a difficult dilemma after coming across his wife's profile on the mobile dating app Tinder.
The husband's story, which was posted on Reddit, has gone viral after posing a near-impossible conundrum.
While it's not entirely uncommon for boyfriends or girlfriends to have profiles on dating sites in the hope of getting a little action on the side, it's rarer among married couples.
Or at least, that was what we thought until we heard this particular tale of woe:
"A month ago she left on a business trip for a week and I found myself downloading Tinder on a particularly lonely night. I don't even know why. I didn't have any intentions. But I did it," he wrote.
"On Monday my wife left for another business trip. Last night I once again downloaded Tinder and started swiping. Again, I had a laugh, but ultimately was bored of it.
"Then I saw her picture come up. I say shocked for a moment. I wondered if I should just delete it and pretend nothing happened. I thought maybe a bot stole her picture.... But I read her profile... it's her. It's her now and it's her live. There's even a picture of her where I am cut out.
"I decided to make a bold move and swipe right. I swiped and we matched."
"I'm going to confront her then. I don't even know how this is happening. She's over 100 miles. Is a friend of hers using her account??
"Now I have to explain why I was on Tinder. This is just a huge can of worms that got opened. What the hell do I do?"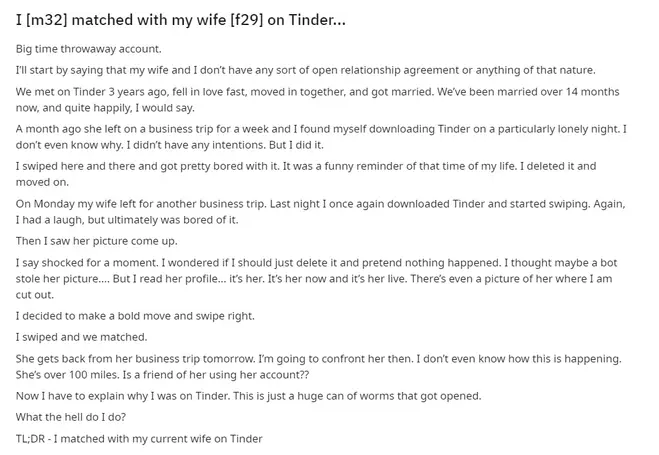 A worrying tale in the era of mobile-based online hook-ups, plenty of theories and suggestions have been put forward by other users on Reddit.
"I think someone told her he was on there and she was trying to catch him out to see if he tries cheating every time she is out of town," one user suggested.
"Honestly, what probably happened is that someone she knows or one of her friends saw you on tinder the FIRST time you went on, so she decided to investigate for herself," another added.
The best response came from a third user, who summed it all up thusly: "You guys seem perfect for one another."
Quite.