MICHEL BARNIER has dismissed Boris Johnson's calls for the Irish backstop to be axed from the UK Brexit deal.
Speaking in his first address to the House of Commons as Prime Minister, Johnson branded the agreement predecessor Theresa May reached "unacceptable to this Parliament and to this country" because of the backstop.
The Irish backstop was left in place in the hopes of ensuring an open border remains in place between Ireland and Northern Ireland, whatever happens with the UK's departure from the EU.
But Johnson dismissed the idea of the backstop, in an impassioned address in which he also insisted the UK was going to "turbo-charge" its preparations for a potential no-deal departure.
"No country that values its independence and indeed its self-respect could agree to a treaty which signed away our economic independence and self-government as this backstop does," Johnson told MPs.
"A time limit is not enough. If an agreement is to be reached it must be clearly understood that the way to the deal goes by way of the abolition of the backstop."
But in an email to EU diplomats published by Politics Home, the EU's chief Brexit negotiator rejected any idea of the backstop being dropped.
"PM Johnson has stated that if an agreement is to be reached it goes by way of eliminating the backstop. This is of course unacceptable and not within the mandate of the European Council," Barnier said.
Barner went on to address Johnson's decision to ramp up preparations for no deal.
"As suggested by his rather combative speech, we have to be ready for a situation where he gives priority to the planning for 'no deal', partly to heap pressure on the unity of the EU27.
"No deal will never be the EU's choice, but we all have to be ready for all scenarios."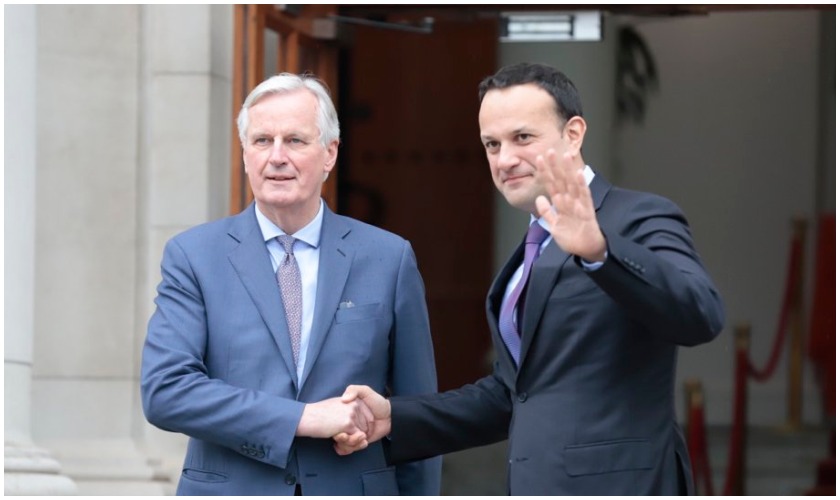 Barnier's comments will be welcomed by the Irish government.
Speaking in an interview with RTE Radio, Michael Creed, Ireland's agriculture minister, previously expressed concern over Johnson's claims regarding the backstop.
"The makeup of this government seems to be a mirror image of his [Johnson's] own viewpoint substantially and obviously that would be of concern to us," he said.
"What the government is concerned about now is the approach of new administration in the UK to the withdrawal agreement. We see that as the way to have a planned withdrawal arrangement and obviously what we are hearing from the government is quite alarming."