A REPRESENTATIVE of the animal rights group PETA has suggested that the word 'pet' is offensive to animals and has urged people to use alternative terms.
PETA (People for the Ethical Treatment of Animals) is apparently opposed to the term 'pet' because of its connotations of ownership, and have suggested the word 'companion' be used instead.
Phrases such as 'one-trick pony' and 'taking the bull by the horns' were also on PETA's chopping block (probably not the best term to use, admittedly), due to their supposed 'offensive' implications.
Appearing on ITV's Good Morning Britain on Tuesday, PETA's senior media officer Jennifer White told Piers Morgan and Susanna Reid that encouraging a sense of ownership was contributing to the large amount of pets being mistreated and abandoned.
"A lot of people at home who have dogs and cats refer to them as pets and they refer to themselves as owners, and this implies that the animals are a possession," she said.
"Because when you refer to animals, not as the living being that they are, but as an inanimate object, it can reflect our treatment on these animals."
The GMB hosts were having none of it though, with Susanna pointing out that, under law, animals are possessions, and that ownership can actually bring about a sense of care and responsibility too.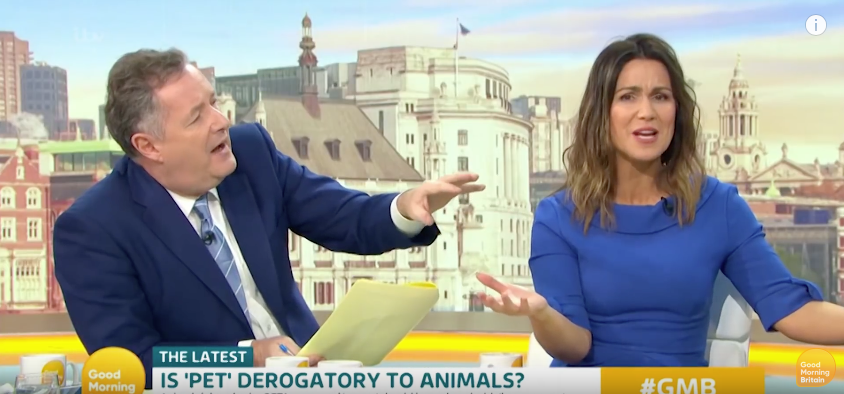 Later on, Ms White suggested replacing a number of 'anti-animal' phrases with "playful" and "inclusive" alternatives.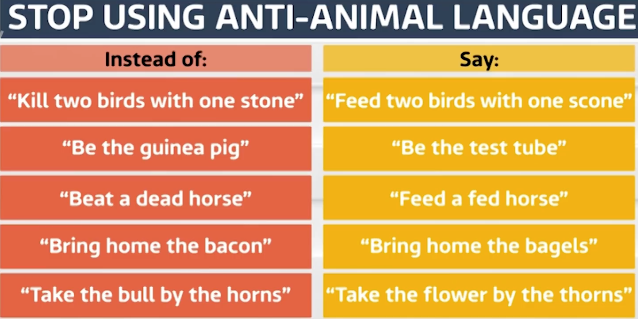 These include replacing 'kill to birds with one stone' with 'feed two birds with one scone', replacing 'beat a dead horse' with 'feed a fed horse' and changing 'bring home the bacon' to bring home the bagels', among others.
She also insisted that phrases like 'one trick pony' and 'let the cat out of the bag' should be scrapped because "ponies shouldn't be doing tricks" and "cats shouldn't be in bags".
Piers later attempted to call out some of the hypocrisy of PETA's ideas, by asking them why they were OK with the phrase 'elephant in the room'.
"Why would you want to lock an elephant in a room? Seriously." He said.
Watch the full segment below.