DESPITE BEING a mainstay of both British and Irish society for more than a century, a new study has revealed that the popularity of the traditional breakfast fry-up could be on the wane.
Newly-published research has revealed that as many as one in five people under 30 have never eaten the classic combination of back bacon, eggs, British sausage, baked beans, fried tomato, fried mushrooms, black pudding and fried and toasted bread.
According to a poll of 2,000 adults aged 18 to 30 conducted by Ginger Research, as many as 17% of under-30s have never even eaten a fry-up.
Black pudding came in for harsh criticism with 27% of naysaying respondents citing it as the single most unappealing thing about a traditional fry-up.
At one point in the 1950s it was estimated that roughly half of the general public began their day with a fried breakfast with all the trimmings.
However, health concerns mean youngsters are increasingly avoiding the fry up, with 20% of 18 to 30-year-olds saying they associate the dish with heart attacks.
And the same number (20%) said the meal was synonymous with obesity.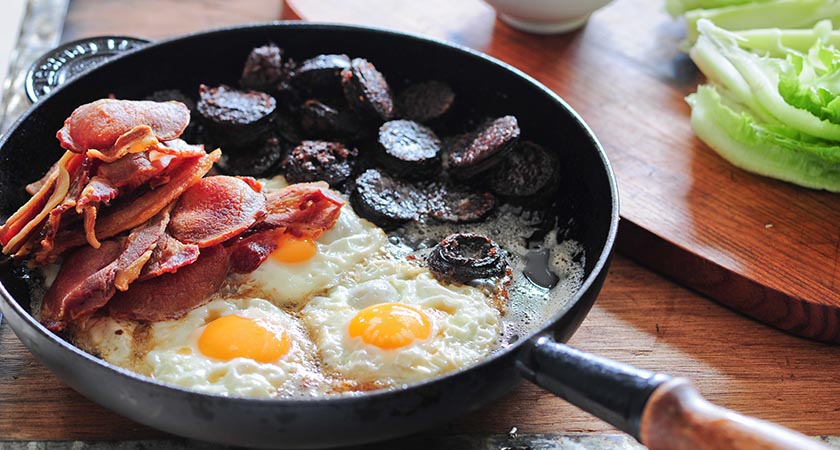 Asked to rate how healthy it was on a scale of one to 10, with 10 being very unhealthy and 0 being extremely healthy, the average 18 to 30-year-old rated it a seven.
Nearly a quarter (24%) believe it is too greasy, and more than four in 10 (42%) said it reminded them of men in vests hanging around in transport cafes.
Other aspects which put young Brits off are greasy bacon (24%), lukewarm baked beans (8%) and processed sausages (6%).
Seven in 10 (7%) would rather tuck into smoked salmon and scrambled eggs, smashed avocado on toast and oatmeal pancakes for breakfast.
And one in twenty (5%) would even rather eat a bowl of muesli.