YESTERDAY EVENING, Micheál Martin stood on Government steps and addressed the nation, over a year after his predecessor first ordered a lockdown.
Ireland has been under extremely strict measures since late December to combat the surge of cases seen after Christmas, but despite three months of lockdown, cases remain stubbornly high.
From 5 April, the easing of some restrictions were expected, such as the 5km travel rule and the return of construction-- but the new phase has been pushed back somewhat, and any changes to the lockdown will now take place later in April.
Speaking yesterday, Micheál Martin acknowledged that "a lot has been asked of everyone and it "continues to be exceptionally difficult", "but we should never forget that by accepting the restrictions on all of our lives, we have saved lives."
He said the new B117 variant is "essentially a new virus" as it is "more transmissible and ... significantly more dangerous" but we can avoid a fourth wave "if we move forward sensibly and safely".
From 12 April rather than 5 April, the 5 kilometre rule will be scrapped and people will be allowed to travel anywhere in their county , or 20km from their home, whichever is further, even if it means crossing a county border.
Also from 12 April, two people will be able to meet outdoors socially rather than for just exercise, however this must be in a public area and not a private garden.
A phased return to construction will begin on 12 April, starting with those involve in building houses and childcare facilities.
"From 19 April, some additional high performance training will be permitted," the Taoiseach said, "including senior inter-county GAA training to facilitate National League competition, starting in May; as well as training for certain high performing athletes approved by Sport Ireland in a range of other sports.
He continued: "From 26 April, outdoor sports training for under 18s can begin again, golf and outdoor tennis can be played, and we will be able to access outdoor visitor attractions like zoos and wildlife parks."
The number of mourners allowed to attend a funeral will increase from 10 to 25 from the 26 April.
From now, two people who have been fully vaccinated-- ie received two doses of the vaccine and waited 14 days after the final dose-- will be able to meet indoors, "allowing our oldest citizens who have  had a particularly difficult year, to reconnect".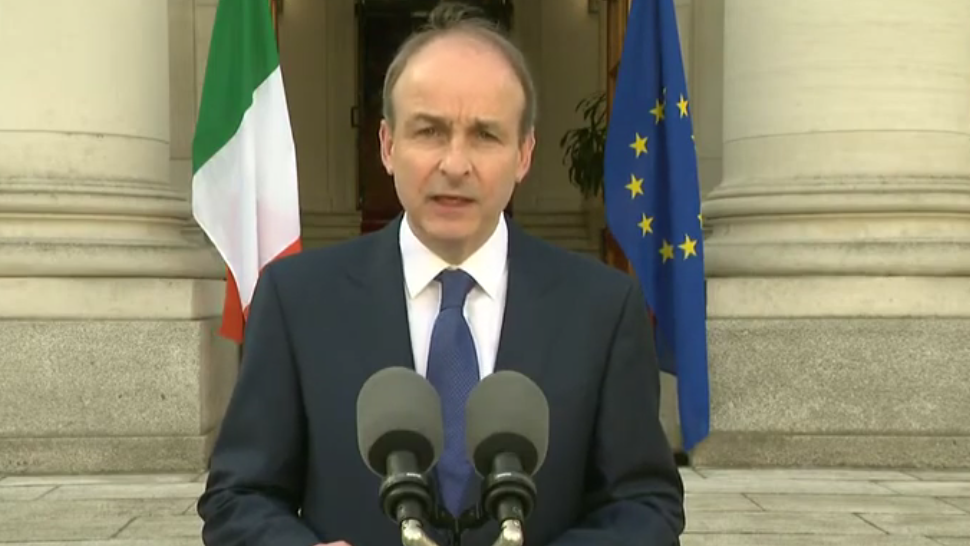 Mr Martin went on to assure the public that the vaccines have "a remarkable impact in terms of preventing serious illness and death" and "they are our way out".
He acknowledged that there had been supply issues with regards to vaccines, but "the very good news is that supply is set to dramatically increase in April, May and June".
"Close to 3 million doses will be administered by the end of May. Nearly 5 million doses by early July. 6 million doses by the end of July," Mr Martin said.
He went on to describe a road map out of the pandemic, as the more vaccinations have been administered the safer things can open.
In May, "we will look at a phased reopening of non-essential retail, personal services, all non-contact sports training, religious services, museums, galleries and libraries, and additional freedoms for those who are fully vaccinated.
"Towards the end of May, and depending on progress, we will look at the reopening of hotels, B&Bs and guesthouses in the month of June.
"July and August will see more intensive vaccination and the vast majority of the population will have significant protection against the virus allowing for significant opportunities to reopen even further.
He continued:"By being safe now, while significantly ramping up the vaccination programme, we will enjoy much greater freedom later in the summer."
He promised "We are on the final stretch of this terrible journey."
"This Summer, our businesses and our public services will safely reopen.
"We will finally be meeting and enjoying the company of friends and family once again. We will be able to travel within and enjoy our beautiful country again. Jobs and livelihoods will be restored.
"And most importantly, the worst of this awful pandemic, will be behind us.
"Steadily, and safely, let's get through this final phase together."