Donegal's Jim McGuinness has admitted that he is looking forward to clashing with his old nemesis Mickey Harte when the resumption of the Ulster senior Football Championship takes place later this year.
McGuinness returned to the Donegal job this year, while Harte surprised every supporter around the country by taking up the job with Tyrone's fierce rivals Derry.
At one time, McGuinness' Donegal and Harte's old side Tyrone were the fiercest of rivals in Ulster. Donegal under McGuinness land an All-Ireland title in 2012, while Tyrone under Harte were in their pomp.
This year, Donegal have been drawn to play Harte's back-to-back Ulster champions Derry in next year's Ulster quarter-final at Celtic Park.
McGuinness has admitted that he is looking forward to the challenge of trying to overcome his counterpart once more.
"Listen, it will be great," McGuinness told the BBC. "We went there (Celtic Park) in 2014, an amazing stadium to go to. Obviously Mickey will have them in fine fettle. He definitely kept me up late many a night in years gone by. Nobody would put the fear of God into you more than Mickey to be honest with you. Listen, I've great respect for him and what he does. I'm delighted to see him back. They are going for three in a row."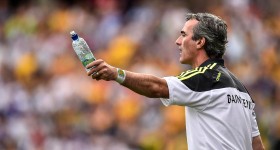 McGuinness is not only looking at the idea of beating the current Ulster champions, but is also looking for his Donegal side to reach several milestones also. He believes it is needed if they are to catch the best teams in the country.
"In the bigger scheme of things, we will probably consider Derry a top-tier team. We've a couple of tiers to reach over the next couple of years hopefully. We know what's ahead of us. They've really sort of grasped the nettle in terms of the Ulster Championship and they will be a very tough nut to crack. But at the same time, it's one of those fixtures that does get you excited and I think most people will be looking forward to that game," he added.
"We are where we are and we know what we need to do. We have to try and build from the bottom up now and make sure everybody is moving in the right direction and that's what we will be focusing on in the coming weeks and months."
Futher information around times and date will be released in due course.
Ulster SFC draw. 
Preliminary Round
Monaghan v Cavan
Quarter-finals
Down v Antrim
Fermanagh v Armagh
Derry v Donegal
Monaghan or Cavan v Tyrone
Semi-finals
Down or  Antrim v Fermanagh or Armagh
Derry or Donegal v Monaghan or Cavan or Tyrone