IRISH rugby is contemplating the premature retirement of another young talented player through injury.
This week, 25-year-old Munster out-half Johnny Holland confirmed his time in the game is over after failing to overcome an injury initially picked up in 2014.
Through a combination of factors, such as rugby going professional in 1995 and allowing players to train full time, through to a better understanding of nutrition, an intense strength and conditioning program and the natural increase in stature in humans over the years, rugby players are now bigger and stronger than ever.
The question is, how big is too big? Here's some staggering stats about how the physique of top rugby players has evolved over the years, and what impact this has had on the game:
Between 1947 and 2015, the average weight and height of players in the team has increased by 6.93cm and 20kg respectively.

This 20 per cent increase in height since the 1940s has led to a 44 per cent rise in strength which has led to 73 per cent increase inertia – meaning an increase in impact.

The current concussion rate for Rugby players is 10.5 per 1000 hours, a huge rise from the 2.5 in 1000 in 2002. To put this into perspective, professional boxing – a sport dedicated to athletes punching one another – has a concussion rate of 17.5 per 1000.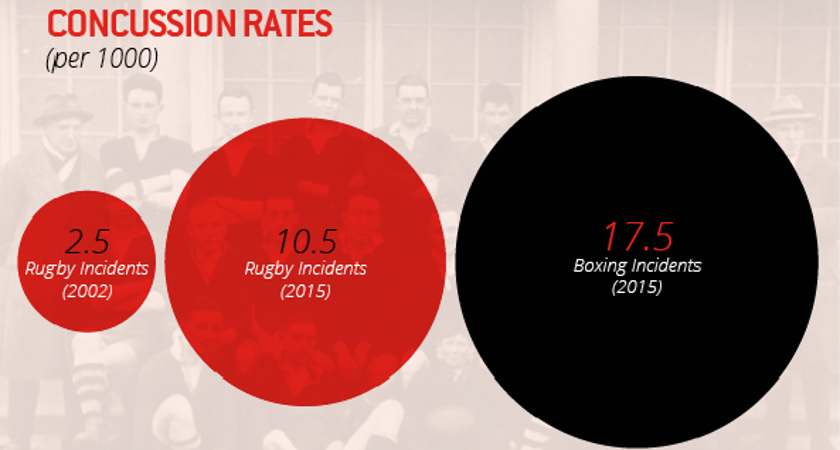 The rugby football union (RFU) has reported an increase in concussions in their games. During the 2012-13 season, there were 54 instances of concussion, whereas there were 86 in the 2013-2014 season.

Compared to the average male intake of 55g a day, a modern-day 100kg rugby player will consume 220-300g of protein.

The size, weight, speed and power is leading to a high increase in tackling. In the 2006 Six Nations event, there were 171 successful tackles made. By 2014, that figure had increased to 250.
Figures courtesy of www.maxinutrition.com