"If you love him, you'll break him, to cure him of you," says the mother of a schizophrenic lad to her son's lover in Terry McMahon's Patrick's Day.
As a powerful portrait of mental paranoia, McMahon's movie might be among the best that cinema has produced. It's certainly the best that Irish cinema has produced, though its depiction is deeply disturbing.
McMahon is among the current batch of Ireland's new film-makers. He's one of the self-styled Irish New Wave, part of Mark O'Connor's 'call to arms' for fresh and innovative Irish imagery.
Both McMahon and O'Connor are determined to shatter conventional movie-making sensibilities, bringing a "different face" with "the make-up taken off". Their process of filming, directing and editing offers an unvarnished, intriguing and exciting, if imperfect, cinema. And they move with the swagger of an ultra-indie, guerrilla film-making attitude.
Patrick's Day might well be the best picture yet to emerge from this movement. An affecting narrative about schizophrenia and manic depression, it humanely reveals the devastating effects on patients and their parents.
Moe Dunford plays the eponymous Patrick (born on St Patrick's Day), a young man in his twenties who's been schizophrenic since childhood. Patrick enjoys, or perhaps endures, an intense relationship with his mother Maura (Kerry Fox), whose doting love for her son tends towards fixation.
Every March 17, Patrick and Maura revel in the Paddy's Day celebrations, skipping round Dublin in a medley of cakes, fairy lights and fairground rides. Maura hangs a photographic record on her wall, like a gallery of bright moments rescued from schizophrenia's darkness.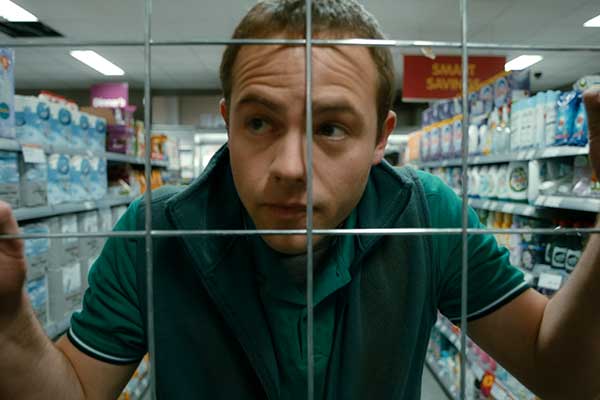 But on one birthday outing Patrick and Maura are separated. A greenhorn in a fluffy green wig, Patrick is suddenly alone in a disorientating world and yelling for his mammy on a raucous Dublin night.
He's then entranced, perhaps ensnared, by the beautiful Karen (Catherine Walker), an air hostess who seems to double as a high-end hooker. Choking back whiskey like orange juice and carrying bottles of strong medication, Karen swims drunkenly in a sea of self-loathing.
She seduces the virginal but obviously virile Patrick, perhaps as an amusing diversion from her suicidal leanings. One way and another Patrick has a birthday he'll never forget.
It's on this point that there develops an emotional crisis. What was for Karen a mere dalliance becomes for Patrick an intoxicating obsession. Determined to pursue their connection Patrick traces Karen to her respectable but soulless suburban house.
As his feelings for her build to the level of mania, she becomes discomfortingly drawn to his raw masculine magnetism. "This is the last time," she insists, though it's unclear if she's beseeching Patrick or herself.
Meanwhile, this fevered activity stirs the concern of Maura, who's less than enamoured of her son's newfound romance. She enlists the reluctant help of a local careworn copper (Phillip Jackson) and together they set about separating Patrick from his paramour.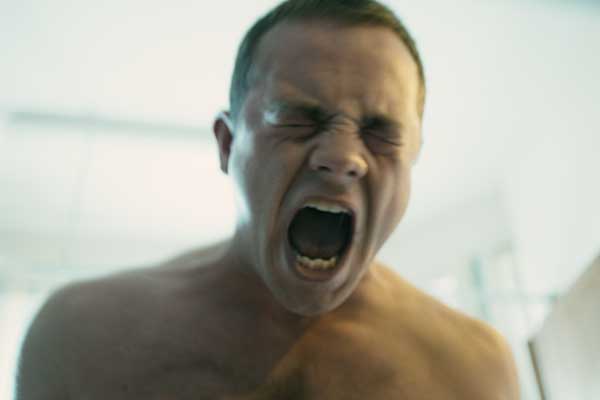 This involves both confusion and conspiracy. First Maura demands of Karen that she breaks the love spell by breaking Patrick's heart. Karen grudgingly agrees. "I'll cut your heart out just to watch you bleed," she tells him.
Then Maura messes with her son's memory by insisting that Karen never existed, that she's a figment of his troubled mind. Intuitively suspecting himself the victim of a cunning con trick, Patrick goes into mental meltdown.
McMahon takes his time setting up the drama, but when it bites it's piercing. While the characters are not likeable they are distinctly human. These are people making difficult choices in difficult circumstances.
The movie is non-judgmental towards the characters' actions, even while viewers might find them appalling.
The actors are all impressive and convincing, but particularly Dunford as Patrick. His portrayal of a man whose head is erupting in paranoia is compelling and harrowing. Irish drama has yet another rising male talent and with output like this the Irish New Wave will certainly unsettle the waters.    
Terry McMahon's Patrick's Day screens at the Tricycle Cinema on Saturday, July 18