I COULD see it in my barber's eyes. I had annoyed him. I tried to smooth it over by saying, "Or whatever you think, I mean you're the expert."
But I think he read some sarcasm in the phrase. Perhaps because he knew better than anyone that he was not an expert.
That he was merely a man who worked in premises with a hand-written sign in its window that simply read, "Haircuts £5!"
The exclamation mark should have tipped me off. The fact that they didn't even call themselves a barber should have rang an alarm bell too but the exclamation mark after "Haircuts £5" said it all. They thought it was absurd that these haircuts were five pounds.
They had probably gone with a draft that read "Haircuts Just £5" but after giving a few and realising exactly how poor the finished product was. They were now surprised to be getting paid in full for the service.
But still, I had made a mistake in telling the man standing behind me with the scissors how I'd like my hair cut.
Any male or female person will tell you exactly how terrifying it is to have your hair trimmed by someone who is clearly angry with you. You watch helplessly as their vengeance unfolds upon your head making small talk in an attempt to win them back.
The more you say the worse it gets. The consequences are so far reaching. You must live with this mistake for at least four weeks.
If we only wore one pair of jeans for our entire lives and occasionally we had to get them altered to allow for our age and change in size, if the tailor we hired cut two massive holes in the backside of them exposing our bare buttocks until the jeans grew back there would be legal action taken against these people.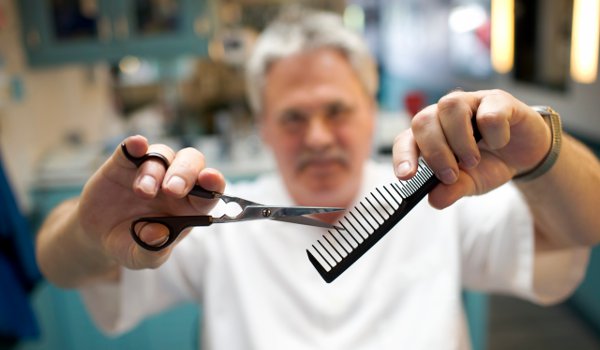 But because it's your hair, and you're a man, we must remain silent and accept it. Simply because to talk about our bad haircut is to draw attention to it, to fret about our bad haircut is to be a lad who "loves himself" and analysing what happened to you would reveal that you are a stingy bugger who went to a five pound barber.
The whole reason I had gone there was because I had gone into a fancy hairdresser and balked at the price. "Sure it's just a haircut" you think inside your stupid shaggy head.
And what's the difference between a hairdresser and a barber other than leaning forward to get your hair washed. "Sure I don't even like the leaning back. The sink digs into my neck and the head massage is too rough."
These are the thoughts that ring in your ears as you frantically scrub your hair over the bath at home just 20-minutes after your five pound haircut. Five pound barbers are the cowboy builders of haircuts.
What qualifications do you even need to call yourself a barber? It seems like all you need is a comb, a chair, a mirror on a wall, a mirror to show the victim the back of his head, a collection of large black and white photographs of haircuts you can't do, an expression on your face that always reads "cutting your hair is a real pain in the arse", a pint glass full of blue liquid to put your scissors into (the blue liquid can be anything from Toilet Duck to Listerine mouthwash, it's not important. It's there to give the illusion that you care about germs on some level), a coffee table of lad mags from three years ago and one scissors – the kitchen variety will suffice (I have actually seen a man use a kitchen scissors in a barber shop in Killarney in 1997).
And it is with this facade that the cowboy barber is exploiting the weakness of men at their most vulnerable.
We can't complain. Did I get my haircut for five pounds? Yes. That was the deal.
But if you take anything from this story it should be to never tell a barber what haircut you want.
It's as irrelevant as telling your mother what you wanted for dinner as a child. You will get the haircut you are given. An exclamation mark in haircut form.
Jarlath Regan's podcast, An Irishman Abroad, is free to download on iTunes