IRELAND'S most famous and longstanding music and pop culture magazine, Hot Press, has announced a special London show as part of its 40th-anniversary celebrations.
The occasion will see a trip of great Irish artists take to stage at Nell's Jazz and Blues in Hammersmith, on Wednesday, June 6th.
Headlining on the night will be Hothouse Flowers, who will perform hits such as "I Can See Clearly Now" and "Don't Go".
One of the most successful Irish acts of the past  30 years, Hothouse Flowers peaked during the 1990s, with the huge success of the single 'Don't Go' across Europe, but the band – with legendary lead singer Liam Ó Maonlaí to the fore – have continued to enjoy a unique position in the Irish music pantheon. They are celebrating the 30th anniversary of the 1988 release of their debut album, People, this year. It reached No.2 in the UK, and was a hit across Europe and the US. Their latest album Let's Do This Together was released in 2016.
Advertisement
They will be joined on the night by fellow countrymen Seamus Fogarty and Damien Dempsey.
Seamus Fogarty has recently released the hugely acclaimed album The Curious Hand on Domino Records. Originally from Co. Mayo, his debut album God Damn You Mountain was released in 2012. It was widely acclaimed as one of the finest Irish albums of the year. However, his latest record, The Curious Hand takes Seamus to another level, elevating him into a whole new bracket of artists doing fascinatingly skewed and modern and heartfelt things with roots-influenced and electronic music.
Damien Dempsey, who will perform at the celebrations at the Irish Embassy, is the first of the special guests to confirm for what promises to be a celebratory night full of surprises. A number of other special guests are to be announced soon.
Also scheduled to perform on the night is NC Grey, a British-Nigerian soul singer who lives in Dublin. Her 2017 debut Magic EP was imbued with honesty, vulnerability and raw emotional power, which came courtesy of NC Grey's glorious vocals and sincere songwriting.
Advertisement
Just a few hours before the gig, a special unveiling of Covered In Glory: The Hot Press Covers Book, written by Hot Press editor Niall Stokes, will take place at the Embassy of Ireland in London.
Speaking to The Irish Post, Stokes said: "The occasion is extremely gratifying. It's an honour to be invited by the ambassador.
"We had an exhibition in the National Library in Dublin, where we displayed signed covers from the last 40 years. They included Madonna, Paul Simon, Van Morrison, U2 and loads more. Each cover has been produced on large format paper and received a phenomenal reaction.
"Now we've published them in a limited edition collection. It's a treasure that will stand the test of time."
Hot Press magazine was formed in 1977, and Stokes has been the editor since day one. The magazine grew to become somewhat of an institution in Ireland and is read extensively in London to this day, acting as a bridge between record companies, promoters and upcoming Irish artists.
Stokes reflected on the early days of the magazine, and what the Irish music industry was like in the 1970's.
He said: "At that time, the country was in the midst of the Troubles. International acts didn't want to come and play Ireland. The industry really suffered as a result. Irish artists emigrated to make a name for themselves. Rory Gallagher and Thin Lizzy left the country, as did Geldof and The Boomtown Rats. They brought with them an explosion of creativity which seeped back into Ireland and inspired a ferment of excitement.
Advertisement
"There was a real lack of women in the industry at that time too. You had the likes of Mary Black in the folk scene, but there were no Irish women in the world of punk rock music that was coming through.
"Sinead O' Connor was the turning point a few years later. She opened the gates and sparked the moment when Irish women could express themselves freely.
"When U2 began to make it big, they showed other Irish bands that you no longer had to leave to make it. They showed that you could stay in Ireland and rise."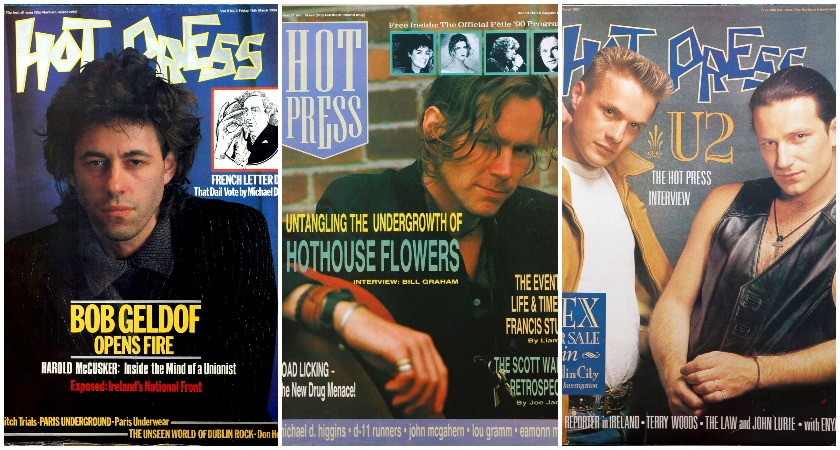 The magazine is now reflective of a very different Ireland. In 1983, the country voted to put in place the Eighth Amendment, which made abortion illegal and gave equal right to life to both mother and unborn baby.
Speaking to Stokes just a couple of days before the country would take to the polls again to vote to remove the same amendment or keep it in place.
"On the first front cover of the magazine we had Rory Gallagher surrounded by a collage of various things", Stokes said.
Advertisement
"In the middle of that collage was an image of Liam Cosgrave voting against the contraceptive bill in the Dail. Over his shoulder is an image of two young men kissing."
40 years on, the magazine remains to be a mirror for Irish society and is still seen as a tastemaker for Irish music for many people, despite the ever-changing nature of how people consume music.
Next week in London will be a very special occasion.
If you'd like to attend, tickets can be purchased here.