Every year more young people leave Ireland for London with no place to stay with many turning to online sites, such as Gumtree, as they make the move...
ALMOST three years ago when I made the move from Cork to London, I ended up in the same position as a lot of young Irish people – on a friend or family members' couch.
After three weeks of staying at my brother's, I knew I needed to get somewhere permanent to live, so I turned to Gumtree.
There I found a huge array of flat shares and rooms to rent, including one beautiful double bedroom in leafy Maida Vale going very cheap.
It looked too good to be true, and it was. After a few days, I realised that something was very wrong with my new flatmate – who was unhappy and unhinged.
However, her creepy boyfriend was more of an issue. He never left the house despite her assurances when I moved in that I was only sharing with one.
Then one morning, while I was getting dressed for work, the ever present boyfriend burst into my room, told me to shut up (when I screamed), before jumping from my first floor balcony window down on to the street.
Within minutes my room was full of armed police, raiding the flat for stolen goods. A few hours later, I was standing at a bus stop with my bags packed... heading back to my brother's couch. Since then I've had five or six homes in London, but I'll never forget the first one.
Today, just typing 'Irish' in to the Flats & House share category on Gumtree brings up pages and pages of Irish people in similar situations, all looking for accommodation and work throughout Britain, though mainly in London.
A listing posted by 23-year-old Irish singer/songwriter Donagh Cadogan, known as Cado, is one of many. Cadogan is hoping to be in London by early July, he explains over the phone from his home in Naas, Co. Kildare.
So far he has had a great response to his ads for a house share with "like-minded musicians and artists" and a second ad for other musicians to play with. "It's looking good," he says. "I'm just going over to play music and get involved in the scene over there... it's a big centre for music and it's not too far away."
Cadogan is unsure about where he wants to live, but plans to stay with friends while looking in Camden or Finsbury Park. The plan is to get a part-time job and then hopefully support himself from his music.
Does he have any regrets about leaving Ireland? No, he says. "There's not much going on in Naas other than the usual few pints in the pub... and I've been here long enough."
John Downey is a 32-year-old electrician-turned-design engineer who is Dublin born and bred. He would prefer to stay in Ireland if he had a choice but his motivation for coming to London is "the same as everyone else – work".
He explains how his work as an electrician dried up in 2008 so he went back to retrain as an engineer but says it is "very hard to get a start in Ireland at the minute... I don't particularly want to go but my hands are tied."
The appeal of London is proximity to home. "I did the whole Australia thing a few years ago, but England is closer to home so I can get back and visit people and London has great opportunities because there are much bigger companies over there."
With a job already in place, the next task is finding accommodation. Downey admits he doesn't know the city well but says he is looking at the Balham/Clapham area where he has stayed before.
So far Gumtree has produced some hit and miss responses,  but the biggest shock in his hunt for accommodation is the cost. "The prices are crazy over there – they say Dublin is an expensive city but it's nothing compared to London. I'll have to find a house share. I'm just starting out in engineering so the money won't be great for the first year."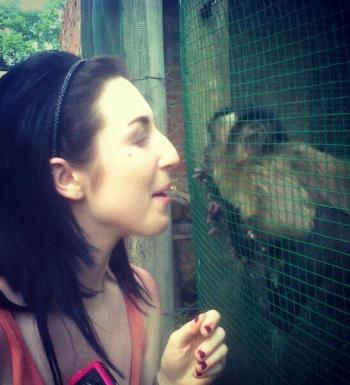 Downey's plan is to stay in London for a few years before returning to Ireland with more experience. Like Downey, 26-year-old accommodation seeker Tracy Belshaw is worried about how she will cope financially in London.
Belshaw is from the small village of Aghalee in the North of Ireland but has done her fair share of travelling, including backpacking around
Australia. "I came home from Africa a month ago and just decided I wanted to go away again, just because there are more opportunities in London than in Northern Ireland," she says.
Belshaw works as a veterinary nurse and has secured a good position working for a large animal hospital in Putney. The job offer originally came with accommodation, but now that has fallen through and she is relying on accommodation sites to find somewhere to live.
"The more I think about it the more I think I'll be working to live and I won't save any money... it might be a fun lifestyle but I don't want to be in a place where seven people are sharing one bathroom," she says.
Another problem is being in the North of Ireland for now means she can't view any of the places in person before she commits. "Gumtree is really good but you don't know what you are going into. You can see a lovely picture on the internet but I can't actually view the accommodation.
"I might just have to take a chance and put down a deposit and then hope that everything is OK". Despite her concerns about finding a flat, Belshaw is optimistic: "I don't know if I'll save very much, but it'll be worth the experience just to go over and enjoy the lifestyle."