FUNERALS are still a unique part of the fabric of Irish life.
They encompass sadness and grief, the overwhelming emotions, but there is space too for celebration — a celebration of the deceased's life.
Often this celebration is expressed through music and music at Irish funerals is part of the ceremonial way to say a final goodbye to the loved one.
Here are seven songs to play at Irish funerals.
1. Danny Boy
Played at both Princess Diana's funeral and at Elvis Presley's funeral (performed by Bing Crosby), this is one of the best known Irish airs, recognised the world over.
Written (probably) by a blind, Catholic Derry fiddler, and later modified by a Protestant Limavady piano teacher, the most famous lyrics of loss and love were composed by an Englishman.
Whatever its origins, its haunting melody and evocative words make it a regular choice at funerals and wakes.
2. A Fairytale Of New York
Shane MacGowan and Jem Finer's composition is, of course, usually associated with Christmas.
But the poignancy of the emigrant story makes it an inevitable choice for those who want to say goodbye to loved ones, particularly should they have been exiles.
3. Carrickfergus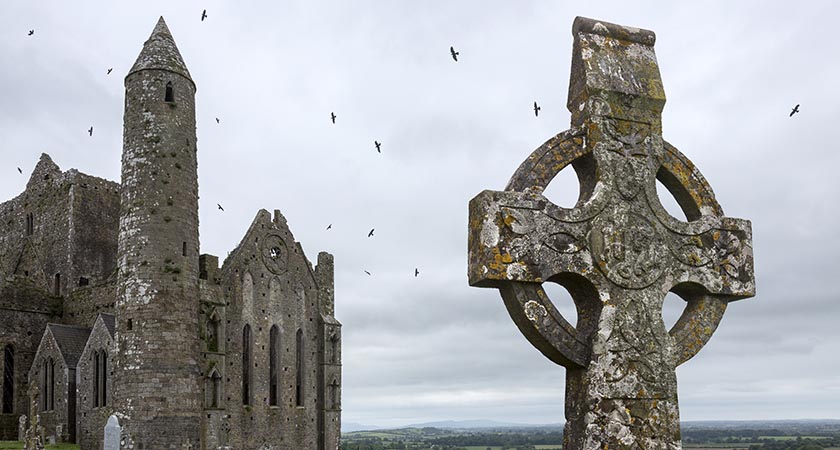 One of the best known of traditional Irish folk songs, Carrickfergus has been recorded by everyone from Nana Mouskouri to Bryan Ferry.
The plot of the ballad itself is fairly standard fare — love, drunkenness and death, but it comes with a melody which hits maximum chill factor and is thus a regular choice at funerals.
Here with Celtic Thunder
4. She Moved Through the Fair
Much confusion surrounds the authorship of this chilling love song. The main body of lyrics is based on an ancient set of verses from Donegal.
Writer Pádraic Colum reworked these verses, adding several almost ethereal lyrics of his own. The verses were then combined with a melody either collected, re-worked or written by musicologist Herbert Hughes.
The extraordinary and lasting popularity of the song comes from the marriage of Colum's verses to that melody. It makes the perfect threnody for a funeral.
Here is a rendition by Sinead O'Connor
5. The Rare Ould Times
"My mind's too full of memories, too old to hear new chimes, I'm part of what was Dublin, in the rare ould times."
More Bertoldt Brecht than Molly Malone, the impassioned lyrics of The Rare Ould Times song evokes an old Dublin that has long disappeared.
The strongly nostalgic tone of the lyrics are made even more poignant because of the changes which have overtaken Dublin in such a remarkably short time over the last few decades, some good, some not so good.
It is thus a song of nostalgia and love, and a likely choice for any Dubliner's funeral.
6. Raglan Road
Patrick Kavanagh set the lovelorn lyrics of Raglan Road to a traditional air The Dawning of the Day, and slowed the composition right down.
This magnificent musical and lyrical meshing produced one of the great love poems in the Irish canon, and a song which graces many a farewell to loved ones.
7. The Mountains Of Mourne
The lyrics of The Mountains Of Mourne were written by Roscommon man Percy French. The tune is an adaptation of an old traditional air Carrigdhoun.
Although one of the great Irish love anthems, the song, in time-honoured Percy French fashion, is spiced with more than a glimmer of humour which adds to the exquisite pathos of the song.
For some, this is the perfect funeral song, encompassing mourning, exile, the beauty of Ireland, romance and humour.
8. You Raise Me Up
Written by  Rolf Løvland and Brendan Graham, this is an uplifting song of lyrics, starting out 'so weary', which has been sung by some of Irish leading singers and groups - such as Brian Kennedy, Westlife, and international stars such as the 12 Tenors and Josh Groban.
"I glimpse eternity" it is a moving funeral song, opening with the lines
When I am down and, oh my soul, so weary;
When troubles come and my heart burdened be;
Here is a wonderful version by Celtic Woman

9. Isle of Hope, Isle of Tears
When a little girl Annie Moore left the shores of  Cobh (called Queenstown at the time) Ireland, and arrived at the shores of New York, she was the first person through the newly opened Ellis Island, in 1892. As the first person to be processed at the newly opened facility, she was presented with a $10 gold piece.
A song of what's left behind in Ireland and one of hope in the future of an new land of America.
"On the first day of January 1892,
they opened Ellis Island and they left the people through.
And the first to cross that threshold of that Isle of hope Isle of Tears
Was Annie Moore from Ireland, who was all of fifteen years"
This song has been a feature for Celtic Woman, Sean Keane, Dolores Keane, The Celtic Tenors, Dan McCabe, Celtic Thunder and Tommy Fleming- and many others,
Here is a moving performance by the Irish Tenors.
Isle Of Hope, Isle Of Tears · The Irish Tenors

**Originally published on Published on: Oct 13, 2016