Missing Ireland while in lockdown?
Here are six online tours you can take of significant Irish landmarks that will make you feel like you've actually been there…
The Giants Causeway
Flanked by the wild North Atlantic Ocean and a landscape of dramatic cliffs, for centuries the Giant's Causeway in county Antrim has inspired artists, stirred scientific debate and captured the imagination of all who see it.
The world-famous basalt columns were declared a World Heritage Site by Unesco in 1986 and a national nature reserve in 1987 by the Department of the Environment for Northern Ireland.
Advertisement
The tops of the columns form stepping stones that lead from the cliff foot and disappear under the sea.
Several theories have been put forward to explain this astonishing complex of octagonal columns packed together along the coast arose.
Some say it was down to the giant Finn MacCool; others believe it was the work of God.
But most opinion weighs in behind the theory that it is a geological phenomenon which happened 60 million years ago when molten lava erupted then cooled and shrank.
You can head off on a virtual a tour of the mighty Giants Causeway and decide for yourself here.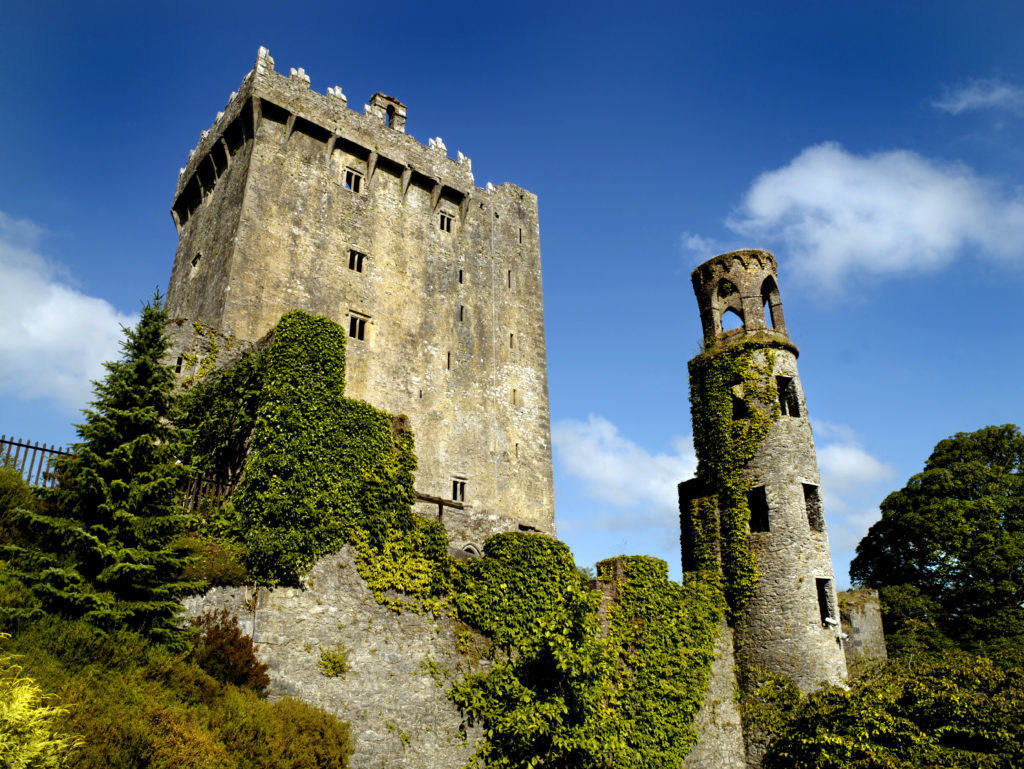 Blarney Castle, Cork
Advertisement
Blarney Castle
Built nearly six hundred years ago by one of Ireland's greatest chieftains, Cormac MacCarthy, Blarney Castle – the home of the Blarney Stone - has been attracting attention ever since.
Over the last few hundred years, millions have flocked to Blarney in Co. Cork making it a world landmark and one of Ireland's greatest treasures.
And that is largely to do with the legendary Stone of Eloquence, found at the top of the castle's tower, which, legend says, if kissed gives the kisser the gift of the gab.
For the first time in its history all kissing of the stone has been stopped since March 13 – due to the coronavirus outbreak.
But there is still plenty to see at the castle and you can still see it despite the lockdown restrictions albeit from the comfort of your sofa.
You can head off on a virtual tour of Blarney Castle here.
Advertisement
The Cliffs of Moher
The Cliffs of Moher have majestically faced the Atlantic for over 350 million years and their beauty is incomparable – it is Ireland's most visited tourist attraction and when you see it for yourself you will understand why.
Located in county Clare, the Cliffs rise to 702 feet (214 m) at their highest point and range for 8 kms (5 miles) over the Atlantic ocean.
The sheer scale and dramatic impact of the cliffs never ceases to amaze and delight in equal measure.
You simply cannot travel to Ireland without paying a visit to Ireland's top tourist attraction, and so you can't feasibly take a virtual tour of the island without including this beauty spot on your trip.
Advertisement
Begin your virtual tour of the Cliffs of Moher here.
Áras an Uachtaráin
The President of Ireland's residence Áras an Uachtaráin is both a family home and a venue for formal state occasions.
Currently President Michael D Higgins and his wife Sabina live at the grand building in Dublin's Phoenix Park – from where the President also carries out many of his official duties. These duties include receiving visiting Heads of State, new Ambassadors, dissolving Dáil Eireann and presenting new Government Ministers with their Seals of Office.
Among the visitors received here over the years have been Pope John Paul II, Nelson Mandela, President Bill Clinton, President Barack Obama, President John F. Kennedy, Senator Hillary Clinton, President Charles de Gaulle, H.M. Queen Elizabeth II and many of the world's contemporary leaders.
Advertisement
Most recently British royals Prince William and Kate were the guests of honour – meeting both President Higgins and Sabina during their state visit to Ireland in early March, just before lockdown restrictions were imposed across the country.
Now you can see what they saw without even leaving your home.
Take the virtual tour of Aras an Uachtaráin here.
Kylemore Abbey
Kylemore Abbey and Victorian Walled Garden in Connemara is one of Ireland's most beautiful tourist attractions.
Advertisement
Located just an hour's drive from Galway city, the Abbey was founded around a century ago on the grounds of Kylemore Castle - which was built in 1868 by Mitchell Henry MP, a wealthy businessman and liberal politician.
Inspired by his love for his wife Margaret, and his hopes for his beloved Ireland, Henry created an estate boasting "all the innovations of the modern age".
An enlightened landlord and vocal advocate of the Irish people, Henry poured his life's energy into showcasing what could be achieved in the remote wilds of Connemara.
Today, Kylemore Abbey is owned and run by the Benedictine community who have been in residence there since 1920.
Nuns ran a well-loved boarding school on its grounds from 1922 until 2010.
Thousands of visitors make their way to Kylemore to experience its woodland and lake shore walks, magnificent buildings and Ireland's largest Walled Garden every year.
Now you can do the same, with a virtual tour of the site available here.
Advertisement
The Gobbins Cliff Path
Located in Co. Antrim The Gobbins Cliff Patch is a coastal path like no other, which puts you in close touch with the waters of Belfast Lough.
It owes its origins to the flamboyant, Victorian railway engineer, Berkeley Deane Wise, who wanted to give the area a unique tourist attraction.
Railway workers built the two-mile path, carrying out tremendous feats of engineering, with barges, provided by Harland & Wolff, whose workers were given free access to the path for many years afterwards, floating the bridges up from Belfast, and erecting them at the challenging cliff locations using cranes and sheer muscle power.
Hugging the base of spectacular sea cliffs and crossing ravines with spectacular, steel bridges and even a tunnel taking visitors down below sea level, the path first opened to visitors in 1902.
Advertisement
It became an instant success story and it continues to be popular with tourists from all over Ireland, and beyond, enjoying the spectacular views it offers across Belfast Lough and out, across the North Channel to the Scottish coast.
Are you brave enough to take a virtual tour? Find out here.