THE historic moment when British troops left Ireland in 1922 was recorded on camera by British Pathé. 
The silent newsreel, called Erin's Farewell, shows the reaction of the Irish people as British troops occupying Ireland withdrew from Dublin.
1922 was a tumultuous year for Ireland.
In 1921, a truce between British and Irish republican forces came into effect and in December of the same year the controversial Anglo-Irish Treaty was signed.
Advertisement
The Treaty gave the 26 southern counties of Ireland, known as the Irish Free State, a large degree of independence, but the treaty divided the country into those who supported it and the Irish republicans and nationalists who saw it as a step backwards for Ireland.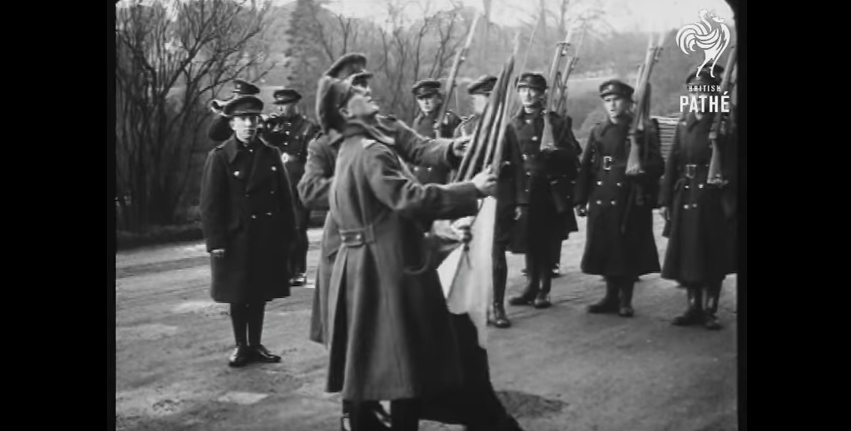 The bitter divide over the Treaty eventually led to the outbreak of civil war.
One of the events that sparked the war was the murder of retired British general, Henry Wilson, was shot dead in London by two IRA members, who were later hanged.
In August 1922, the War of Independence claimed its most prominent victim when Michael Collins, head of the Provisional Government and Commander in Chief of the National Army was killed in an ambush in his native Cork.
Despite the fractious relationship between Ireland and Britain, the footage shows how Irish men, women and children lined the streets and cheered and waved to British troops while bands played and they marched onwards the boats that would take them back to England.
The video also shows the 'republican flag' (the tricolour) being hoisted above the Irish command HQ in Dublin, replacing the Union Jack and British General Macready's last salute to the troops.
Watch the clip here and see www.theirishstory.com for more on the events of 1922
Advertisement