IT'S a tragedy that has been hard to digest. As Leeds struggles to come to terms with the death of school teacher Ann Maguire, the city's close-knit Irish community is still struggling to come to terms with what happened last Monday at Corpus Christi Catholic College.
"You think these kinds of things happen in America or London, not in your own school," one of Mrs Maguire's shocked colleagues told The Irish Post.
Like hundreds of the 61-year-old's former pupils, he belongs to an Irish community that has been left numb by the killing of a woman who taught generations of local children.
Over the course of her 40-year career Ann Maguire, whose family hailed from Co Mayo, was looked upon as "the mother of Corpus Christi".
It makes her untimely death, stabbed to death inside the walls of a school she was shortly due to retire from, all the more difficult to fathom.
Julie Moore had a connection to Mrs Maguire shared by many others. She was taught religious studies and Spanish by Mrs Maguire before watching her daughter also learn from Mrs Maguire in the days before her death.
It is, she says, the much-loved teacher's dedication to students that sticks in her memory most.
"She was one of those teachers who really got the best out of you. She was strict in the way she taught, but had a really nice way of getting things across," she told The Irish Post.
"Although people always say these things when something like this happens, it really is true that Mrs Maguire had a big influence on me."
As tributes have poured out from across Britain, it is clear Mrs Moore, who has roots in Co. Wexford, was not the only one who held deep affection for Mrs Maguire.
Within hours of her death, Corpus Christi was surrounded by flowers and cards with the outpouring of grief summed up in a three-word note by one mourner that read, "Simply the best."
The powerful scene drew tears from the Maguire family as they lay their own tribute to their "shining light" – just hours after they faced a 15-year-old schoolboy accused of her murder in court.
Her husband Don sat clasping the hands of their daughters, Kerry and Emma, in the public gallery at Leeds Youth Court.
Don, who is originally from Cootehill in Co Cavan and played Gaelic football in Leeds, stared intently at the boy accused of killing his wife.
The tragedy is thought to be the first time a teacher has been stabbed to death in a British classroom and the first killing of a teacher in a school since the 1996 Dunblane massacre.
Attention has now begun to turn to the subject of why someone would kill such a well-liked teacher.
"That is what everybody is talking about it in the Irish community here," says Chris Power from the Leeds Irish Centre.
"They are still in shock and say it is a terrible tragedy for a woman to lose her life like this."
Joanne Foley, a Corpus Christi student in the early 1980s who now lives in Co. Waterford, is similarly shocked. She wishes she could have been among the masses paying their respects to Mrs Maguire in Leeds this week.
But instead she lit a candle for the teacher along with her brother and two sisters, all former pupils of Mrs Maguire.
"Everybody here who knew Mrs Maguire is still in so much shock at the news," she explains.
"I have cousins who are in the school and the whole community seems to be numb. It is so shocking that this could happen to such a loved teacher and someone was able to get a knife into the school."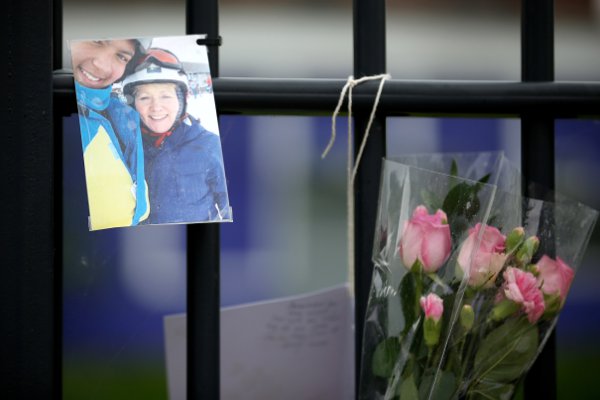 With GSCE exams due to start next week, Corpus Christi College is now trying to create calm among their students. Revision classes are punctuated with prayer sessions and counselling has been made available to those who need it.
Such support and coming together is evidence of the community spirit that Fr Eugene McGillycuddy, parish priest at a church just two miles from Corpus Christi, is keen to draw attention to.
The Kerryman says that the symbolism of the first GCSE exam being religious studies, one of Mrs Maguire's subjects, is lost on nobody.
"People here are sombre and numb, but they are getting on with their work. I must say that I am very proud of the teachers and the staff to see how they are coping with it all.
"But the children are looking after the teachers too because they know that something traumatic has happened. There is an atmosphere of co-operation and community here and I put that down to Irish community spirit."
It is this same community spirit that Fr McGillycuddy believes would see parents oppose the introduction of metal detectors in Corpus Christi, a measure that could have saved Mrs Maguire's life.
"That would be really giving the wrong message entirely," he says.
"People are very community-minded here and this seems to be a very isolated incident."
Local mother Louise Ward, treasurer of the St Benedict's Harps GAA club, agrees.
"Anything can be used as a weapon in the wrong hands," she says.
"There is a lot of talk about scanners and metal detectors and things like that. But if someone wants to do something they will do it."
A more pressing concern for Ms Ward has been preventing her son, who is at another Catholic school in Leeds, from believing or repeating rumours about the identity of Mrs Maguire's killer.
Gossip is now rife on social media about the events that unfolded in Mrs Maguire's classroom with teachers, parents and pupils asked not to make any comments to the press.
"I do not think the children can comprehend what has happened," Mrs Moore adds.
"It is all very shocking and they cannot get it out of their minds. They are trying to carry on like normal, but obviously it is very difficult for the students."
The realisation of Mrs Maguire's loss will be keenly felt later this month as Leeds prepares for what will be an emotional funeral, with former pupils from Mrs Maguire's four decades at the school expected to attend.
"I have seen no anger, just a feeling of disbelief," says Peter Fawcett, an Irish Post photographer based in West Yorkshire, who was in Huddersfield Irish Centre on Monday when the news broke.
"Now people are asking why something like this happened. That is the only thing people want to know because what really shocked them was that Corpus Christi is such a good school and this has never happened before.
"This just does not seem to be the kind of thing that happens in Britain and especially not somewhere like Leeds."