Irish pensioner James Gray has received over 1,000 Christmas cards after his story touched people from all over the globe. The Irish Post has picked five of your cards which contain warm festive greetings for Mr Gray.
******
Hello Mr Gray,
My name is Sian Cook, I'm 23-years-old and I am currently studying a Masters in Uppsala, Sweden. I've always wanted to live in Sweden, and after graduating from University in 2011, my heart was set on moving.
But I ended up going a little further afield than Sweden. I moved to South Korea. That was the first year I spent Christmas on my own; I walked until I lost the sun and stood outside the churches listening to the music, not brave enough to enter.
The following year I began working for a human rights organisation in Thailand, and visited a friend from university in Hong Kong.
I joined her and her friends in a 'pot-luck' Christmas dinner and the rule was to exchange a gift with someone else but it had to be something which you already owned.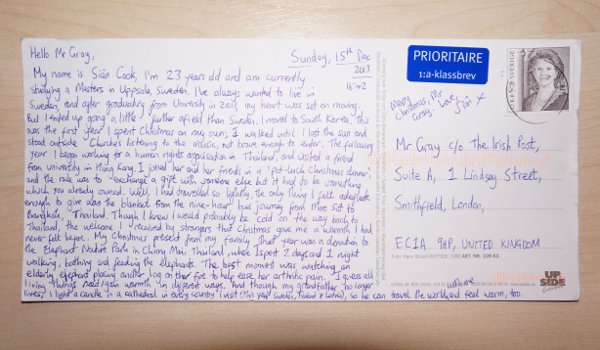 Well, I travelled so lightly, the only thing I felt adequate enough to give was the blanket from the nine-hour bus journey from Mae Sot to Bangkok, Thailand.
Though I knew I would probably be cold on the way back to Thailand, the welcome I received by strangers that Christmas gave me warmth I had never felt before.
My Christmas present from my family that year was a donation to the Elephant Nature Reserve in Chang Mai, Thailand, where I spent two days and one night walking, bathing and feeding the elephants.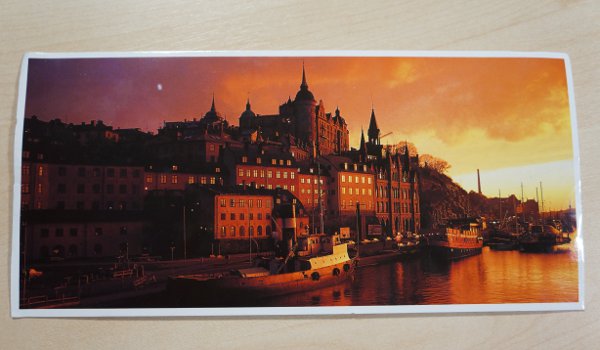 The best moment was watching an elderly elephant placing another log on the fire to help ease her arthritic pain. I guess all living things need/gain warmth in different ways.
And though my grandfather no longer lives, I light a candle in a cathedral in every country I visit (this year Sweden, Finland and Latvia) so he can travel the world with me and feel warm too.
Merry Christmas Mr Gray
Love Sian
***********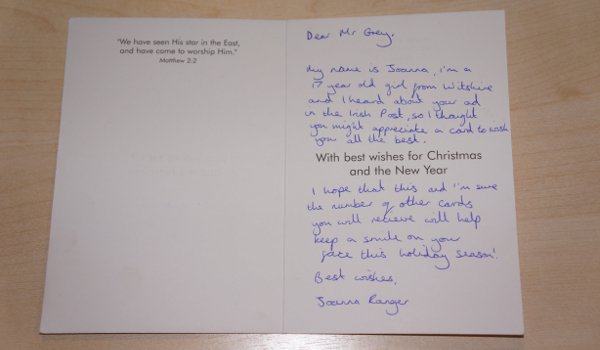 Dear Mr Gray,
My name is Joanna, I am a 17-year-old girl from Wiltshire and I heard about your ad in the Irish Post, so I thought you might appreciate a card to wish you all the best.
I hope that this and I'm sure the number of other cards you will receive will help keep a smile on your face this holiday season.
Best Wishes,
Joanna Ranger
**********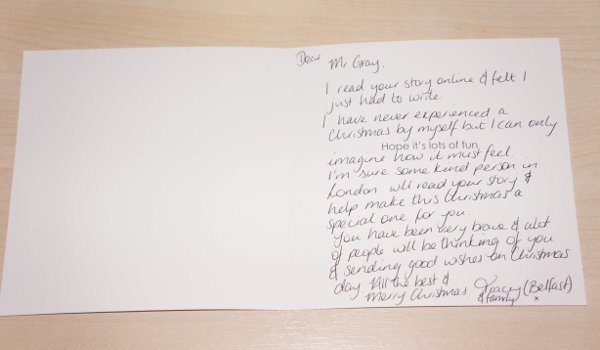 Dear Mr Gray,
I read your story online and felt I just had to write.
I have never experienced a Christmas by myself but I can only imagine how it must feel. I'm sure some kind person in London will read your story and help make this Christmas a special one for you.
You have been very brave and a lot of people will be thinking of you and sending good wishes on Christmas day.
All the best and Merry Christmas.
Tracy and Family
Belfast
 *****************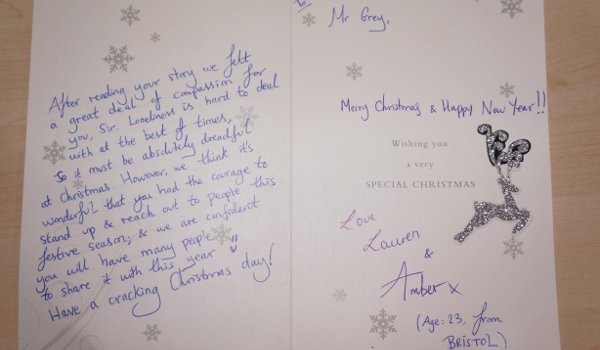 To Mr Gray,
After reading your story we felt a great deal of compassion for you. Sir, loneliness is hard to deal with at the best of times, so it must be absolutely dreadful at Christmas.
However, we think it's wonderful that you had the courage to stand up and reach out to people this Christmas and we are confident you will have many people to share it with this year.
Have a cracking Christmas day.
Love
Lauren and Amber, both 23, from Bristol.
*************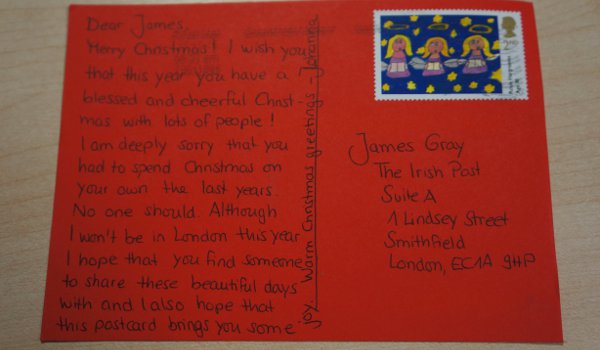 Dear James,
Merry Christmas!
I wish that this year you have a blessed and cheerful Christmas with lots of people.
I am deeply sorry that you had to spend Christmas on your own these last years. No one should.
Although I won't be in London this year I hope that you find someone to share these beautiful days with and I also hope this post card brings you some joy.
Warm Christmas Greetings
Joanna
The Irish Post is collecting Christmas cards for Mr Gray. If his story has touched you and you would like to have a card passed onto him, please send it to: The Irish Post, Suite A, 1 Lindsey Street, Smithfield, London EC1A 9HP.