To mark President Higgins' visit to London University College Hospital, Niall O'Sullivan meets several of the many Irish staff who are proud to work in Britain's National Health Service
"YOU'VE kidnapped me and moved me to a hospital in Ireland in the middle of the night, haven't you?" jokes a cockney patient.
It's no time for laughing as he lies in the intensive care unit of London's University College Hospital. But as medical staff surround his bed, it's easy to see his point.
He remembers being admitted to the British hospital for urgent treatment. But as he looks around, he sees only Irish faces and hears only Irish voices.
There's the speciality consultant, the specialist nurse, the outreach nurse, the intensive care registrar and the consultant in emergency medicine and intensive care medicine — all Irish.
They are just five of more than 12,600 Irish people working in the NHS today. And the last among them is Dr Mike Patterson, a Belfast native with roots in Monaghan and Dublin.
The next day he's back on the wards visiting patients at the same hospital, equidistant between Regent's Park and Euston Station.
It's just before midday on a Wednesday and the intensive care unit is very quiet for 10 minutes. All the patients are in their rooms and the only people passing through the illuminated corridor are alarmingly young looking medics.
Two of them are in deep discussion by a door as Dr Patterson emerges from a consultation. He's walking in powerful strides with a nurse, telling her he will take the patient he has just seen back into his care.
On his way towards reception he meets a young man wearing an anguished grimace who is eager to ask about a relative's treatment.
"It's about the small things," Dr Patterson says. "There are a lot of small things we can do that could make a difference."
The young man looks unsure and exasperated, flinging his right arm down to his side.
"But we've done a lot of the small things and nothing has worked," he pleads. "We need to do something else."
Their conversation goes on for five minutes as the smell of disinfectant lingers in the air.
The corridor is far more cramped than the ones you see in TV hospital dramas. Nobody is carrying a chart either and there isn't a lab-coat in sight.
The pair part company with the doctor promising there is still more his team can do. He repeats the promise firmly to another of the patient's distressed relatives he meets on his way to an office.
But as soon as he sits down, those conversations seem a million miles away.
Dr Patterson is calm, focused and almost light-hearted as he discusses the thing that surprises him most about the hospital he has been working in for just a few months. The only thing that even suggests the stress he endures every day is his hair, which, at 34, is maybe greyer than it would have been had he picked another profession.
"I have worked in London for 10 years now, so I have worked in all the major hospitals in the centre of town, and by far this is where I have come across the most Irish people," he says.
"They have been in all sorts of specialties and disciplines; porters, nurses, lab technicians, doctors, lots of other consultants here as well, and administrative staff too."
The story he picks to illustrate his point is that of the joking cockney patient from the previous day. But he could have picked one of several other memories just as easily.
"Five of the key clinical figures looking after this guy in the centre of London were Irish," he adds. "And that is a regular thing."
***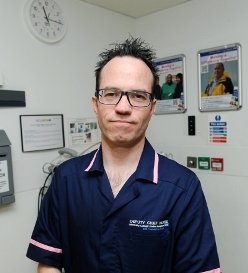 EAMON Sullivan, the hospital's deputy chief nurse, has had much the same experience.
So have fellow Irish UCH staff Pat O'Brien, Helen O'Toole, Josie Gladney and Elizabeth McBrinn.
Their work and that of countless others is being recognised by Irish President Michael D Higgins this week.
This Wednesday he will stand where Eamon is now, in the middle of the hushed older persons ward, marking the contribution of Irish people to the National Health Service.
It's a tribute that is much-needed, a senior nurse would later say.
While books have been written about those who fled Ireland to work 'on the buildings', the rich vein of Irish influence on British medical care has been left largely unexplored.
But just like construction workers, a jobs shortage at home forced thousands upon thousands to come to Britain to take up roles in the NHS. Today, the Irish account for more than 5,000 of its nurses, midwives or health visiting staff while more than 4,000 UK-registered doctors trained in Ireland.
Evidence of the pressure they are under abounds at the main desk of the ward, where sheets of paper are piled up and more still are pinned up on a board behind it.
Eamon was just 19 when he left behind his family in Waterford to make the journey across the Irish Sea.
"I guess that at the time I was unfortunate, but in the late '80s there were not many jobs in nursing and it was really difficult to get into the profession, so I came to train in the UK," he explains.
Making his way behind the desk, he passes a trolley littered with instruments that could be needed to revive a patient at any minute.
As he takes a break from his job of leading 700 of the hospital's nurses, he says coming to London wasn't a difficult journey for him.
But that was only because so many of his relatives had made the same trip in previous generations and had families of their own in north London by the time he arrived.
He jokes: "Actually, it was a lot of fun to be a 19-year-old training to be a nurse in London."
Now, at 41, he admits it is harder to be away from home, too far to care for his ageing parents or see his sister and her young family as regularly as he would like.
After a pause, the father-of-two continues: "I suppose I regret not having been able to train in Ireland sometimes because of the economic situation at that time when I left.
"There is a part of me that is upset about the fact I had to leave, that I was one of those migrants of the '80s generation."
While he thinks it's a "sorry state of affairs" that history is now repeating itself, as a fresh wave of nursing exiles enter the NHS partly down to a HSE recruitment ban, he says he isn't bitter about having to leave home.
That's down to the opportunities he's had in Britain, including the time he spent in Iraq and Afghanistan as a medical officer with the Territorial Army.
All that experience has highlighted the fact that Ireland's loss is Britain's gain.
Both on the battlefield and on the wards Eamon has had the same experience as Mike. Immediately he recalls the "light bulb moment" he had on a recent shift when every single nurse he came into contact with was Irish.
It was much the same in the Afghan field hospital where he worked.
He explains: "I was the officer in charge of intensive care, the officer in charge of theatres was Irish, the anaesthetist was Irish, the officer in charge of the emergency department was Irish and the matron was Irish — all Irish."
As if to prove his point, Eamon is interrupted twice during our conversation by the opening of the door to the ward's nursing office, both times with an Irish member of staff entering the room.
***
NEXT up is Pat O'Brien, a consultant obstetrician and gynaecologist.
The Cork man's office is in the busier and louder maternity wing, where expecting parents stand in line alongside recent parents waiting to be seen.
Pat's speciality is high-risk pregnancies, a line of work that requires him to play God more than most other medics in the 16-floor building.
He isn't in the business of delaying death or minimising pain. It's his job to make sure pregnancies that would otherwise lead to certain death, of the baby at least if not the mother as well, are successful.
Among the cases he has taken on in his 15 years at University College Hospital is that of conjoined twins Hassan and Hussein Benhaffaf, two little boys from Cork joined chest to pelvis.
When they first showed up on a 12-week scan, doctors told their mother, Angie, that their chance of surviving in the womb was a million to one. Then there was a 70 per cent chance they would die at birth.
But in December 2009 they were born successfully at University College Hospital in a procedure led by Pat along with two senior Irish nurses, Mae Nugent and Mary Dinan.
After that, the Cork twins delivered at a London hospital by a Cork man were separated by another Cork man, paediatric surgeon Edward Kiely, at another London hospital, Great Ormond Street.
Last September they walked to school for the first time.
It's cases like that, and others involving women who have been told all their life that they won't be able to have a child, that gets Pat up in the morning.
"When you look after someone like that through pregnancy and see them with their new baby, it is such a fantastic reward," he explains with a soothing smile.
***
DESPITE its rewarding moments, working on the frontline of Britain's health service makes for a stressful existence.
That's one of the subjects that arise as three more of UCH's Irish staff delve deep into conversation about life in the NHS during their lunch break.
They are Helen O'Toole, lead nurse for pre-registration education, Josie Gladney, a matron for medical specialties, and Elizabeth McBrinn, a senior paediatrics physiotherapist.
With almost 4,000 senior nursing jobs lost since the May 2010 election, the Royal College of Nursing has warned of unprecedented stress on nurses.
Last year a poll of 2,000 RCN members revealed that more than half had been made unwell by stress over the previous 12 months.
"The thing that stresses me out is when I feel for one reason or another, staff shortage or whatever, that I am not able to deliver the high-quality care that I want to the patients, or ensure that the staff are doing that," explains Josie.
But the Carlow native, who left Ireland as it reeled from the 1980s recession, says that is not a common worry at UCH. In order to maximise patient safety, the hospital has a policy of moving nurses from less busy areas whenever one ward has more than seven patients per nurse.
But staffing levels are not the only source of stress.
"Life is stressful when you are balancing a lot," explains Helen. "I am balancing family life with work and for anyone there are stresses that come with that."
It isn't easy to do that when her job can require her to work very long hours, but the Galway woman adds that it isn't so bad because she loves her job.
She says it also helps to have the support of large teams on each ward.
In an institution so densely Irish, it might be tempting to think those support networks are made up mainly of fellow Irish staff.
But all three women immediately shake their heads in disagreement.
"I think that one time it would probably have been like that, but times have changed and people really mix," says Josie.
"Wherever you go in the world you bump into Irish people, but the longer I've stayed here, the more I've mixed with other people. You bed down, make friends…"
Helen interrupts: "I think Irish people are good at mixing with other people. It is a trait we have, I suppose…"
Josie resumes: "People are drawn to us as well a bit!"
As Helen and Elizabeth recline and let out a burst of laughter, Josie fakes an indignant look before smiling.
"I do think people enjoy our company," she adds. "We are good for the craic, you know."
Breaking her laughter, Elizabeth explains that she married Englishmen and has made friends from a number of different backgrounds in London.
"But within the hospital here there are inevitably moments of 'oh, that is another Irish accent…'," she admits.
Turning to face Elizabeth as the pair speak in unison, Helen adds: "'So, where are you from?'"
Again they recline in laughter.
"That is so true," Josie says. "The chairman said to me one day when he was visiting the ward 'Josie do you only employ Irish people?'"
As the three ready themselves to return to work, it's clear they are excited about the President's visit.
"I think it is fantastic," says Helen. "It should be done on a yearly basis!"
Elizabeth adds: "He is so well-respected and multi-talented and I would love to meet him. It is so exciting that he is coming."
Meanwhile, Josie explains she thought it was a joke when she was first given the news.
"It is a once-in-a-lifetime opportunity and it makes you proud to be Irish and proud of your heritage," she says.
"But I will also be really proud to show the President the great place that we work in and the great people we work with."
The other two women nod. Then all go their separate ways as they return to work.
Visit www.uclh.nhs.uk/wwus for job opportunities at UCLH. If you are a nurse contact UCLH Nurse Recruitment Lead Donna Beck on [email protected]
Visit our special State Visit section here with news and features around the President's historic visit and the Irish in Britain
Buy this week's Irish Post print edition for a special souvenir edition marking the Presidents' visit