JUST 100 days ago An Taoiseach Leo Varadkar because the youngest Taoiseach to lead Ireland. 
Mr Varadkar assumed office on June 14 following the retirement of Enda Kenny.
Here are some of the highlights of An Taoiseach Leo Varadkar's leadership so far... 
His promise to serve his country on his first day as Taoiseach
An Taoiseach Leo Varadkar told the Dáil: "I have been elected to lead, but I promise to serve.
Advertisement
"I am seized of the enormous task ahead of me and my responsibilities to this country and all its citizens.
"I approach it not with a feeling of presumption, but with a sense of profound humility, respect and appreciation for all that has gone before."
His Love Actually moment with Theresa May at Downing Street 
On his first official visit to Downing Street as Taoiseach just five days into his leadership, Mr Varadkar told the press: "It's my first time in this building so there's a little thrill in it as well.
"We spoke on the way in and I was reminded of that famous scene in Love Actually where Hugh Grant does his dance down the stairs.
Advertisement
"But apparently, it wasn't actually filmed here so I didn't get a chance to see the stairs."
"I was reminded of that famous scene in Love Actually."

Irish PM Leo Varadkar visits Downing Street for the first time. pic.twitter.com/F9hqsIOCdU

— Channel 4 News (@Channel4News) June 19, 2017
His stance on Brexit 
During his first visit to Downing Street An Taoiseach said the relationship between Britain and Ireland had been 'transformed' in the last few decades and that, going forward, both Britain and Ireland want to 'enhance their close bonds.'
"As we take another step forward in the tackling the great issues that face us today, that face Europe and Northern Ireland, and the British and Irish relationship," he said.
"We go one step further and walk together in mutual comprehension and understanding, united in our shared ambition to find the best possible solutions to solve the many challenges that face us.
Advertisement
In August, Mr Varadkar warned the British Government in a joint statement with Minister Simon Coveney that "the peace process is crucial and it must not become a bargaining chip in the negotiations."
Later, to Canadian media, Mr Varadkar said Ireland found Britain's post-Brexit trade strategy 'confusing and puzzling' and said Britain wanted the 'advantages but not the responsibility of the EU.'
His friendship with his Canadian counterpart Prime Minister Justin Trudeau 
The pair reached widespread coverage for their friendship when Prime Minister Trudeau visited Ireland earlier this year, and Mr Varadkar presented him with an Irish rugby shirt.
The Leaders then attended Montreal Pride together when An Taoiseach visited Canada.
Advertisement
His comebacks to his critics 
Broadcaster George Hook had criticised An Taoiseach for being in Canada, saying he was "becoming a public relations creation rather than a leader of a country that actually faces some crises."
.@ghook George. Not swanning around Canada. 4 meetings & 4 public events today. Business. Tourism. Media. Irish community. Jobs. Trade.

— Leo Varadkar (@LeoVaradkar) August 21, 2017
His 'gesture of solidarity' at Belfast Pride 
Advertisement
Speaking at Belfast Pride, An Taoiseach said: "I am here to state my support and my Government's support for equality before the law and individual freedom for all citizens wherever they may reside.
"Difference makes us stronger and that's something I believe in and something that I think can mark Northern Ireland out in the future."
Responding directly to a Irish J1 student who was mortified she didn't recognise him when he popped in for dinner in Chicago 
Student Emma Kelly didn't recognise An Taoiseach when he dropped in for a bite to eat in Chicago, and called herself a 'public disgrace' on Twitter.
After the Irishwoman shared the encounter, Mr Varadkar graciously responded to tell her: "The food & service was gr8. Enjoy the rest of your J1."
Advertisement
Thanks Emma. The food & service was gr8. Enjoy the rest of your J1

— Leo Varadkar (@LeoVaradkar) August 14, 2017
Becoming Leo De Varad 
An Taoiseach attended a three month language course this year, for which he received a certificate for his spoken Irish earlier this month.
Introduced at the Gaelchultúir ceremony with his adopted Irish name, Leo De Varad, Mr Varadkar said being proficient in the language was a 'great source of pride.'
Rolling up his sleeves at the annual Ploughing Championships in Offaly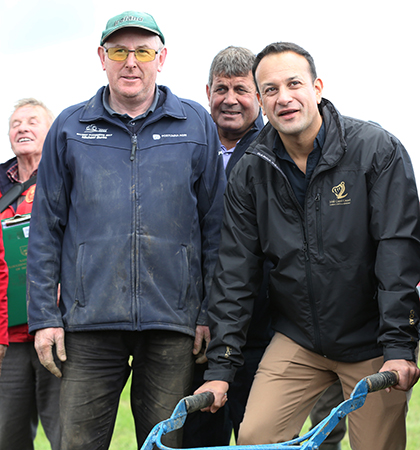 Advertisement
Earlier today, Mr Varadkar attended his first Ploughing Championship as Leader where he said it was a 'great day for ploughing.'
Sun shining. Huge crowds. Great day for #Ploughing. pic.twitter.com/tjccOofUtB

— Leo Varadkar (@LeoVaradkar) September 21, 2017