IF YOU'RE interested in collecting pieces of Irish history, or you're living abroad and feeling a bit homesick, read on...
Four Dublin road signs have come up for auction on the online platform eBay, from some of the capital city's most famous streets: Bachelor's Walk, O'Connell Street Upper, O'Connell Street Lower and Moore Street, giving people the chance to own a piece of Irish history.
The Moore Street sign, which is over 116 years old-- older than the Republic of Ireland itself-- holds the name in both English and as Gaeilge, and is one of the first bi-lingual street signs posted by Dublin Corporation in the year 1904.
All the street signs have now been replaced with more modern signs, so the items do have some wear and tear-- but it only goes to show how steeped in history the signs are.
Advertisement
O'Connell Street, for example, is one of the most recognisable areas in Dublin City, not least because it is where the rebels of 1916 fought against the British while holed up in the GPO during the Easter Rising, though it was known as Sackville Street at the time.
The modern-day O'Connell Street is still home to the GPO, as well as buzzing nightlife and the Spire monument.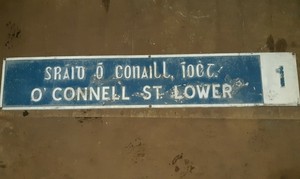 Bachelors Walk, meanwhile, will take you from O'Connell Bridge to the iconic Ha'Penny Bridge, and is the site of the infamous Bachelors Walk Massacre of 1914, where Irish citizens spontaneously rose up against a unit of the British Army two years before the Rising.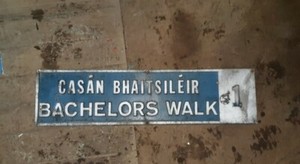 While the signs would be of interest to anyone with a love for Irish history, they will set you back by €1,000 each, so you might just want to travel into Dublin to look at the new street signs for free.
But if you have a serious amount of pocket money saved up, you can find the iconic street signs on eBay here.