A SCOTTISH coach driver has posted a sectarian attack on Facebook about retired Bishop Edward Daly who died this week.
In the rant, Allan Woods used anti-Catholic slurs against the respected Irish priest who put himself in the firing line during the violent Bloody Sunday clashes in 1972.
Bishop Edward Daly died on Monday August 8, at the age of 82. He was famously photographed waving a white handkerchief as the body of an injured man was carried to safety during The Bloody Sunday violence. It became one of the most iconic images of the Troubles.
Advertisement
In his rant Mr Woods, from Elderslie, Renfrewshire, wished the priest good riddance, calling him "IRA Scum".
"I see the Irish priest Edward Daly Died today. He was the priest seen waving the white handkerchief on Bloody Sunday. Good riddance to the piece of IRA scum."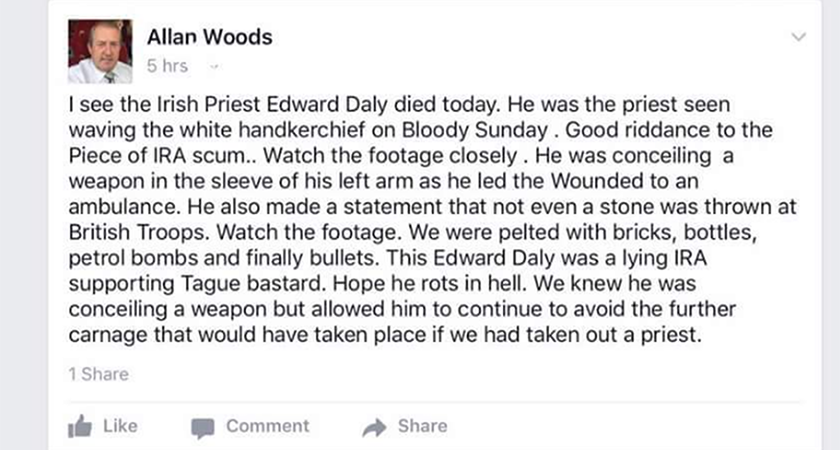 He then went on to accuse the Catholic priest of concealing a weapon.
"Watch the footage closely. He was concealing a weapon in the sleeve of his left arm as he led the wounded to an ambulance."
Mr Allan also uses the word 'tague'(a derogatory term for Catholics) in reference to Daly, writing: "This Edward Daly was a lying IRA supporting Tague bastard."
The coach driver ends his post by suggesting that he was in Derry on the day of the massacre.
Advertisement
"We knew he was concealing a weapon but allowed him to continue to avoid the further carnage that would have taken place if we had taken out a priest."
Park's Motor Group, the Scottish coach operator reported to employ Woods have responded to complaints about the post on Twitter saying that he was "not an employee" but "an agency employee who worked on occasion."
They went on to state that they are "aware of issue and dealing with it".