LEICESTER CITY AND former Celtic boss Brendan Rodgers has given an insight into his controversial departure from Celtic. 
Rodgers left the Scottish champions after the Premier League club came calling and faced a barrage of abuse from Celtic supporters at the time.
The Carnlough native guided Celtic to a double treble, but decided that a return to the Premier League was something that he couldn't turn down.
Rodgers has been speaking about the 2018/19 season exit that left Celtic fans with such disdain.
Brendan Rodgers reveals original Celtic exit plan before Leicester City came callinghttps://t.co/h5d3NAlVBy pic.twitter.com/ysL1yYjnfX

— Football Scotland (@Football_Scot) May 16, 2022
"The original plan was to stay until the end of the season but then it changes and I made the decision to leave Celtic in what I felt was a really strong position, he told the Belfast Telegraph
I felt the club was in a really good position from a football perspective, financial perspective and a winning perspective. So, yeah then it was on to the next step.
"Obviously there was a lot said within Celtic, outside of Celtic and media but I'll never let that ever diminish the amazing time I had there because for me it is all about the feeling.
Rodger has also expressed sympathy for supporters at Parkhead, but admitted that the experience was 'amazing, that will never be tainted'.
I understand Celtic people and supporters when I left, he added.
I totally get that because a loss of anything there is always sadness and anger and I totally get that and how I left it was the probably the shock element of it.
"I look back and think more of the amazing time I had not just on the pitch but off the pitch and the support I had and the friends we made.
Living in Glasgow was an amazing experience. We travel up when we can and the experience will never be tainted by anything else.
Celtic's league points total of 93 this season is the best they've managed since Brendan Rodgers' Invincibles racked up 106 back in 2016-17, so it does seem that Celtic have got over the breakup.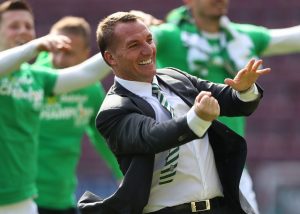 Celtic manager Brendan Rodgers (Photo by Ian MacNicol/Getty Images)