FORMER Tyrone and London GAA star Owen Mulligan expects Mickey Harte to use the Red Hands' Ulster SFC disappointment as inspiration for another All-Ireland tilt.
Holders Tyrone lost to Monaghan in the quarter finals of this year's Ulster Championship.
Now, facing the same opponents on Sunday with an All-Ireland final place at stake, Mulligan believes that victory back in May will ultimately count against Monaghan.
He said: "Mickey Harte is a shrewd manager and he hates getting beaten. He will relish the chance to right the wrongs from Tyrone's Ulster Championship encounter with Monaghan, and he'll have learned so much from that game.
"I don't believe Monaghan have the capability to beat Tyrone twice in the same calendar year, it's just a massive ask."
Tyrone were behind until the latter stages of the second half in their final Super 8s clash with Donegal last weekend.
Yet the depth of talent they could call upon from the bench salvaged the game and ultimately turned a four-point deficit into a seven point lead by the final whistle.
Mulligan said: "We saw against Donegal that he has an amazing bench to come on and he (Harte) will have them raring to go for this game.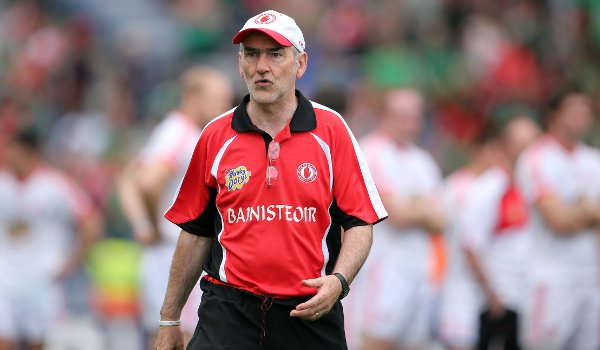 "Harte got his game management spot on last weekend. When we needed more legs and penetration he got it in the form of Kiernan McGeary and Lee Brennan. Then the goal getters – Harry Loughran and Declan McClure – came on to seal the victory.
"Tyrone's bench ended up scoring 2-6 in a 20 minute period. This is on a par with the Dubs' bench in recent years, where they can run the bench full of match winners."
Mulligan won three All-Ireland's under Harte in 2003, 2005 and 2008 before a stint with Fulham Irish and the London senior team at the tail end of his career.
For Tyrone to add to the tally, Mulligan believes they will need to nullify the threat of in-form Monaghan forward Conor McManus.
"Monaghan have the best forward in the country in Conor McManus," he told Paddy Power  this week.
"He really is special and everything goes through him.
"If he goes out the field they give it to him, he's a complete player. If Tyrone can stop him, we've a great chance. McManus is a gigantic threat and Harte will have him in the crosshairs this weekend."