Tom Russell
The Rose of Roscrea
★★★★★ (out of 5)
TOM RUSSELL is one of the best singer/songwriters I have ever been lucky enough to see and hear.
A regular visitor to Ireland over the years, Tom has produced some great albums in his long career and collaborated on some terrific projects with some very talented artists.
His songs have been recorded by the likes of Johnny Cash, Nanci Griffith, Dave Alvin and Joe Ely amongst many others and The Washington Post describes him as "one of the best singer-songwriters of our time". 
Russell and Dave Alvin were hailed as the architects of what we now call "Americana" music — that wide embracing genre that covers so much of non-mainstream country/folk.  
His latest release, a double album entitled The Rose of Roscrae, is a very ambitious piece of work that has been a long time in the making.
Spanning two-and-a-half hours it takes a fascinating look at the history of the American West and traditional cowboy and folk music.
What makes it all the more interesting is the fact that it is told through the story of a young Irish lad aged 16 from Templemore, Co. Tipperary, who travels to America in the late 1880s to become a cowboy, leaving behind his first love — the rose of Roscrae.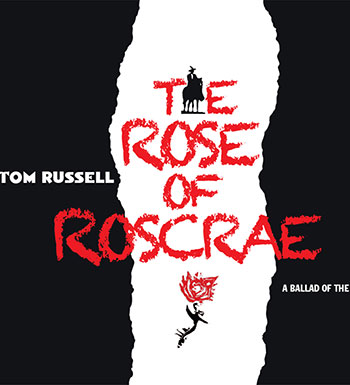 The dramatic opening features the lone haunting voice of Texan Jimmie Dale Gilmore soon giving way to the distinctive deep tones of Russell describing the young man's departure from Templemore.
Track five, the album's title track is a great stand-alone song with whistle running through it and the hook line "as I walked all night from Roscrae to Templemore". It's one of those tracks you just have to play again.
The first disc has 27 tracks although some are very short but important links for stories.
Apart from the aforementioned, there are some truly memorable tracks such as Jimmy Le Fave singing Ain't No More Cane On The Brazos and Tom's brilliant The Last Running — a great story wonderfully told. Finbar Furey also appears as a guest singing Carrickfergus. 
The other Irish guest singer Maura O'Connell, performs The Water is Wide which then slips gently into The Red River Valley instrumental by The Norwegian Wind Ensemble.
Maura follows that with I Talk to God, another powerful track. Along with Maura this second album features more female singers such as Eliza Gilkyson, Gretchen Peters and Bonnie Dobson. Russell kicks up a storm with the driving country rock Hard Time in Texas while Whiskey in his Blood evokes memories of the great Waylon Jennings sound.
The album closes with The Rose of Roscrea again, but this time by Maura O'Connell. This was an inspired move as her magnificent voice puts the finishing touches to a remarkable work that will be hard to beat as my album of the year.
Tom Russell has done it again. 
Watch the story behind Tom Russell's new album here: