"COMPARISONS with the Wallander series? Yeah, I'm pretty happy with that, but what I was trying to do was create an Irish Wallander with a sense of humour, a sense of the absurd!"
Crime writer Mark O'Sullivan, 60, is back with a new offering, Sleeping Dogs, the second book in the Detective Inspector Leo Woods series and it is another gripping read.
Crocodile Tears was the first and now O'Sullivan has completed the next installment in the career of the fictional former UN peacekeeper turned detective.
Gangland boss Harry Larkin has been shot three times and lies dying in a Dublin hospital bed, his daughter is missing and Woods is dragged back into the murky underworld of the notorious Larkin family.
Thurles-based O'Sullivan has created some strong characters and the plot is fantastic, centred on the criminal underbelly of the Irish capital.
"The underworld people in this book are not the high-profile types, you know, the ones that have a name like 'The General'.
"The crime world in Dublin is like every other city, there are people there in the middle who are almost middle class, in the sense that they are surviving in activities that are criminal; but they're not the Corleone family.
"The crime family in this book are selling illegal cigarettes; they are not into gang wars or anything like that. This is all about a disturbed, dysfunctional family.
"If you watch The Sopranos or The Godfather, they have double- standards. Family is supposed to be everything to them, but that's a delusion too. They know what they are doing is wrong, but they use 'family' as a justification."
Given the media coverage of Ireland's criminal fraternity and the popularity of TV dramas like Love/Hate on RTÉ, O'Sullivan must have had plenty of inspiration for his characters?
He added: "I was very impressed with that show, yes. I love the main character in it, 'Nidge'.
"Again, for the characters in it there is this supposed love of family, but it doesn't go very far there either. All of these people are alone, just like Leo in my book. 'Nidge' is completely alone in Love/Hate.
"I have only recently started watching Breaking Bad and over the last couple of weeks I have been watching it in big doses. That's the kind of thing I want to do, a broad mix.
"I like the action part of it; it works on so many different levels. It's Shakespearean. Walter is MacBeth, when you think about it, and his wife is Lady MacBeth. I like the idea."
Given our love of crime drama on TV, how would he feel if producers take notice of the excellent reviews the DI Woods series has been getting? Surely there is a market there for an Irish Wallander?
He continued: "I would love it if that happened. I try to focus on the dialogue and make that as realistic, and as humorous, as possible. It's something that I do, that common element.
"I do really love the Scandinavian stuff we get on TV, but there is an absence of humour in it. There's a dourness there. I guess what I am doing is not that far away from it, but with an Irishness to it and a sense of the absurd.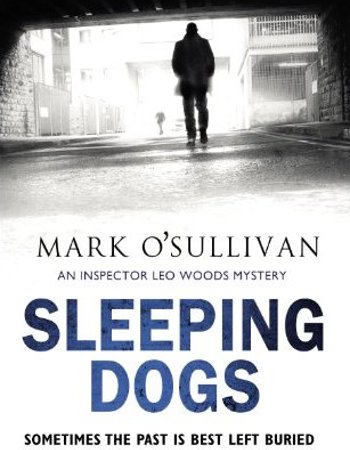 "Going all the way back, Irish writers have always had a capacity for that. Think of Flann O'Brien or even Father Ted, the absurdity is even greater for Irish people because they know the reality."
O'Sullivan says the theme of his second Woods book is delusion.
He continued: "It's this notion that from childhood everybody, from an early age, is constructing a narrative about their lives. As you go on, they are based on delusions.
"To a certain extent they have to be, you have to delude yourself into thinking that you can do something. We have to rationalise what happens in life, so we can stay sane!"
"It's when our delusions hit up against reality that the absurdity comes out. So there's a philosophy behind the crime novel and almost everybody in the book is looking for love and compassion."
Creating a detective as a character must be a challenge, but O'Sullivan says that when he set about inventing Det Insp Leo Woods he drew on past experiences and used them.
"He has this facial disfigurement, Bells Pallsy. I worked with a fella years ago in Cork who had it. Leo is dealing with this himself.
"What I did with Leo was I deprived him of a lot of things that I have in my own life. The stories are as much about Leo as they are about the crimes that happen.
"He is challenged in many ways, he's alone and he doesn't have a wife or family. He doesn't have access to music and that's the most important thing in my life. He is challenged, but he is quite a strong person."
And it makes for a fabulous page-turner. So given the success of his first book in the series, is there a pressure there with this second one?
He added: "There's pressure every time something comes out, to be perfectly honest. There's a commercial pressure and these things have to work, or the story is over.
"But I don't feel any particular pressure in that way. I have my own direction that I want to go in and many different areas and types of writing that I want to do.
"I wanted to deliver a crime novel that didn't talk down to people and assume that they were semi-literate! That happens quite a bit. I had been thinking about crime novels a lot in the past, but I never seemed to find that strong central character. Now I have."
Sleeping Dogs by Mark O'Sullivan is out now