RICKSHAW drivers occupy a ubiquitous presence on the streets of the West End. But most Londoners never even give them a moment's thought.
David McGrath is just about to publish his debut novel, Rickshaw, about a young man whose entire existence depends on the unglamorous and slightly awkward vehicle.
"I was in the West End one night five years ago, and this guy on a rickshaw nearly ran me over," explains the 31-year-old, who is originally from Baltinglass, Co. Wicklow. "I got chatting to him and figured I would give the job a go for a night."
McGrath was studying an MA in creative writing in Goldsmiths University, London at the time. Desperately in need of some extra cash to pay his rent, he persued the job with interest. 
We're presently cruising down Dean Street in central Soho. Dusk is gently ascending, and crowds of after-work office drinkers cluster in small groups, clutching pint glasses and inhaling cigarettes as if their life depends on it.
McGrath takes a sharp left turn onto Old Compton Street. A taxi suddenly swerves in front."Watch where you're f**king going mate," shouts a man with a look of burning rage beneath his bulging purple face. 
McGrath passes him out nonchalantly, then takes another sharp left, and moves down onto Frith Street. 
The first night McGrath began his employment working as a rickshaw driver, he bumped into a drunken man who had lost everything: his girlfriend, his wallet, and even the name of the hotel he was staying in. After a few stressful hours, and a number of confrontations — including a threat by the man to commit suicide — McGrath eventually got him safely back to his hotel in one piece. 
It was to be just one of many adventures McGrath would encounter while driving the vehicle around the streets of London for the next few months. But, most importantly, as a writer, he understood he had hit upon a muse.
Rickshaw is written in the first person by Joe: a twenty-something-year-old lost soul who is affectionately known by his fellow drivers on the streets of Soho as 'Irish'. 
Joe has come to London in search of adventure and a fresh start. He's also attempting to shake off bad memories he cannot seem to escape every time he thinks of Ballybailte: the one-horse town he comes from in Ireland that constantly reminds him of his demons. Namely, his battle with alcoholism, and the difficult relationship he had with his parents before they died. 
The only living soul left close to him is his sister Niamh, who is back in Ireland. And even though a deep bond exists between them, every time Joe visits home, he cannot escape his inevitable sense of failure. 
The novel is set on the peripheries of conventional-bourgeois life, and Joe finds himself growing into London, by simply observing those who operate by the rule of the street: thus hustlers, the homeless, peddlers, venders, whores, drunks and drug addicts all become his gateway to understanding the city.
"I wanted to keep Joe busy," says McGrath, as he rides down the hill from Charing Cross Road, past Leicester Square tube station and around to Trafalgar Square. 
"Joe is replacing his alcohol addiction with the adrenalin he gets from the physical exertion of driving the rickshaw. The rickshaw essentially becomes Joe's crutch or his source of energy: it's an obsession for him."
We're coming up Pall Mall now, around by Regent Street. Eventually, we enter under the flashing neon advertisements of Piccadilly Circus. Surrounded by hungry pigeons, manic traffic and enthusiastic tourists, I mention to McGrath that we should take a small break. 
He insists on buying me a coffee, and we take refuge on the pavement.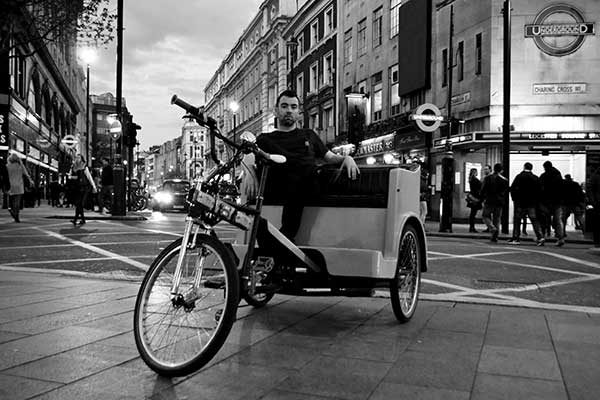 McGrath wouldn't be the first novelist to write a story about an Irish immigrant in London. Dermot Healy's Sudden Times and Patrick McCabe's Breakfast on Pluto immediately spring to mind. 
Did it feel like he was following in the footsteps of such literary giants, penning a novel about an Irishman abroad? "I really wanted this to be first and foremost a human perspective about someone finding their way in London. I didn't want it to be just about an Irishman's experience," says McGrath.
"Charles Dickens was someone I really looked to in my research actually. Especially works like Sketches by Boz, and Night Walks, where the narrator is an alien observer.
"Dickens was a master at observation. He really knew the vendors, horse cart drivers, and pub owners of London on a first name basis. And I wanted to capture something of that in my own book."
"I also looked at Orwell's Down and Out in Paris and London, Mayhew's London or Craig Taylor's Londoners: all of these books show you how various people perceive London upon arrival."
McGrath has just recently won the prestigious Bare Fiction Prize for his short story Ger Sheen And The Satanists , which he recently performed live to a packed audience at the London Irish Centre, where he headlined an Emerging Irish Writers Night. 
The story is set in the small town of Ballybailte. And the new novel he is presently working on has developed out of that same tale.
He speaks confidently and enthusiastically about his forthcoming artistic project.  
"The new novel is more off the wall than Rickshaw. For a brief period I almost gave up on the idea of getting published entirely, so I just started writing for myself. Beforehand, I was listening too much to what other people thought or said about my writing. But now I feel it's just me writing about whatever world I want."
Darkness has fully descended on the West End now. But with the never-ending flashing signs for entertainment as far as the eye can see, it feels like nobody around here ever actually goes to sleep. 
People spill out of the theatres by the dozen, and lost drunks roam the pavements, shouting profanities to anyone that will listen.
There's a strange sense of alienation hovering over everyone and everything. And yet, it's as if the frantic rhythm of the city — its constant stamp and jostle — is the only thing that seems to connect everybody.  
A few years ago, McGrath would have been happy to pick one of these strangers up in his rickshaw, grab a fare off them, and listen to whatever story they had to tell him. But times have changed. In the morning, he has to rise at 6am, infuse himself with coffee and knuckle down to creating that fictional universe where he can tell his own stories. Finally, after a decade-long struggle, he can now call himself a full-time professional writer.
It must be strange, finally getting a book deal: does he feel like having an audience will change his outlook on writing? And is there more pressure? A sense that one has to perform to their best, every time they put a thought down on the page?
"This is actually a question I asked to a few established writers when I did an MA in creative writing in Goldsmiths back in 2010," says McGrath. "I said to them: if a fortune teller told you that nobody would ever read a single word you had written, that you would never have an audience, or you were never going to be published, would you still do it? And some said, "No, I wouldn't."
"But I would," says McGrath, with striking honesty. 
"Writing for me is an absolute compulsion and an addiction. It's the same as any other human want, like hunger. And when I put that ink down on paper, the urge is released."
Rickshaw is published by Thistle on June 10 and David McGrath will be launching the novel on the same date in The Arts Theatre Club, 50 Frith Street, Soho.