AS 2016 stretches out before us, Mal Rogers contemplates the future of the Catholic Church in Ireland with the country's most high-profile priest Fr Brian D'Arcy and through a series of short stories from his new book And Catch the Heart off Guard he gives his thoughts and reflections for the year ahead for those with and without faith.
Father Brian D'Arcy is, arguably, Ireland's highest profile priest. A regular broadcaster on both RTÉ and the BBC, he remains a mainstay on BBC Radio 2 where he has presented the Pause for Thought slot for 26 years.
This is currently a feature on Chris Evans Breakfast Show, Fr D'Arcy's tenure stretches back through Terry Wogan's time and before that Derek Jameson's.
It is believed that Graham Linehan modelled Dermot Morgan's 'Father Trendy' on him - Morgan's priest who eventually segued into Father Ted.
In his early priesthood in Dublin, Fr D'Arcy somehow became an unofficial chaplain to the show business community in Dublin - ministering to celebrities, musicians and fans alike.
It's something he's phlegmatic about it. "I suppose I looked a little like Father Trendy - it was the bane of my life for a while," he jokes.
But Fr D'Arcy's similarity to the fictional priest was purely cosmetic. In every other respect the priest is the exact opposite, and entirely his own man. Too much so, according to the Vatican (under Pope Benedict), who at one stage insisted that his writings be checked by a Church censor before publication.
Fr D'Arcy was particularly critical of the Vatican in the aftermath of the Murphy Report. He accused the Vatican of hiding behind legal procedures in not dealing with allegations of child abuse within the Church.
His calls for a radical re-formation of the church's structures and demands for resignations of high-ranking prelates within the Irish Church, predictably, won him few friends in the upper echelons of the Catholic hierarchy.
Further trouble lay in store after Fr D'Arcy was invited to be part of the audience of RTÉ's The Late Late Show and upbraided the then Archbishop of Armagh Cardinal Daly.
He took issue with Daly's assertion that the Catholic Church in Ireland was by and large doing a fine job.
Fr D'Arcy's attack rocketed him to notoriety, as well as earning him much respect from those who knew that something was deeply corrupt in parts of the Church.
His continuing criticisms of some of the Catholic Church's teachings put him directly at odds with the Vatican.
Soon the Enniskillen priest came to the attention of the Doctrine of the Faith (the Pope's enforcers) and time almost seemed up for Fr D'Arcy.
But that changed radically with the advent of Pope Francis. "If it hadn't been for his election, I would have been forced out," he says. "Today you would have been talking to the former priest Brian D'Arcy. I was on the verge of being silenced, and I couldn't have accepted that. But Pope Francis arriving was like a miracle.
"And Pope Francis is saying the exact things that I was being castigated for - that we can't ostracise from the Mass people who are in second relationships, and we have to be allowed to talk about family planning, married priests, priest paedophilia and so on. These questions won't go away, and Pope Francis is addressing them."
Father D'Arcy has now written a book of short reflections.
"Don't call them sermons," he laughs. "I'd run like hell from a book of sermons. They're all about 30 seconds to a minute long, and are for everyone, not just the religious. But they are for people who may be searching for comfort, peace or even those wanting to get in touch with a merciful God. The reflections encourage people to be the best person they can."
Father D'Arcy is now 70 and remains rector of the Passionist Monastery near Enniskillen in Co. Fermanagh.
He has health issues, having been diagnosed with cancer.
"I'm living with cancer," he says, "rather than dying from it. If the Lord calls me, well, I'm too old to die young now."
He is similarly upbeat about the Catholic Church. "I don't believe the Catholic Church can ever get back to the position it once was in Ireland. Once trust has been broken you can't get it back.
"The Church needs a new relationship with its congregation. We have the remnants of the old order, but now we need a lay-based Church. I have no idea what that will look like, but I believe it is coming."
As he says in his book: "The purpose of religious events is not to have a kind of mini drama festival of religion.
"Their purpose is to help us have a conversation about our way of living, to transform our way of living and to give us the grace and courage to be different. If we are not transformed, what is the point of such events?"
The proceeds of And Catch the Heart off Guard - the title comes from a Seamus Heaney poem - will go to helping refugees forced to flee violence. The book is out now in hardback, published by Columba Press, priced £12.50
Fr Brian Darcy's reflections on…
The most important things in life
A group of 10-year-olds in a geography class were asked to name what they considered to be the Seven Wonders of the World. The Taj Mahal, the Grand Canyon, Victoria Falls, and The Great Wall of China were in every list. One girl was having difficulty putting anything on paper. When the teacher asked why she was struggling, she admitted there were so many wonders of the world she couldn't make up her mind.
'Well, tell us what you have and we'll help you,' the teacher suggested. Shyly she stood up and read: 'The seven wonders of the world are,' and she whispered her list, 'to touch, to taste, to see, to hear…' She looked up and hesitated for a moment before continuing, 'to run, to laugh, to love.' That little girl truly did understand the important things in life and where happiness lies.
Robert Louis Stevenson (who lived in the latter half of the 19th century) made a list of the attitudes which made him happy in life. Here are a few of them:
Make up your mind to be happy
Learn to find pleasures in simple things
don't take yourself too seriously
You can't please everybody, so don't let criticism cripple you
Be yourself and do the things you enjoy doing
do what you can for those less fortunate than yourself
Keep busy at something. a busy person never has time to be unhappy
Success
Successful people get to work on their plans as quickly as possible; they know how to keep going when times are tough. They are committed people and commitment means doing what you said you would do long after the mood in which you said you would do it has passed. They do the right thing over and over again because good habits get good results.
I used to think the motto 'if it isn't broke, don't fix it' was sound advice. Not anymore. Of course there is a time to enjoy achievements. But if we bask in success the world will soon pass us by. The time to kick on to better things is when things are going well. Be the best you can be is a more fitting motto for today's world.
By now I'm convinced that when you want something you have never had, you have to try something you have never done before.
Growing older
A wise priest whom I respected greatly, who lived to be 94, often said: 'It's no fun growing old.' as I now grow old myself, I can't argue with him. But age has its compensations. It's easier to be yourself without having to put on a show. You don't need to protect yourself, your roles, or your status.
You don't need to promote them, or prove them to anyone. You don't think of yourself as being superior to anyone and you don't need to. You don't even try to be a holy person. By now I realise that whatever has happened to me, is all god's work, and I have been the lucky recipient.
As I grow old I don't spend much time admiring myself and therefore any time I have I spend admiring god who has done so much to me, and for me – and for no good reason. Fr Richard Rohr once wrote: 'God creates wild flowers in hidden valleys that no human eye will ever see – just for the joy and beauty of it.'
By now I am happy enough simply to be human. I do not worry too much about the spiritual life, because I am not sure what it is. For me everything is both spiritual and material at the same time. I have met my worst enemy and my worst enemy is me. I have faced the shadow side of my life and found out that God loves me best in and through my mistakes.
I do not have to pretend that my religion is the only one that gets people to God. God gets people. To quote Richard Rohr again: 'I am who I am in the eyes of God, nothing more and nothing less.' I am grateful to Richard Rohr, whose work clears paths for me.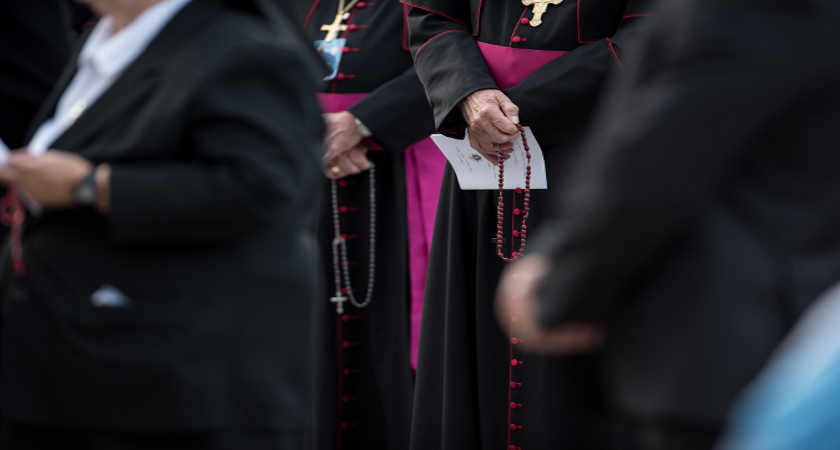 The seven alternative deadly sins
I don't think
I don't know
I don't care
I'm too busy
I leave well enough alone
I have no time to read and find out
I am not interested
What it takes to be a family
Every generation has to learn to be a family and to re-learn how to be parents anew in the changing world we live in.
The family needs to have:
A sense of humour
A sense of gratitude
A sense of belonging
We need a sense of humour to laugh at ourselves and to laugh at the ridiculous situations we get disturbed about.
We need a sense of gratitude because without gratitude we cannot be generous. We need to be aware of the many gifts we have been given, rather than to complain about what we haven't received.
We need a sense of belonging. I remember working with a group of homeless people, when I was asked the question: 'What do you think is the worst thing about being homeless?' I suggested things like not having a roof over your head, not having a bed, not having food, etc. they said all of those things were tough but believe it or not you can get used to them.
They then said the worst thing about being homeless was knowing that when you die no one will miss you. That really is a very powerful way of saying that we need to belong somewhere.
The degradation of Irish society
I am not easily shocked but one interview on RTÉ Radio left me stunned. A fireman was talking about being called out to an accident (I cannot remember exactly where) in which a two-and-half-year-old child was killed.
He was horrified that so many people stopped to take a picture of the child lying on the road. Worse still, the size of the crowd meant that his men could hardly get in to help the child. He thought it was a new low in Irish society and I agree, wholeheartedly.
Another fireman phoned in with his experience of this disturbing trend. A man was on top of a bridge threatening to throw himself into the River Liffey. A crowd of passers by gathered around him and rather than helping him to come down, they were taking his picture and putting it up on Facebook whilst waiting on him to jump.
When the fire brigade arrived, one idiot shouted out: 'Jump soon because I'm on my lunch hour.'
What kind of a society are we becoming?