THE St Buryan Sessions is the sixth solo album by award-winning singer/songwriter Sarah McQuaid.
Born in Madrid to a Spanish father and an American mother, then raised in Chicago, Sarah lived in Ireland for thirteen years.
Her first three albums were recorded in Ireland with producer Gerry O'Beirne.
Her latest album The St Buryan Sessions had its genesis in the spring of 2020 when Sarah's gigs and tours were cancelled due to Covid.
But thanks to a successful crowdfunding campaign she was able to finance a live solo recording (without an audience) in the medieval church of St Buryan, not far from her home in rural West Cornwall.
Sarah McQuaid is married to Dublin artist Feargal Shiels, and they live near St Buryan.
This recording in an old stone church gives the acoustics an ethereal dimension, especially to the vocals.
Sarah, a member of the St Buryan choir and also a multi-instrumentalist, moves between acoustic guitar, piano, electric guitar and not forgetting her vintage floor tom drum.
She performs songs spanning her 24-year career — these range from Charlie's Gone Home, originally recorded on her 1997 debut album When Two Lovers Meet, to electric guitar based pieces from her most recent studio album If We Dig Any Deeper It Could Get Dangerous.
Sarah, has one of the most instantly recognisable voices in contemporary acoustic/folk music.
The St Buryan Sessions represents a journey through a wide range of styles — from world music to the jazz standard Autumn Leaves.
The recording was filmed by Cornish filmmaker and director Mawgan Lewis, of Purple Knif, with the aid of Eden Sessions veteran camera operator John Crooks.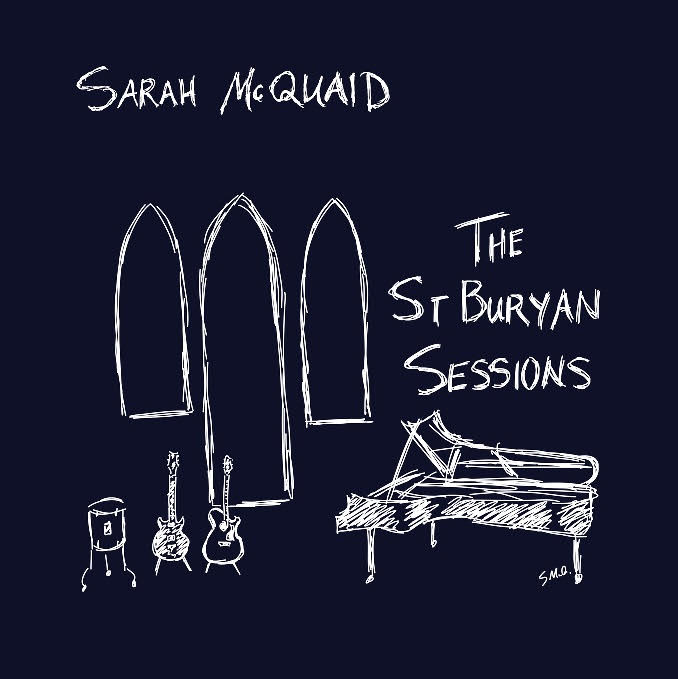 The St Buryan Sessions was released on Friday, October 15, you can purchase the album here.
McQuaid has also been releasing a series of videos of individual songs on her YouTube channel, where Lewis' short documentary The Making Of The St Buryan Sessions, featuring interviews and song snippets, can also be viewed.
Watch all the action below...