AN IRISHMAN has formed an unlikely duo with a second-generation Irish woman to make the earworm song of the summer.
David Gilna, who splits his time between London and Dublin, is an up-and-coming playwright, actor, producer and jack-of-all-trades.
Over the phone, the 30-year-old born and bred Dubliner explains how he came across ex-pop music journalist and singer of 1982's On N On Song (The song featured on the number one album Raiders of the Pop Charts). 
"I was back in Dublin for a play about 1916 when I got a phone call from this woman who said she wanted to meet me."
That woman was Trisha O'Keeffe, an influential figure in the British pop scene back in the 60s and 70s.
O'Keeffe, whose parents were Irish, performed under the name Precious Little. Her catchy 80s song got good radio airplay, and Irishman and veteran DJ Terry Wogan was a fan.
O'Keeffe was living in Brixton but moved home to Ireland when her mother got ill, explains Gilna.
After their phone call, Gilna went to visit her in Swords.
When O'Keeffe played him the On N On Song, Gilna asked if he could rewrite the lyrics and record them as his comedic alter-ego Johnnny Massive, a Dub who is stuck in a gloriously naff past decade.
"Johnny Massive never left the 80s, y'know," Gilna says.
Gilna started his career dressing up in drag as Riverdance star Jean Butler and was spotted by a judge at a local talent competition who told him to train as an actor.
"My drag act was my first thing. I used to dress up as Jean Bulter and my friend as Michael Flatley and we did our own mimic of Riverdance," he says.
Scroll down to hear the new version and the original from 1982...
Gilna started acting at 13 years of age, at the National Performing Arts School (co-run by Colin Farrell's brother Eamon).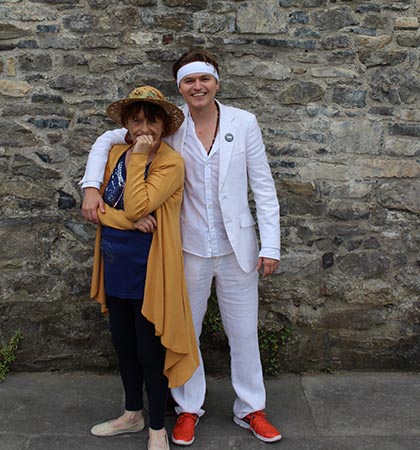 He lived in Waterloo in London for five years and is now back and forth between Dublin and London.
His first play, The Gift of Lightning, is based on a true story – Gilna was hit by lightning, which he describes as "a bit of a mad one."
The play was transferred from Dublin to London (debuting in the Waterloo East Theatre where it sold out) and is now being turned into a feature film.
O'Keeffe has an incredible backstory all of her own.
Not only was she a pop journalist at the birth of British Pop Culture, she founded Independent Record Labels Association and Touch Sound Record Studio with over 30 chart topping hits.
Under a video of the original version of the On N On Song on YouTube, a commenter writes about the work O'Keeffe did for Independent musicians: "Trisha O'Keeffe has had - and still has - a very wide and varied role within the industry working with major record labels, major artists and publishers - alongside her continuing development of unsigned artists/songwriters and Independent record labels....
In the early eighties she helped establish the Independent Record Labels Association and the Indie Charts, through which over 250 Indie labels benefited from her expertise - with many artists being signed to major labels."
The new cover version has given O'Keeffe a "new lease of life" says Gilna.
Together, the newly forged duo shot the video on a Sunday afternoon in Swords, with a star cameo from the Mayor.
"I asked the Mayor to come and got a whole crew together, we've no budget but the goal is to get it to number one."
The video has been watched over 6,000 times on Facebook already.
You can listen to the cover version and the original song below. But it comes with a warning: listen once and you'll never get it out of your head.
Here's the new version...(*Warning it contains a bad word, repeated several times)

And here's the original by Precious Little (with no cursing at all)...