It's probably fair to say the renaissance Simple Minds are currently enjoying isn't usually in the script for bands who have been around since the 1970s.
Before becoming one of the most successful stadium acts of the 1980s (shifting over 35million albums) they made dark, experimental art-rock and for the recent 5x5 tour the band revisited that seminal era.
As a result Big Music makes a masterful return to the places and electronic sounds which created the likes of Empires and Dance (1980) and Sons and Fascination/Sister Feelings Call (1981).
Recent single Honest Town is something of a hymn to Glasgow, as frontman Jim Kerr explains.
"Part of what this record was about was squaring the circle. My mum passed away four years ago, when I went back to Glasgow the light was getting dim, I was there for the last few weeks of her life. Around that time I was writing with Iain Cook (Chvrches).
"We recorded a few doors down from where Simple Minds started out."
He had a basic melody which turned out to be Honest Town.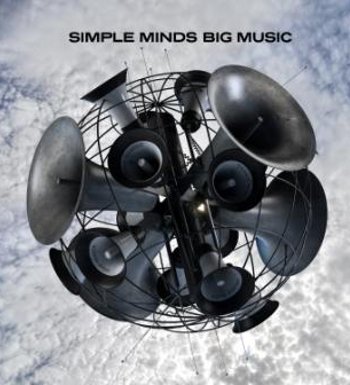 "My mum had been ill for some time, one day she came downstairs and wanted to go out." (This was during that period of heavy snow, all the advice was to stay indoors.)
"We went driving around the city, it was very dream-like because there was this blanket of snow and the sun came out. As we were driving we passed the landmark areas of our life — Toryglenn, the council house where I grew up, Hampden Park, the Gorbals where she was born and the Merchant City where she worked as factory girl.
She said how happy she had been in life and to have lived in Glasgow, calling it an honest town, that's really where that song came from."
Going back to the Glasgow of his boyhood, to family, the industrial second city of the Empire and progressive working-class ideas of his youth undoubtedly informed the sound and essence of Big Music, says Kerr
"I think there is a lot of underlying nostalgia, one of the key things was the 5x5 tour, we called it the non-hits tour," he jokes.
"Those first formative albums were possibly the most creative time. Those records are very rich, they are landscape sounds, in going back to learning those songs it tuned us into what we were about then and the mentality that the band had."
As well as Simple Minds being influenced by their early work, it has also been referenced by the likes of Manic Street Preachers, Primal Scream, Radiohead, U2, The Horrors and Ryan Adams.
Kerr says: "If people are in any way inspired or fighting your corner that's fantastic. There was a long time when the band was getting overlooked; it's great that there's that kind of acknowledgement from people that we admire ourselves. The things James [Dean Bradfield] from the Manics said was interesting, he challenges that cliché that the working class only cared about football and the bookies.
In the working-class culture I grew up in the teachers encouraged you, we had a voracious appetite to learn, not in any nerd way — far from it — but you were encouraged to go places like The Citizens Theatre. It opened us up to another world."
Born into a Glasgow Irish family in 1959, the frontman retains an ardent link with his ancestral home. Travel and the movement of people have been common themes in Kerr's lyrics inspiring new songs such as Midnight Walking and Blindfolded which sit comfortably alongside the electro-pop acts of today, be it Chvurces or Future Islands — two bands currently on Kerr's playlist.
Admittedly the Simple Minds singer is something of a night-hawk, introducing the listener to a modern nocturnal Glasgow.
"I'm a bit of an insomniac; I end up going out for a walk at half-past eleven at night. Some of the themes are things we have used in the past about people and communities on the move; I come from that culture myself.
Near the Mexican border there are what is known as 'death walks' through the desert; not everybody makes it across. The idea of searching and spiritually searching is still something we carry."
Sections of Big Music were recorded in Grouse Lodge, Co. Westmeath after being recommended by fellow Scot Paolo Nutini.
"We went to Dublin on the last tour for a few nights, it's like Glasgow for us. We thought, 'The band's sounding great, let's find somewhere to capture it' and went to the studio in Mullingar.
It can't be coincidence that we always gravitate back there, it's a place where we feel good; again it's the landscape and the people. When you feel like that the chances are you are going to create something good."
Kerr has a daughter Yasmin (29) from his first marriage to former Pretenders front-woman Chrissie Hynde and a son James (21) from his second marriage to English actress Patsy Kensit.
In the early '90s Kerr settled in Killiney with Kensit after Bono sourced their home.
"It was great; Killiney is like the Hollywood of that part of the world. The guys in U2 set it up for me. I was married with young kids and I wanted them to grow up there but it didn't turn out how I hoped.
My first holiday was in 1963 and we went to Bray down the road. I used to take my kids there, it was a bit more rough and ready — they loved it. There's a great element of roots there, I was plugging into what my earlier life was like."
After the marriage dissolved in 1996 Kensit went on to marry Liam Gallagher of Oasis.
Jim and Liam both have sons to Patsy and have maintained a jovial relationship through the boys, says Kerr.
"Liam's young son Lennon and my son James are brothers. James works for me in Sicily [at Kerr's hotel the Villa Angela]. Lennon's been on at me about going over to work with his brother, I said  'Lennon you're only 14 but as soon as you are ready you can come over and work with me'.
That contact is still going on. I always wish the best for Liam and Noel and their mum Peggy who is a great woman."
During the 1980s Simple Minds and U2 became the world's biggest stadium acts trading their brand of Celtic soul.
Prior to the release of the Dublin band's Songs of Innocence, Kerr received a call out the blue. "I was in France last year and [producer] Jimmy Iovine phoned me. We hadn't spoken in years, he was a few miles away and asked me to meet him for lunch. He said 'I've got someone on the phone who wants to talk' and it was Bono.
We went along to his place and he played me tracks from the new album, he was super enthusiastic. I could hardly hear it as he was singing that loud over it."
It's clear Kerr thinks highly of U2. "They are always great, there's records you might like more than others but they've not attained that level by any fluke — you have to admire the work and desire that goes into what they do".
Kerr and guitarist/song-writing partner Charlie Burchill had considered calling time on Simple Minds back in 2002.
Black & White 050505 (2005) and Graffiti Soul (2009) proved the band were still contenders and not content to trade on former glories.
"We didn't want to go round the circuit like punch drunk boxers, shadows of our former selves. I'm not criticising the bands that are doing the retro thing because you have to put bread on the table, but the thinking was maybe we should just be grateful and not destroy the legacy of what we had done. I had been playing football with a five-a-side team and one of the guys wanted me to go to his studio, at first naively I said 'no, I don't do that anymore'.
Eventually I went along as a kind of social thing, he had a grove going and asked me to write some words. Next thing I was on the phone to Charlie.
We agreed that if we were going to have another go it had to be the central thing in our lives as it had been when we started. We decided to start the ignition again."
Big Music is out now