JULIE HOUGH never expected a response like this when she posted her request for a cuppa on Facebook, but the Irish spirit of generosity shone through.
Ms Hough, who is currently living in Berlin, made a plea a few weeks back on the popular Irish Facebook group Oh my god what a complete Aisling.
The Galway native desperately wanted a cup of one of Ireland's most-loved teas, Lyons, and put out a 'T-mergency' message to the near 28,000 members of the group.
"I live in Berlin. I need to keep myself stocked up as it's a pretty expensive commute to the closest shop that sells Lyons," she told The Irish Post.
Ms Hough said she never expected to get hold of the tea, especially all the way in Berlin, but was delighted when a kind-hearted Irish person came to her rescue.
"I was pretty close to despair. I saw I had only two teabags left, which is pretty the first sign of the apocalypse," she joked.
That's when the online stranger from Ireland, Elaine Healy, stepped in and sent a note and a box of Lyon's Tea to Julie.
The complete stranger who is also a fan of the online group saw the 'T-mergency', messaged Julie for her Germany address, and sent the gift to a very surprised Julie from Ireland.
The simple yet charming note read, "Hi Julie, Hope this solves the 'T-mergency'. Happy Xmas."
Failing to find Elaine on Facebook Julie decided to post the note and her thanks on the online group.
Ms Hough wrote: "Leds, a little something arrived in my possession in Berlin from a fellow Aisling today in response to my 'T-mergency' cupla weeks back.
"Pretty much up the beauty of the Irish spirit when a total stranger goes out of their way to make sure you get a decent cup of tea in you in your time of need wherever you are in the world.
"It's been all kinds of lovely being apart of this cuinne of 'The Net' as my pure modrin Memmeh would put it. Huge thanks to the mysteriously un-taggable Elaine Healy for keeping me stocked up with tea for the next *80 cups. *79 now."
The post received a lot of attention from fellow group members and has got close to 200 likes.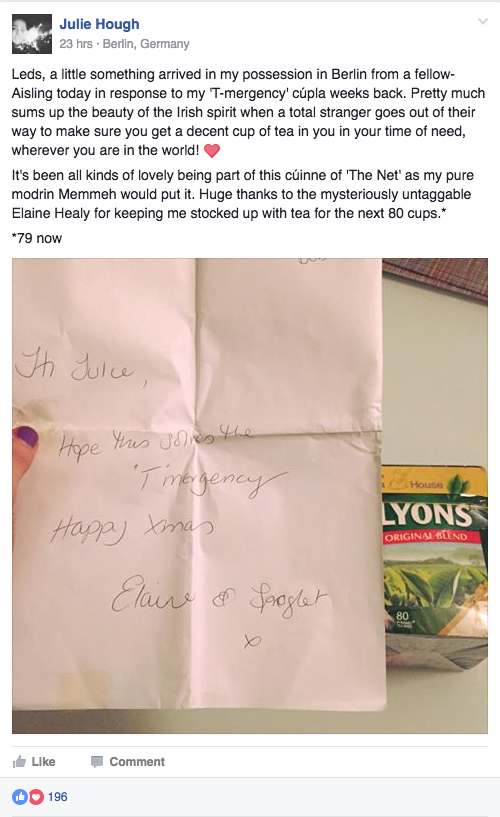 This story was amended at 10.50am on the January 5, 2017. Elaine Healy is based in Ireland, not Germany.