NATHAN CARTER left school in Liverpool at the age of 16 to become a singer. He's been gigging ever since, paying his dues in the pubs and clubs of his native Merseyside and more recently enjoying success in Ireland. At 18 he moved to Donegal and by 24 the Scouser had two chart-topping albums in the Irish charts. As a child, his grandparents regularly took him to the local Irish Centre to see the showbands and every summer the family went to Ireland to visit family and friends. Last year he played more than 200 gigs in Ireland, performing in front of an estimated 400,000 people. 
What are you up to right now?
I'm looking forward to embark on my first ever major concert tour of England.
Who are your heroes? 
My heroes would have to be Merle Haggard and Garth Brooks. 
What's been the best decade of your life so far and why?
This current decade has been the best with the success of my last two number one albums.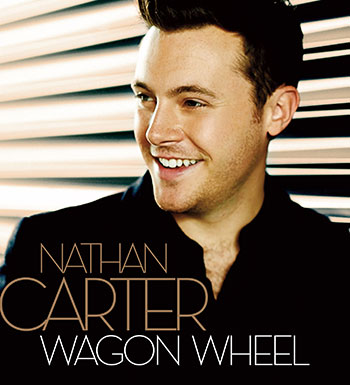 What song sends a shiver down your spine? 
I Can't Make You Love Me by Bonnie Raitt.
What is your favourite place in Ireland?
Favourite place in Ireland is a hard one as I've travelled to every county and seen some beautiful scenery but I would have to say Fermanagh as I love it there and love the lakes.
What makes you angry? 
Traffic really annoys me — I have no patience.
What book influenced you most? 
Merle Haggard's autobiography, My House of Memories, is the only book I have read fully in the last few years so I would have to say that one. 
What was the worst moment of your life?
I haven't had any major low points in my life so far but losing my nan and granddad was hard. 
Which local star in any field should the world outside Ireland know about?
Niamh McGlinchey is a fantastic young singer from County Derry. She tours with me quite a bit and has a fantastic voice. 
If you could change one thing in your life, what would it be? 
I'd like perfect eyesight — mine is bad. 
What is the best lesson life has taught you?
Life is short so live it to the full.
What is your favourite film and why? 
I love action films but would have to say Taken.
What do you believe in? 
I believe in family values and fate.
What trait do others criticise you for? 
Never turning my phone off and working too hard. 
What are the best and worst things about where you live? 
I live in Enniskillen Co. Fermanagh and love the view over the lough. The worst thing is it rains a lot!  
On what occasion is it OK to lie?
Honesty is the best policy but maybe if you're surprising someone. 
What do you consider the greatest work of art?
The song Vincent by Don Mclean. 
What is your ultimate guilty pleasure?
Lindor chocolate and a pint of Guinness. 
Who is the love of your life?
Carrie Underwood but she doesn't know it yet!
Nathan Carter plays Union Chapel, London, March 23.