Like other Irish acts before them, The Script are renowned for their straight talk and hard work. Danny, Glen and Mark tell Lauren Murphy they care less about what the critics think and more about keeping the way clear for whoever follows in their footsteps
IT'S been a musical journey, more than anything else," says Mark Sheehan as he sagely strokes his beard. "I mean, in today's day and age, where an awful lot of things are market-driven, even modern bands find it hard to stay 'classic'."
I am in a meeting room at Dublin's swish Morrison Hotel with all three members of one of the biggest Irish bands on the planet right now. Since forming The Script in 2001, guitarist Sheehan (prone to well-intentioned waffling), drummer Glen Power (occasional wisecracker) and singer Danny O'Donoghue (takes a while to warm up) have steadily blossomed into a musical force to be reckoned with.
Not many bands — Irish or otherwise — could sell out Croke Park in under an hour, but The Script did just that when tickets went on sale for their June 2015 gig.
They'll be heading to the home of GAA with plenty of experience in the bag. Since releasing their eponymous debut in 2008, they've been around the world several times. Indeed, their past lives as part of boyband MyTown is barely mentioned these days; they are rubbing shoulders with some of the biggest songwriters on the planet, taking advice from Bono and generally trying to stay as 'classic', as Sheehan puts it, as possible.
Ten million album sales later and with four successful albums under their belts, you could say that things have probably gone to plan.
"Yeah, we're established," nods Power. "And after four albums it's almost like they can see 'OK, these guys are able to successfully tour the world, they don't make a fool of themselves, they're not a liability, they haven't wrecked any hotel rooms… well, not many'," he jokes. "I suppose you prove yourselves over time, that you're a horse that you can back."
By this stage, The Script are undoubtedly a safe bet; their last two albums in particular have done well in both Britain and the US and for the most part, they have kept their noses clean and avoided scandal of any kind — something that Sheehan plainly attributes to "not feeding the Red Tops stories".
The closest they have come to any controversy is the alleged rumours that Danny O'Donoghue's time as a mentor on British reality show The Voice in 2012/13 caused fissures within the band — categorically not true, he claims.
"Paddy Power [were offering] bets that I was leaving the band and all that stuff — it's hilarious," says the singer, shaking his head.
"They don't know that was completely calculated. We all decided, as a band, that it was a great opportunity for us and our songs, our career, our band. At the end of the two years, we all sat around and they said 'Do you wanna do another season?' and I went 'No. I want to go back to being in a band. And I wanna get me Saturday nights back.'"
The band made their third album #3 in the midst of O'Donoghue's time on the show — "I could see how taxing [on him] it was becoming," Sheehan recalls — but they approached the recording of their newest No Sound Without Silence in a much less scrambled manner.
Referring to the album's title, O'Donoghue says that it was important to have some 'silence' and time for contemplation before the inevitable 'sound'. His mother's sudden illness at the beginning of this year also provided ample time for writing and reflection in Dublin, but recording was done mostly in a mobile studio as they toured the US and lent plenty of 'sound' to their process. They wrote upwards of 40 songs this time around, rather than their usual method of writing a set of 12 or 14 tailored specifically for an album.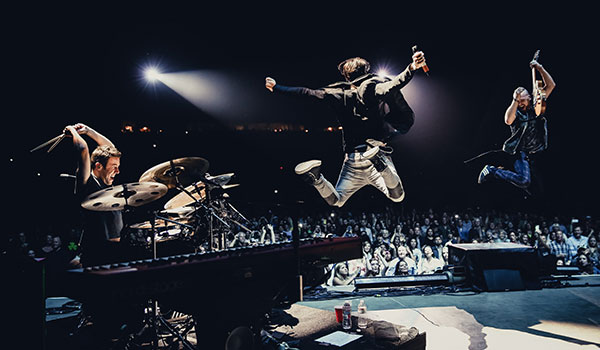 "We went on the road with Train and then One Republic, so we knew that each end of the year was going to be bookended with two massive tours in the United States," explains Sheehan. "We'd come off buzzing after playing to 25,000 people a night and we could either drink it away or smoke it away — but we decided to capture that raw energy.
"It's such a great feeling to come off and get onto a tour bus that's got a recording studio and continue to do your vocals, and to catch that live feeling. It turned out to be the best thing for us. You're usually bored [on tour]; you're picking at everybody who's causing s***. This time around, we were able to absolutely vent while trying to make the best album that we could."
The album contains the sort of glossily-produced anthems that The Script have become known for, like Superheroes and emigration anthem Paint the Town Green. The latter, in particular, had a special resonance for the trio.
"You forget how much the Irish miss home, because they are out there working away, and sometimes they can't afford to get home," says O'Donoghue.
"Being away, for us, was one thing — but also being away and seeing how many ex-pats there were was another. Originally, when we were touring around, it was like the old guard of the ex-pats; people who went away in the last recession, when we were growing up. And now there's another exodus, another massive amount of people who've gone away, and that really strikes home. The more we played [that song] to Irish people, the more we realised that it was a little anthem. And I can imagine what it's like to hear that song when you are away."
The Script make no bones about the type of pop music that they play; Sheehan aptly describes their songs, largely character-based and telling a straightforward story, as 'mini movies'. When the topic of critical appraisal is broached, however, heckles visibly rise. Their 2008 debut was nominated for the Choice Music Prize for Irish Album of the Year, leading many music 'purists' to sneer at their inclusion.
"We've never given a s***," says Sheehan, gritting his jaw. "We didn't make the album with a f***in' chainsaw and a spoon. We wanted to be commercially successful — what a concept! — after years of not having two shillings to rub together."
"I think [there's] also the oddity of people not really realising that there's a band out there who really don't give a s*** what people think," adds O'Donoghue, shrugging. "Last year at the BRITs, we were nominated again in a category. I can only say that the BRITs keep putting us in a category just to get our fanbase watching on the night, because they're never gonna give us an award.
"We've publicly said that we don't want awards, we don't want to be nominated, because we feel we're past that already. We're operating on a higher plane than to derive [our success] from someone else's opinion on what they think is good."
"I wish I could bring you to my house for a second so I could show you where my awards are," says Sheehan. "I'm not joking: they're inside my wardrobe, wrapped in towels. Look, it's not going to make us any bigger, it's not going to make people like us any more: when we get out on stage, people still make that choice. If we make a s*** album, it's over tomorrow — that's the bottom line. So it's [about] focusing on good music all the time, and that hopefully will prevail."
Yet if awards and critical acclaim don't factor into their personal worth, what is their driving force as they continue their efforts for world domination?
"It's not that hard to think back to the start," Power reflects. "Even though the experiences have really changed us, in a way — all the touring, all the gigs — I can still remember starting out and not knowing what the hell was coming next. That keeps you grounded."
"I felt more energised on this album than I did even writing the first one," says O'Donoghue with a firm nod. "The stakes are higher and everything else is higher, but at the same time, the serenity that goes on around us when we're in a room together, writing, is just amazing. In the face of everything: fame, all that kind of stuff, we still hold music in the highest regard."
It is difficult not to warm to the trio's ethos of plain talk and hard work. At several points, they mention treading the path previously paved by Irish acts like U2 and The Cranberries, and being conscious of "not messing it up" for whatever acts that follow them. "You don't have to try to be nice," explains Power of their in-band motto, "just try not to be an a***hole."
"I haven't been in Ireland for a while, so last night I went to a bar with a few friends," adds Sheehan. "One of them said 'You know what I love about what you've done? You've maintained your integrity of being honest, still being Dubs throughout the industry and being able to give your opinion without being rude about it.'
"That means so much to me, personally, because I come from an area where it's so easy to go out, drink your a*** off and make a show of yourself, enjoy the rock 'n' roll lifestyle and lose the point of being a good ambassador for Dublin, or for Ireland.
"You don't have to be Mr Nice Guy all the time, but a plain bit of respect while you're walking down that path, and hopefully the next Irish band that walks down it gets treated like we do. It's been six years of trying not to be a bunch of eejits."
The Script tour extensively throughout Britain during February and March, including The O2 Arena, London on March 13 and 14. See thescriptmusic.com for full listings