WHETHER YOU'RE a parent looking for ways to entertain the kids during a lockdown Christmas, or a childless adult interested in good storytelling and gorgeous art, this is the movie for you.
Wolfwalkers is the newest offer from Irish animation studio Cartoon Saloon, the company behind such hits as The Secret of Kells, Song of the Sea and The Breadwinner.
The film is brought to life with the breathtakingly gorgeous animation style unique to Cartoon Saloon, with the hand-crafted technique giving Wolfwalkers a vibrancy sometimes lost with the use of computer graphics.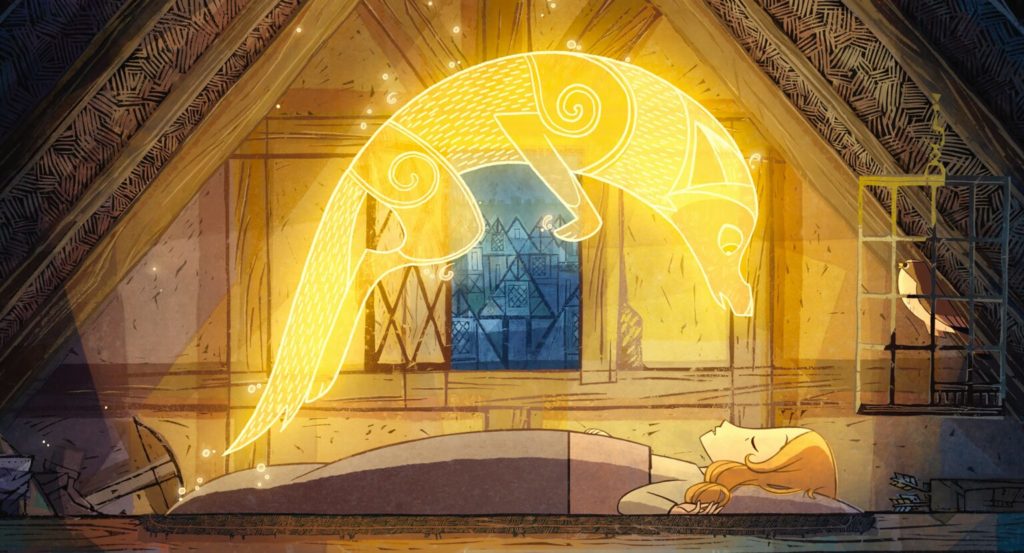 The animation is so impressive, in fact, that it would be an enjoyable watch even without a riveting story.
Thankfully though, this is not the case.
Set in Kilkenny in 1605, Wolfwalkers tells the story of Robin, an English girl brought to Ireland with her father under the orders of the Lord Protector, who is set on wiping out the wolves from the woods by the walled-in town.
Robin, herself an aspiring hunter, begins her story wanting to prove herself by catching and killing a wolf on her own.
But local myths of Wolfwalkers, magical beings who lead the wolf pack and can transform into the beasts at will, turn out to be more than just the stuff of legends; and the consequences of an unlikely friendship leads Robin to face uncomfortable truths and stand up to dangerous injustices.
The film works on multiple layers: for young viewers, the colourful, vibrant art, cool characters and snappy dialogue will have them enthralled, as the fight between good and evil, right and wrong, ensues.
Older audiences, particularly those interested in Irish history, will find fascinating parallels between the Lord Protector's vows to 'tame the land and the wild beasts' of Ireland as English flags flutter from the walls of Kilkenny.
Wolfwalkers also boasts a star-studded cast, with the fantastic Maria Doyle Kennedy, Seán Bean and Tommy Tiernan all lending their voices to the film, supported beautifully by an emotional soundtrack.
In normal times, Wolfwalkers might be overlooked as audiences flock to the newest Hollywood blockbuster or Disney hit; this would have been a mistake then, and it would certainly be a mistake now.
Wolfwalkers gets a five-star rating from The Irish Post, and we would encourage anyone planning a trip to the cinema, no matter their age, to see the magic for themselves.