A GARDA officer has been praised by animal lovers across Ireland after a picture emerged of him rescuing an injured swan.
Garda Karl O'Reilly, who works in the Kilmainham Garda Station in Dublin, acted quickly and decisively to rescue a swan who was injured and distressed in the Grand Canal earlier this week.
The bird was discovered by passers-by, who realised it was hurt and made the decision to call Gardaí for help.
Garda O'Reilly arrived on the scene quickly, and, wearing no protective gear other than plastic gloves, and without a net or cage to help stop the animal from attacking, entered the canal where he was able to secure the swan and bring it to safety.
The Dublin Society for the Prevention of Cruelty to Animals (DSPCA) were notified of the injured swan and volunteers soon arrived at the Dublin canal to take the swan for emergency veterinary care.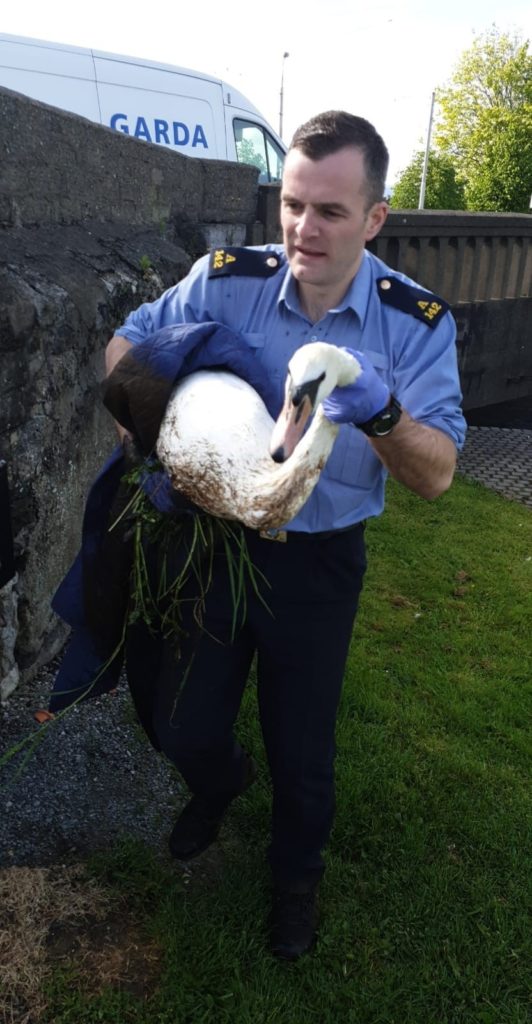 Incredibly, this is not Garda O'Reilly's first swan rescue-- he helped bring another distressed swan to safety just a few months ago.
Sharing images of the rescue on their official Facebook page, An Garda Síochána wrote:
"Garda Karl O'Reilly from Kilmainham Garda Station rescued an injured swan from the banks of the Grand canal after local passers-by alerted the Gardaí. The animal was safely conveyed to the DSPCA where it is being cared for by the veterinary staff.
"This is Garda O'Reilly's second swan related rescue this year adding yet another feather to his cap!"
The image and post quickly went viral, with thousands taking to the comments section to praise the officer: Philip McAuley wrote: "Well done Karl, beautiful birds and great to see people like yourself helping to rescue them."
Swans are known to become aggressive when feeling threatened, particularly around nesting season, and many commented on the officer's bravery in approaching the injured animal.
"Wow and wow Karl," Dee Halnon wrote. "Were you not afraid it would attack you? You are fecking brilliant!"
Mary Ní Fiachra added: "Aww well done Garda Karl, a beautiful act of kindness. These guys are a strong bird, not the easiest to catch."