IRISH teenager Alice McLoughlin feared she might never dance again.

But she has been given a new lease of life thanks to pioneering surgery to treat adolescent scoliosis.
Left untreated, curves would have begun to develop in the young dancer's spine, causing her ribs to rotate.
Pain and breathing problems associated with the condition also forced the teen to quit elite gymnastics, just as she was on the verge of qualifying for the Irish artistic gymnastics team.
The family, originally from Armagh and now living in Berkshire, were distraught to discover something was wrong last April.
Advertisement
"We were shocked and went into a mode of despair as we knew that the outcomes if the scoliosis worsened," mum Eilish McLoughlin said.
"We were aware that if Alice had fusion surgery, her days of competing as an elite gymnast and dancer would be over.
Alice Acro dance routine. Alice was placed 1st (out of 18 dancers) at Maidenhead Festival in 2016 with this dance.

Posted by Eilish Mcloughlin on Wednesday, October 25, 2017
"We were concerned for her immediate well-being as she was already conscious of the horrible rib hump that was now visible and she was fretting about having to give up her two passions in life - gymnastics and dancing.
"We turned our energy into finding alternative treatments to fusion surgery and found VBT (tethering of the curves) and the advanced Comprehensive Spine Center in Istanbul, led by one of the best spinal surgeons in the world, Dr Ahmet Alanay."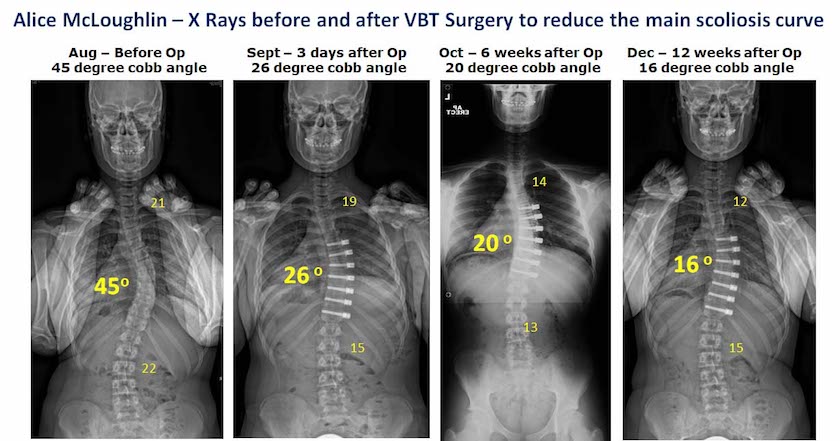 Advertisement
And it was thanks to the efforts of this pioneering medical team - who were prepared to undertake the surgery not available in Britain - the teenager was operated on in Turkey and was back dancing in just 10 weeks.
"It is unheard of that a child has been able to return to dance and sporting activities after surgery to treat scoliosis," said Mrs McLoughlin who is sharing her daughter's story to help other families and raise awareness about adolescent scoliosis.
"The recovery time is typically six plus months."
She added: "It's important that parents check their adolescents regularly for signs of scoliosis so that they can act quickly and get them treated."
"We also want to express our gratitude to the amazing Comprehensive Spine Center team in Istanbul, led by Professor Dr Ahmet Alanay.
"The Spine Center has advanced facilities and experienced staff equivalent to the best Spine Centers in the USA and UK.
"While VBT is not yet approved to be done in the UK, parents have an excellent option to have this surgery in Istanbul at a fraction of the costs of the same surgery in the USA.
Advertisement
Before her surgery in Turkey, Alice was referred to Royal National Orthopaedic Hospital (RNOH) Stanmore to be monitored.
"She already had a curve of 35 degree cobb angle and a large rib rotation of 16 degrees," Mrs McLoughlin said. "She was advised that if the curve reached the 50 degrees she would require fusion surgery."
As scoliosis progresses rapidly during puberty, concern for the teenager's well-being and ability to continue to compete and perform grew.
As they waited for a follow-up x-ray, the family began to research different types of treatment so they could avoid fusion surgery.
They discovered a new keyhole treatment VBT that would allow the spine to continue to be fully flexible after surgery.
Advertisement
Shortly afterwards the family contacted renowned Istanbul-based spinal surgeon Professor Dr Ahmet Alanay, who said he was willing to do the surgery if Alice's curve reached 40 degrees.
The August x-ray showed that it had and soon September 11 Alice was operated on in Istanbul by Dr Alanay.
Surgery reduced the curve to 27 degrees, with a further 20 degree reduction six weeks post-op.
The curve in her spine was just 16 degrees in December.
"There is a chance that the curves will decrease to below 10 degrees which will mean officially that Alice no longer has scoliosis," Mum Eilish said.
Advertisement
The McLoughlin family returned to England five days after the keyhole surgery.
Alice has since returned full-time to school.
She was pain-free and off all medication 14 days after surgery.
 

This is Alice at national competition in Guildford in Sept 2014 doing her beam routine.

Posted by Eilish Mcloughlin on Wednesday, October 25, 2017
At 10 weeks post-surgery, Alice successfully auditioned for a part in the prestigious London Children's Ballet and was cast as one of the main characters in a production of The Canterville Ghost. 
She has started a hectic rehearsal programme and will perform eight shows in the Peacock Theatre in London in April.
Advertisement
"This is a remarkable achievement for Alice considering that she had to give up her aspirations of being an international artistic gymnast," Mrs McLoughlin said.
"We want to share this story so that other parents can be given hope that their adolescent child can be treated for scoliosis and continue to be active in dance and sport activities."
Alice will now be monitored for 24 months after her VBT surgery to ensure the curves in her spine continue to decrease as she grows.
"So far she has had two check-ups with Dr Alanay and everything is wonderfully well," mum Eilish said.
"Alice can continue to perform and compete as a dancer. There are no restrictions.
Advertisement
"However, she has decided to quit elite gymnastics on the advice of her UK spinal consultant. She is very happy with this decision, and has instead taken up more dance classes.
"She now does ballet, acro and contemporary dance and competes at dance festivals."
And her advice to parent who might be worried their child has scoliosis.
"The most common way to check is to ask the child to bend over and touch their toes and spot if there is any unevenness in the child's back.
"Another way to check is to look at a child from behind and examine if the waist line is uneven on each side of their back.
Asking a GP to check a child every time they visit the GP would be another tip. Unfortunately schools in the UK do not routinely check children for scoliosis."